How to Request a Digital Signature
Follow the five simple steps below to send a document for digital signature.
1. Choose how to digitally sign your documents
On your CocoSign dashboard, if you want to send your document to someone else to sign, click Send for signatures. Or to sign the document yourself, click Sign Yourself.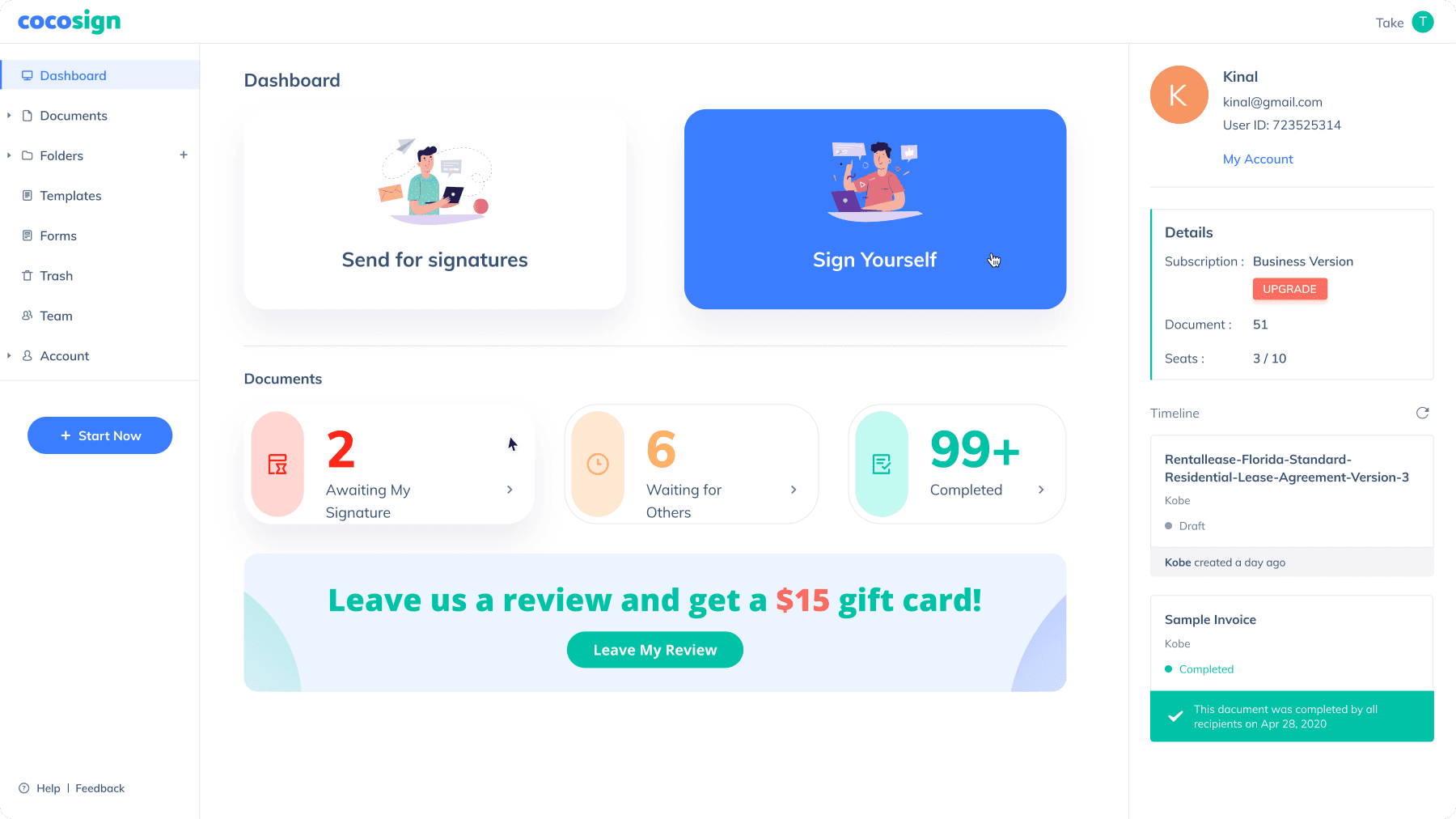 2. Add the documents to be signed
To use a reusable template you've created, select a template from the drop-down list of Choose Template. Or upload a new file from your computer or cloud storages like Google Drive, Dropbox, OneDrive or Box. Check I'm the only signer if you're the only one to sign the documents.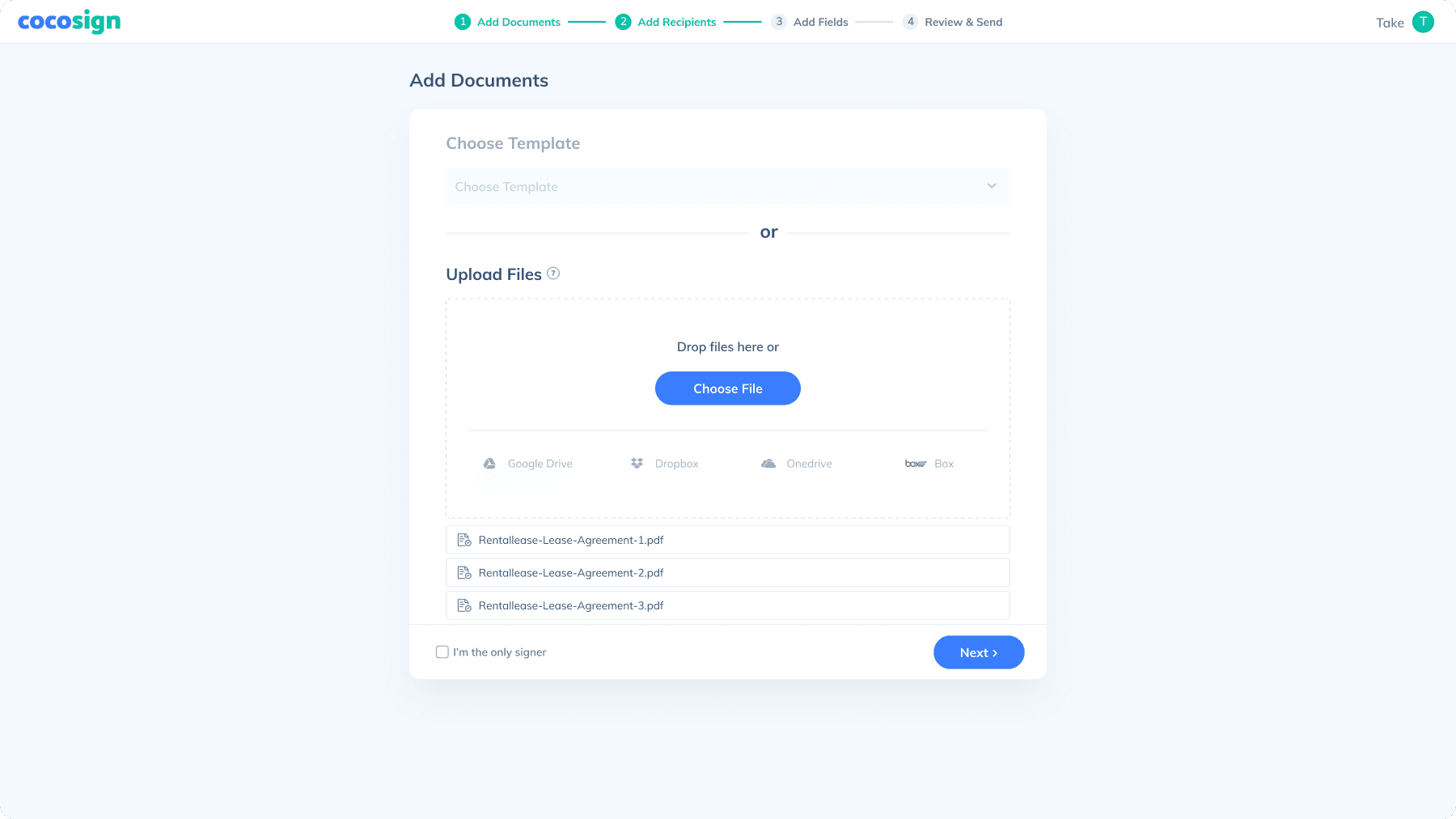 3. Add the recipients of your documents
Fill in the information of the recipients. Click + Add Recipients to add more recipients, if needed. If you want to set a signing order, check Custom signing order, then adjust (drag & drop or set numbers) the order of the recipients.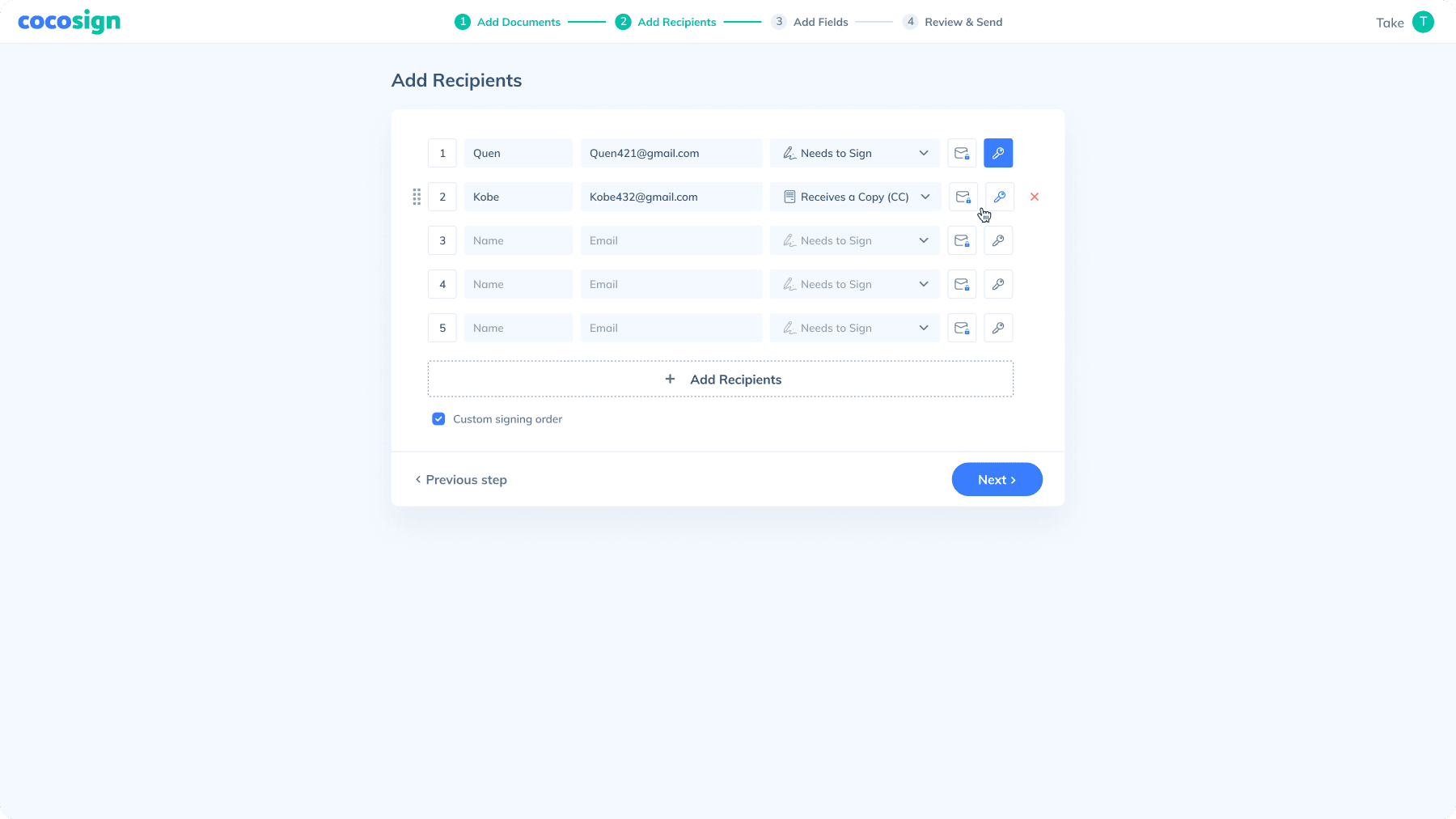 4. Customize the field formatting for your documents
Drag the fields you want to add from the Fields section on the right and drop them to your documents. Then edit these fields as you like. Do that for all of the signers.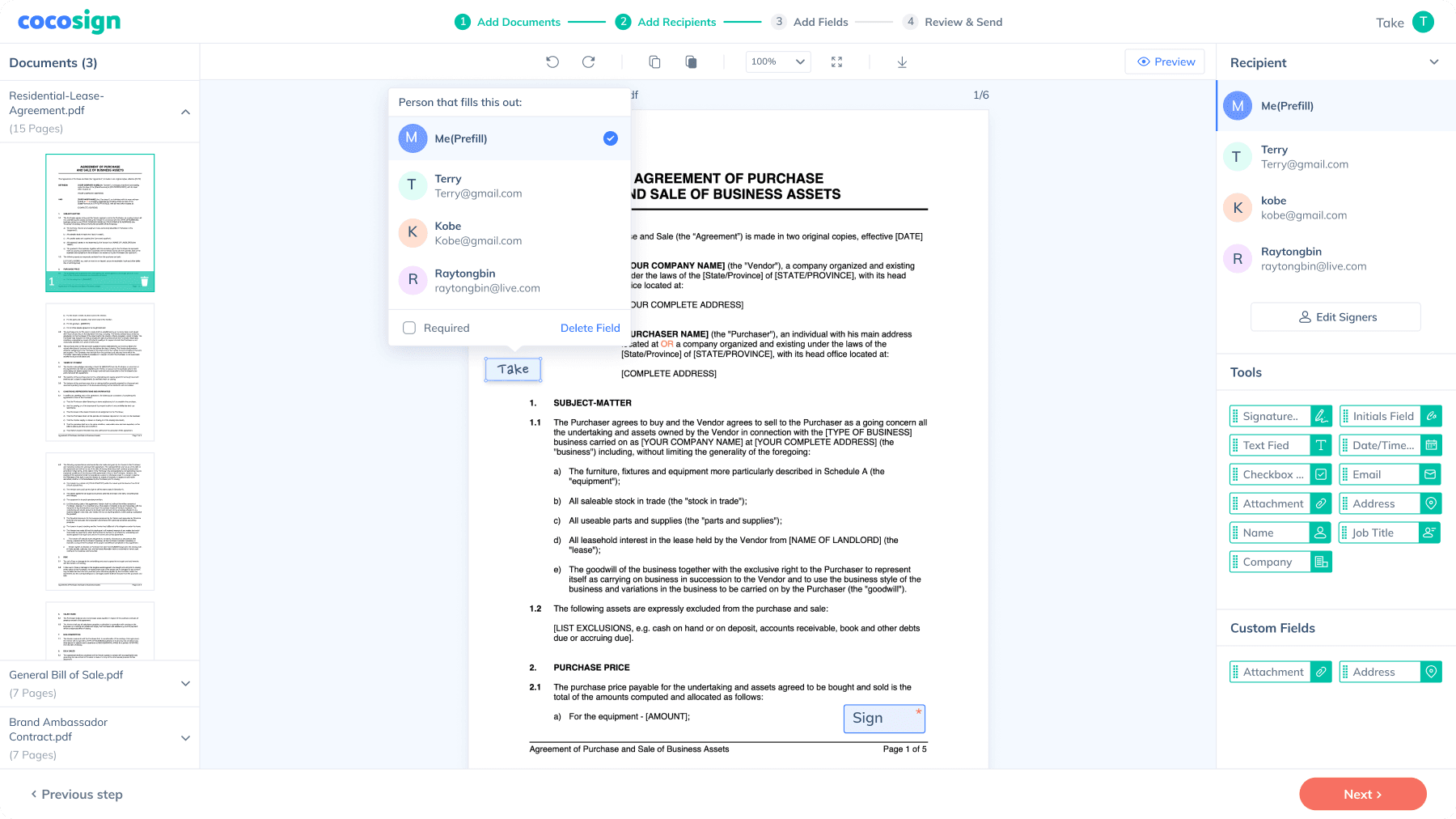 5. Review your document and configure the send settings.
Review the summary of your document and then enter the email subject and message. You can limit the recipients to sign within a certain amount of time or send them a reminder at regular intervals. You can also add your personalized branding in the email. Finally, click the Send button to send the document for signatures.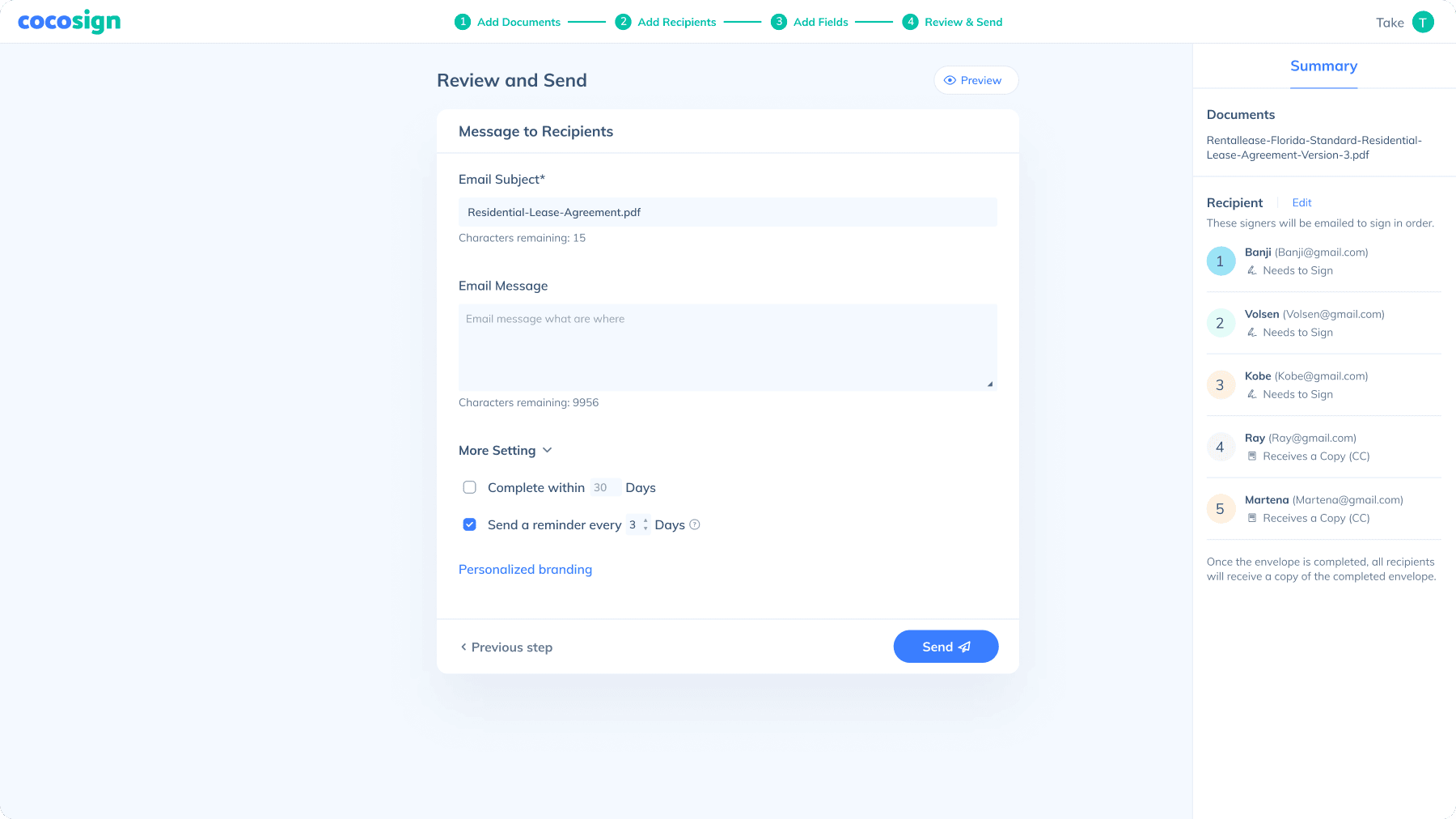 How to Create a Digital Signature
Follow the following three steps to sign a document digitally.
Go to your email inbox, open the signature request email sent by CocoSign, and click Start Signing.

Sign the document in the designated area. You can type, draw or upload to create your own signature. You are able to adjust the signature style such as its font, size and color. After the signature is created, CocoSign will also save it automatically for future use.

Click Complete on the top when you finish and the sender will be notified in a second.
Advantages of using a digital signature
Digital signature has become a widely accepted signing method when it comes to business. With a high level of security and efficiency, it improves your workflow and customer satisfaction.
Non-repudiation and encrypted

As a mathematical technique, digital signature is stored online. Safeguarded by CloudFlare, CocoSign is immune to most cyber attacks and keeps your information safe.

Simplified and efficient

With all documents signed online and managed in CocoSign's user-friendly systems, it simplifies your paperwork and boosts your productivity.

Legitimate and authentic

Carried under electronic signature laws, it is indisputable that digital signature enjoys the same legal effects as autograph.
Why are digital signatures used most?
Digital signature is designed for people who want to improve their working efficiency and get rid of tons of paperwork.
How about turning to an electronic signature?
Known as another substitute of handwriting signature, E-signature is much more convenient than digital signature for its less requirement for authentication but of the same legal effect. Sign with CocoSign E-signature tools in a legal and fast way.