One-stop solution for bulk documents sending
Need to have a multitude of documents sent to numerous people to sign while ensuring efficiency? Fed up with the hassle of chasing down hundreds of recipients for their signatures? You can utilize CocoSign's bulk sending services to get the same document signed by many. Simply import a signer list and press the button Send. And you are good to go.
What is signing link
Sometimes when you need to send a signature request to tons of signers, it can be tiring to fill in their email addresses one by one. With a click on the Signing Link button, you can turn your document into a signing link.
Next send the link across to all your target recipients in a chat group. Your signers would then enter their emails themselves and finish signing, while you save time and energy as CocoSign will take care of the rest for you with regards to tracking, reminders, updates and so on.
How to Bulk Send Documents with CocoSign
Request signatures from multitudes of signers with one single click. Decide which signing individual or group gets which document with the complete signature workflow control offered by CocoSign.
Step1
Hit the Template button in the CocoSign Dashboard. You'll see all the document templates you have created.
Step2
Select one template and click the tab Creating Signing Link. A signing link will then be generated.
Step3
Copy this link and forward it to the multiple recipients for signing.
Step4
Signers will need to enter their email addresses when opening this link. CocoSign will next send the document to their emails for them to access, view and sign.
Stay on top of your document status
You don't need to follow up constantly on the recipients for signature updates. CocoSign's easy tracking feature will send automatic reminders on the document's status changes, like who opened, filled or signed it. In this way, you are always on top of the workflow management.
The complete package
Be it the new hire onboarding, or payment verification, or new company policy announcement, CocoSign's Bulk Send feature allows you to finish addressing paperwork with less time and stronger professionalism.
Sign a PDF Document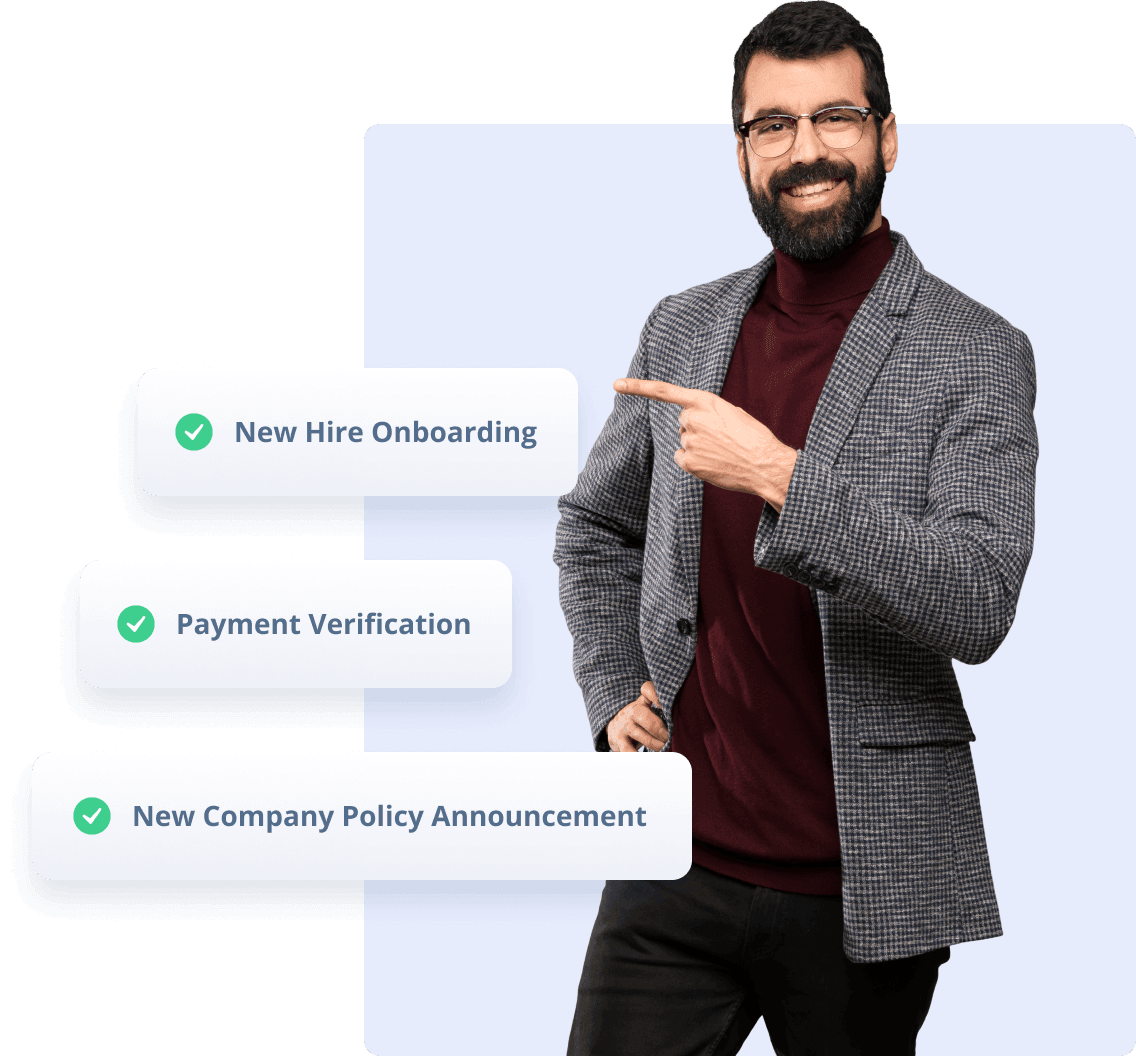 Everyone at work can use this seamlessly
Business
Get professional and also save lots of time.
Manpower
Stay updated on your employees and also reduce the number of people required to handle one job.
Advertising
Advertising has become completely renewed.
Education
Stay on top of the course arrangement and teaching faculty management.
Easier, Quicker, Safer eSignature Solution for SMBs and Professionals