Bulk send to large groups of recipients for mass signing
Looking to get your documents signed by a mass of recipients while ensuring efficiency? Fed up with chasing them down one by one for signatures? Simply bulk send with CocoSign by importing a signer list and pressing the button Send. And you are good to go.
No credit card required
14 days free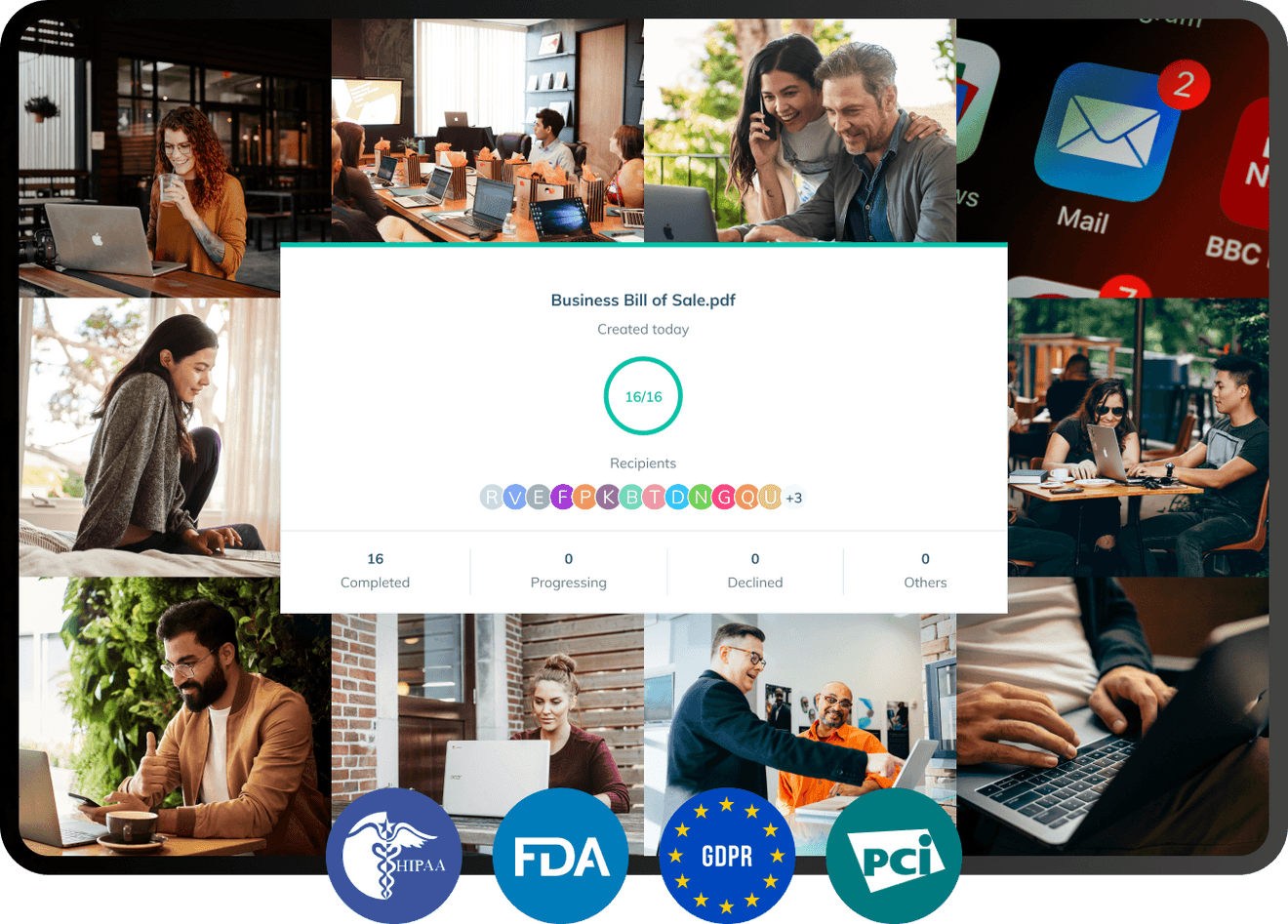 Why do you need bulk sending?
Sometimes when you seek to gather signatures on documents like updates of company policies, privacy and terms etc, from tons of signers, it can be exhausting to fill in their email addresses and names one by one.
CocoSign's bulk sending service is created to eliminate such hassle in getting hundreds of signees to append their signatures on your document copies. Upload a signer list in csv or xlsx and click Send. Each signer shall receive their own unique copy of your document to sign.
CocoSign will take care of the rest with its automatic tracking features, reminders, updates and so on, while you focus on assignments that are truly worth your while.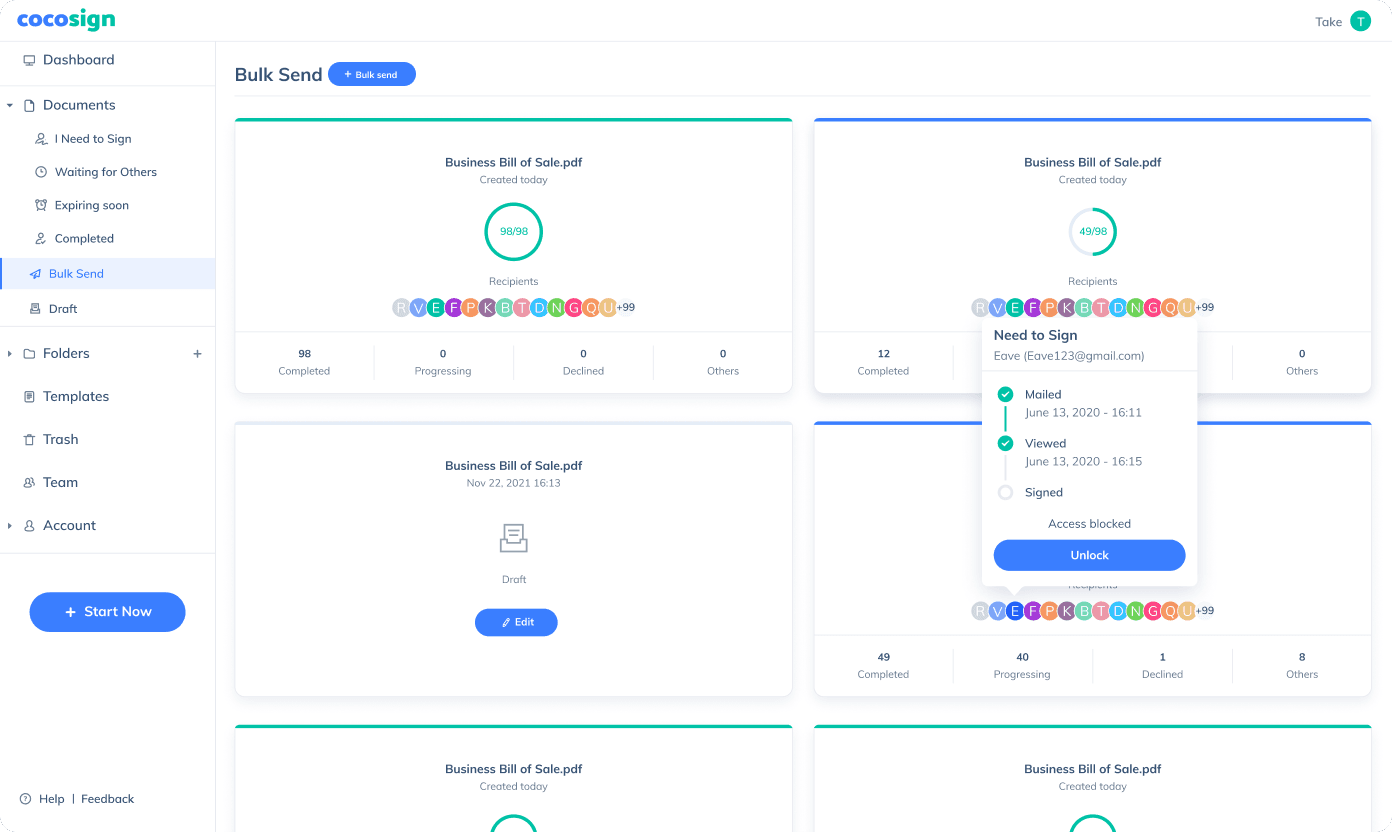 Manage your bulk sent documents easily
You can check the signing progress of every signer on every document. Those who have finished signing will be marked with grey.
On top of all your documents
You can view the details of each bulk sent document including the signing status of every signee with a click on the More tab. Regular reminders can be sent to your signers at an interval you've scheduled, making sure that they finalize your documents punctually. This way, you stay in the know of the entire signature workflow.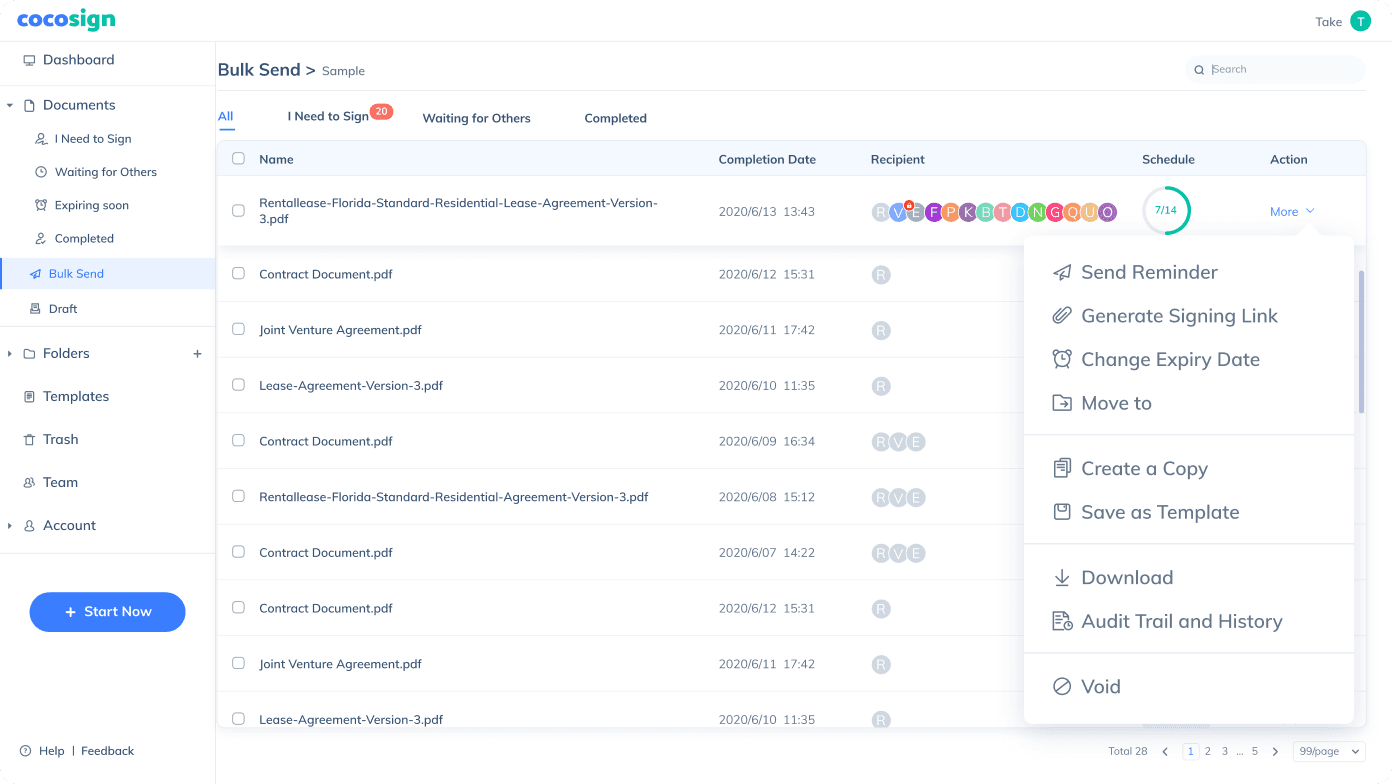 How to Bulk Send Documents with CocoSign
CocoSign's intuitive design and onboarding guidelines make it a breeze to bulk send documents to numerous signees with a single click, reducing time and increasing productivity significantly. The entire process is as easy as 1.2.3...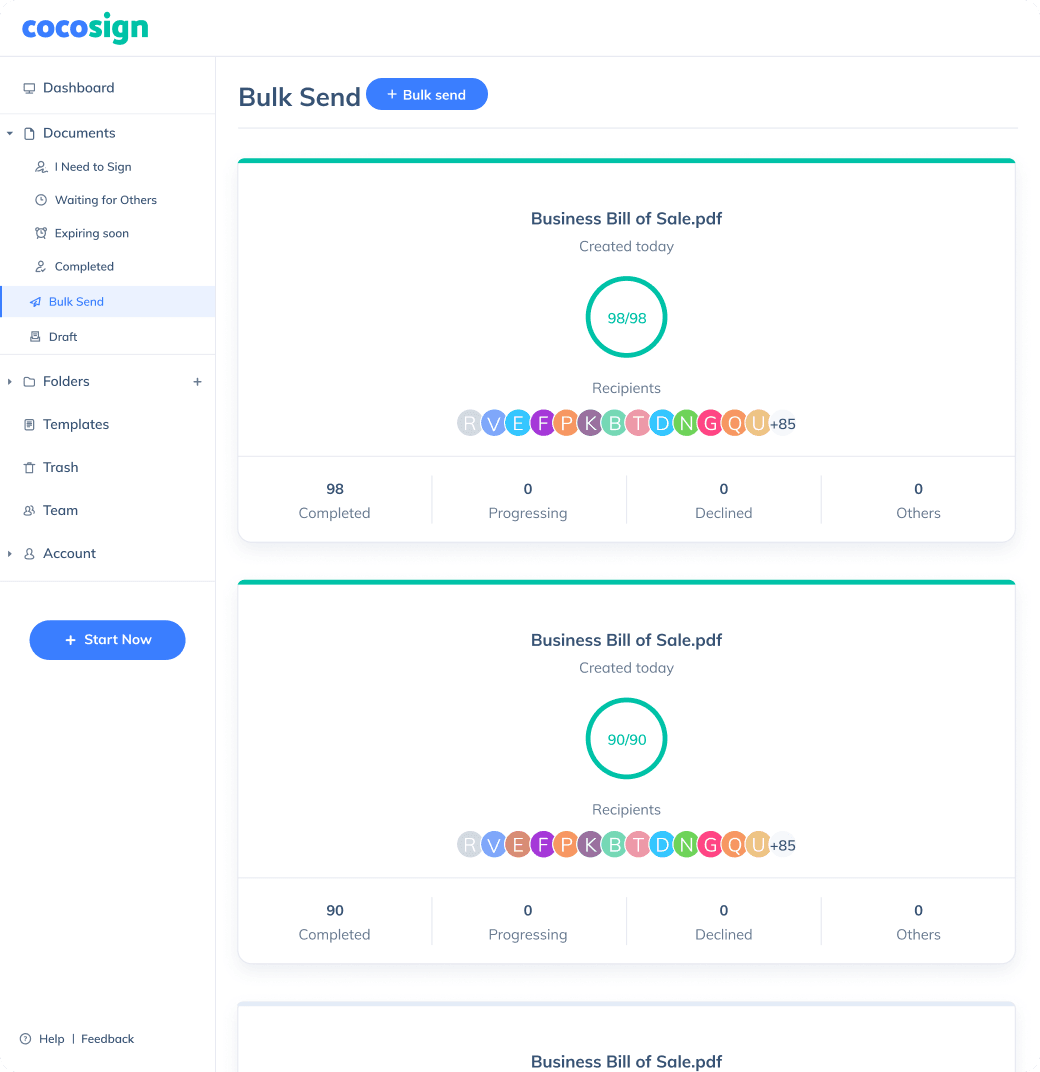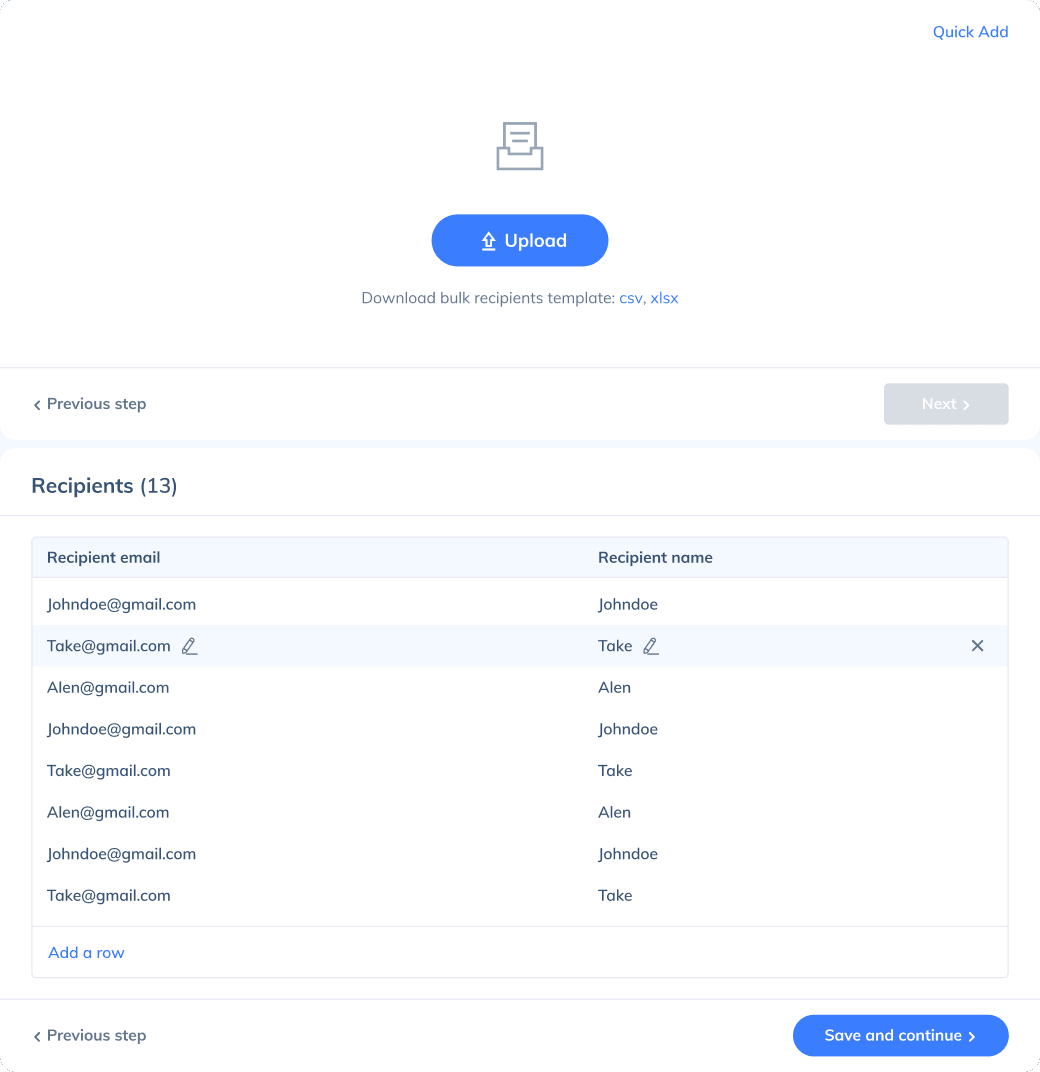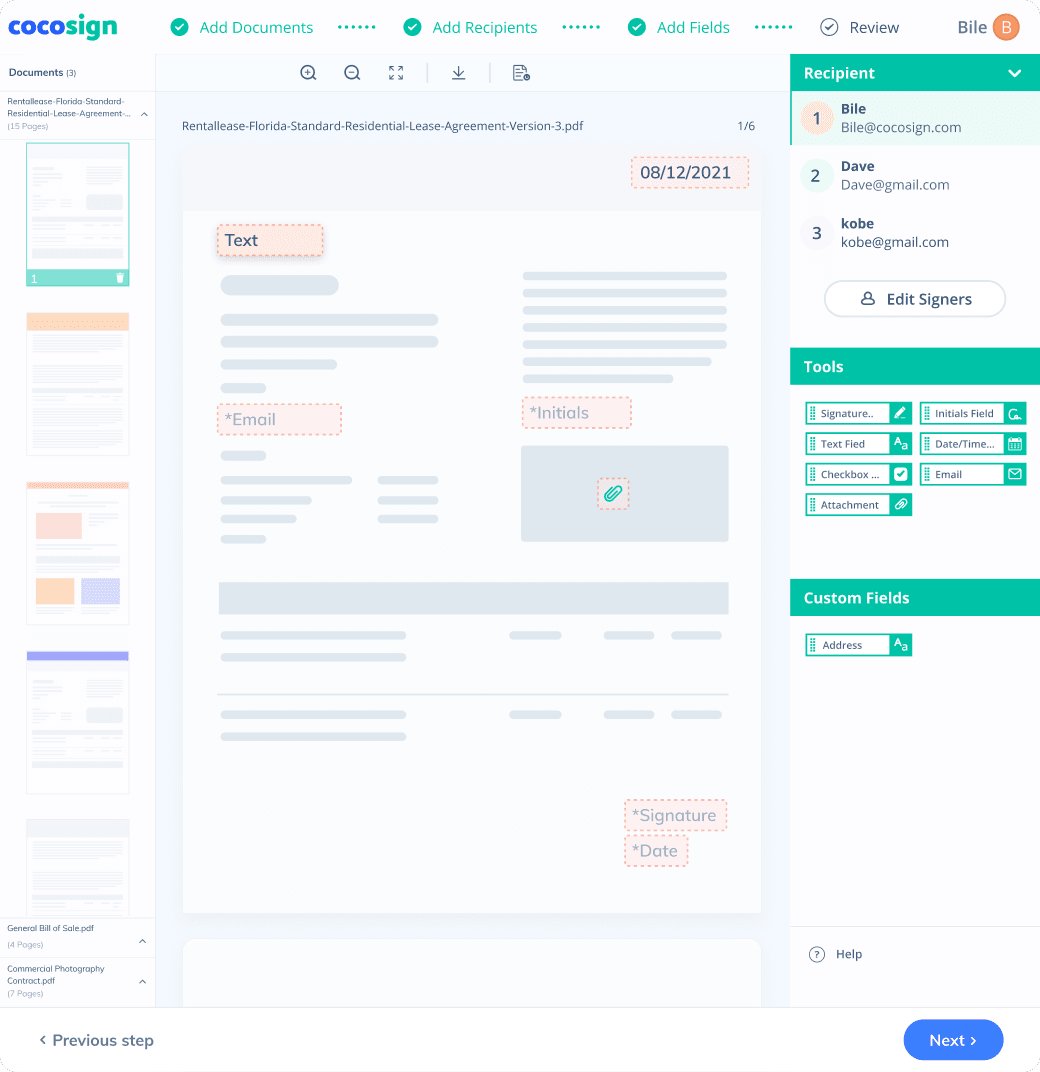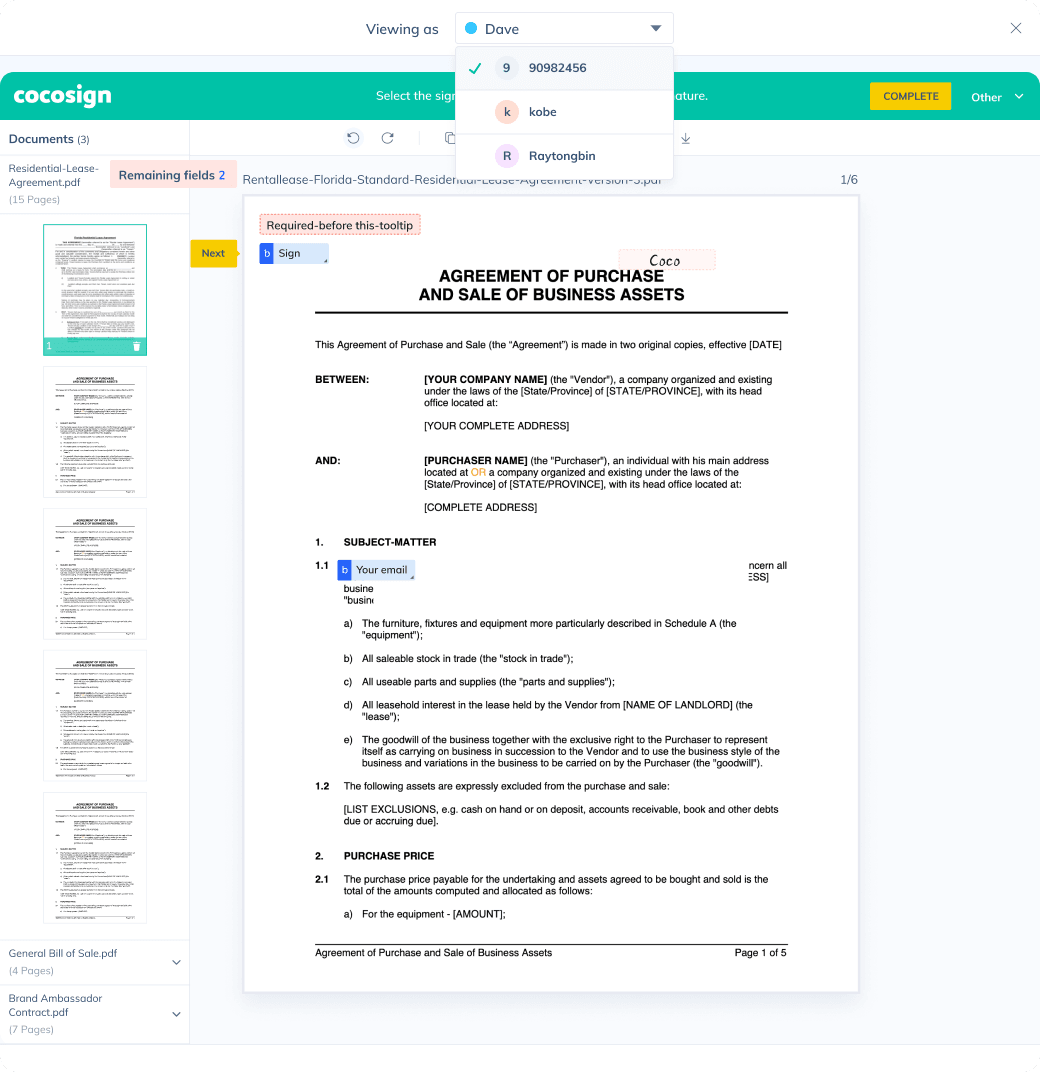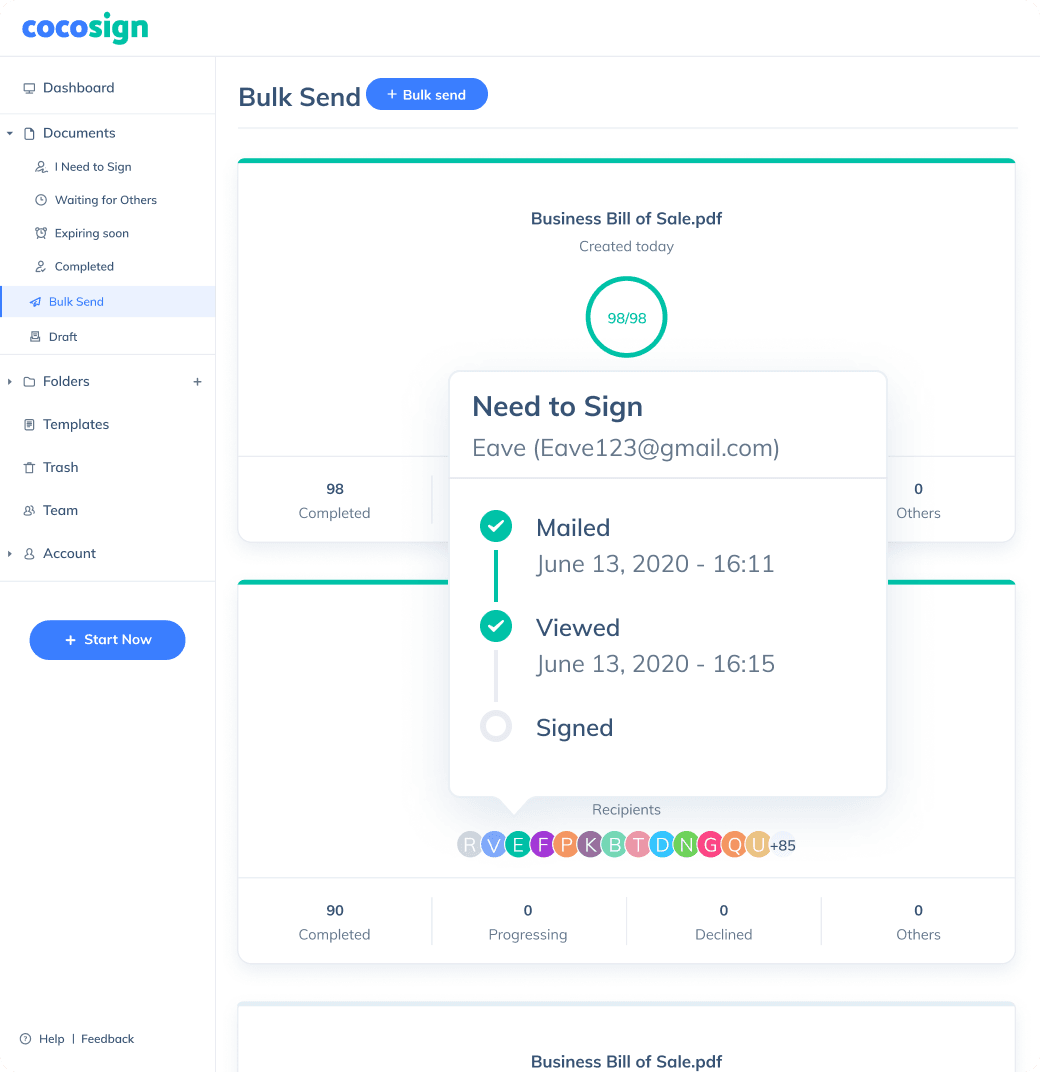 Step1
Click Documents in your CocoSign account and select Bulk Send in the roll down. Hit the button +Bulk Send, and upload the document you want to send out.
Step2
Upload a signer list file in csv or xlsx. If you are not sure about the right formatting, download the bulk recipients template in csv or xlsx. Next, press the button Save and Continue.
Step3
Personalize signing elements such as Email, Company, Initial, Text, Date and Signature as per your requirement and send the document out. Click Next.
Step4
Now you can hit the Preview button to see how the surface looks from the perspectives of your signers. And set up expiry dates and automatic reminders to convey a sense of urgency. You can also configure your email request branding with a click on Personalised branding. Once everything is ready, hit Send.
Step5
CocoSign will automatically direct you back to the Bulk Send surface, where you will be able to view the signing status of your sent document.
Everyone at work can use this seamlessly
Business
Free your hands from trivial paperwork handling to work smartly and professionally.
Manpower
Reduce the manforce required to handle one job and increase the overall workplace efficiency.
Advertising
Simplify your document workflow with free esign and branding opportunities.
Education
Manage the course arrangement and teaching faculty with ease.
Easier, Quicker, Safer eSignature Solution for SMBs and Professionals
No credit card required
14 days free