CocoSign eSignature Solutions for Word
CocoSign's Microsoft integration enables users to sign Word documents online and send documents for online signature collection with maximum safety measures. This not only streamline the workflow in a whole team but also boosts professionalism while helping your staff stay more connected as one.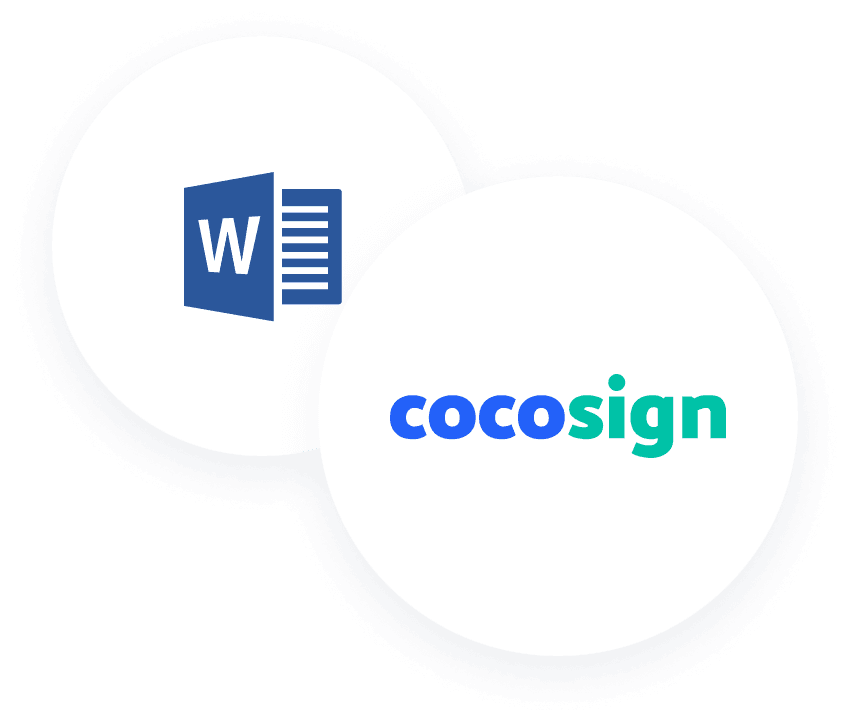 Suited for your daily business needs
Multiple document format support, cloud integration, advanced security and more.
Higher Productivity and Lower Operation Costs
No more scanners and printers for your confidential paperwork delivery and signing.CocoSign's esignature services allow you to get documents signed within seconds, enhancing your efficiency like mad.You can rest assured to spend your valuable time somewhere more worthy than signing loads of paper.
Instant Alerts of Your Document Status
Whenever your recipient opens the document or fills a certain field, CocoSign will send you a real-time notification so you will always know what to plan for the next step.
Legal Validity and Maximum Security
With CocoSign, you'll never have to worry about your signatures being falsified or misused.CocoSign's signatures are not only legalling binding but are also compliant with multiple industrial security standards, safeguarding your confidential information from leakage and falsification.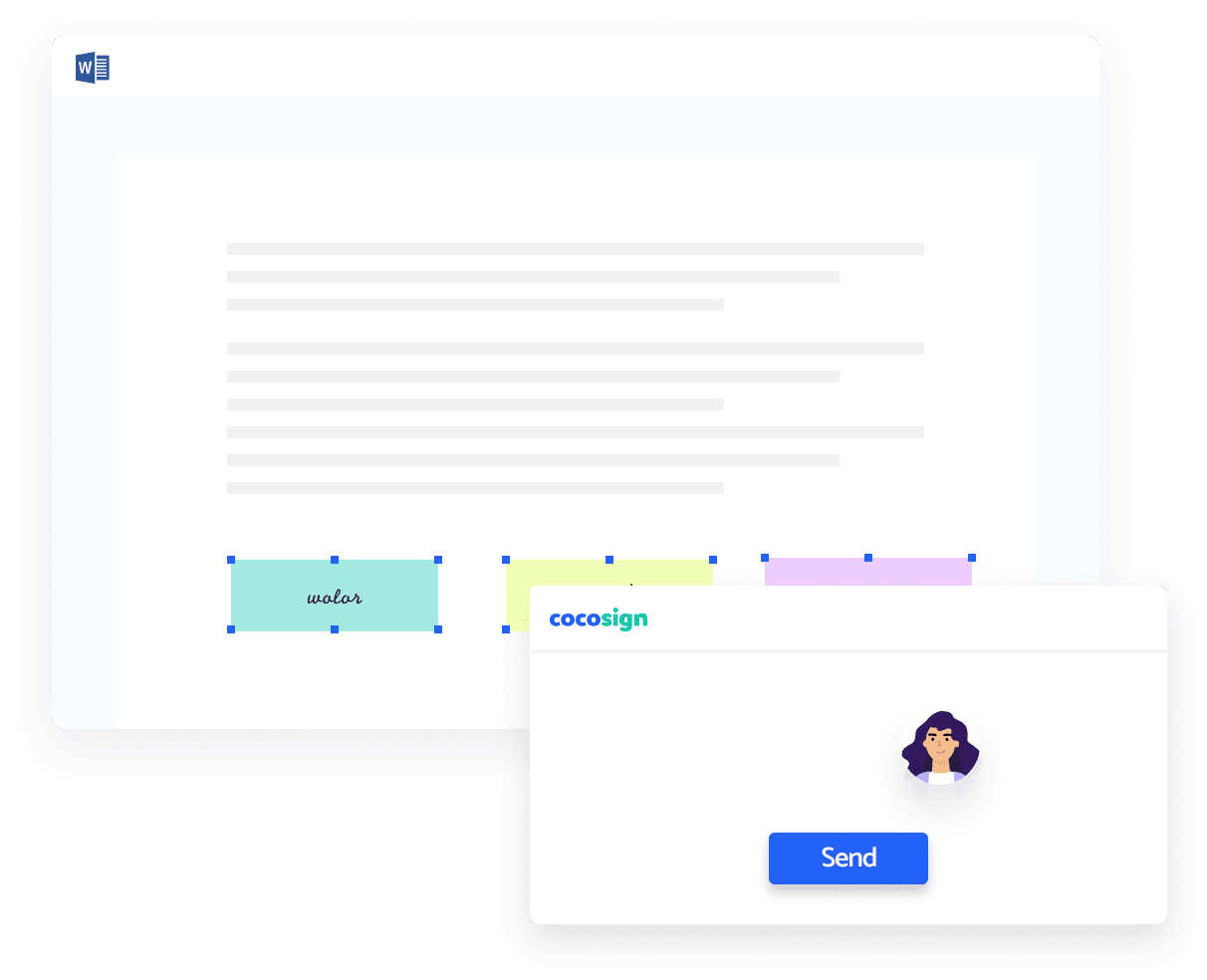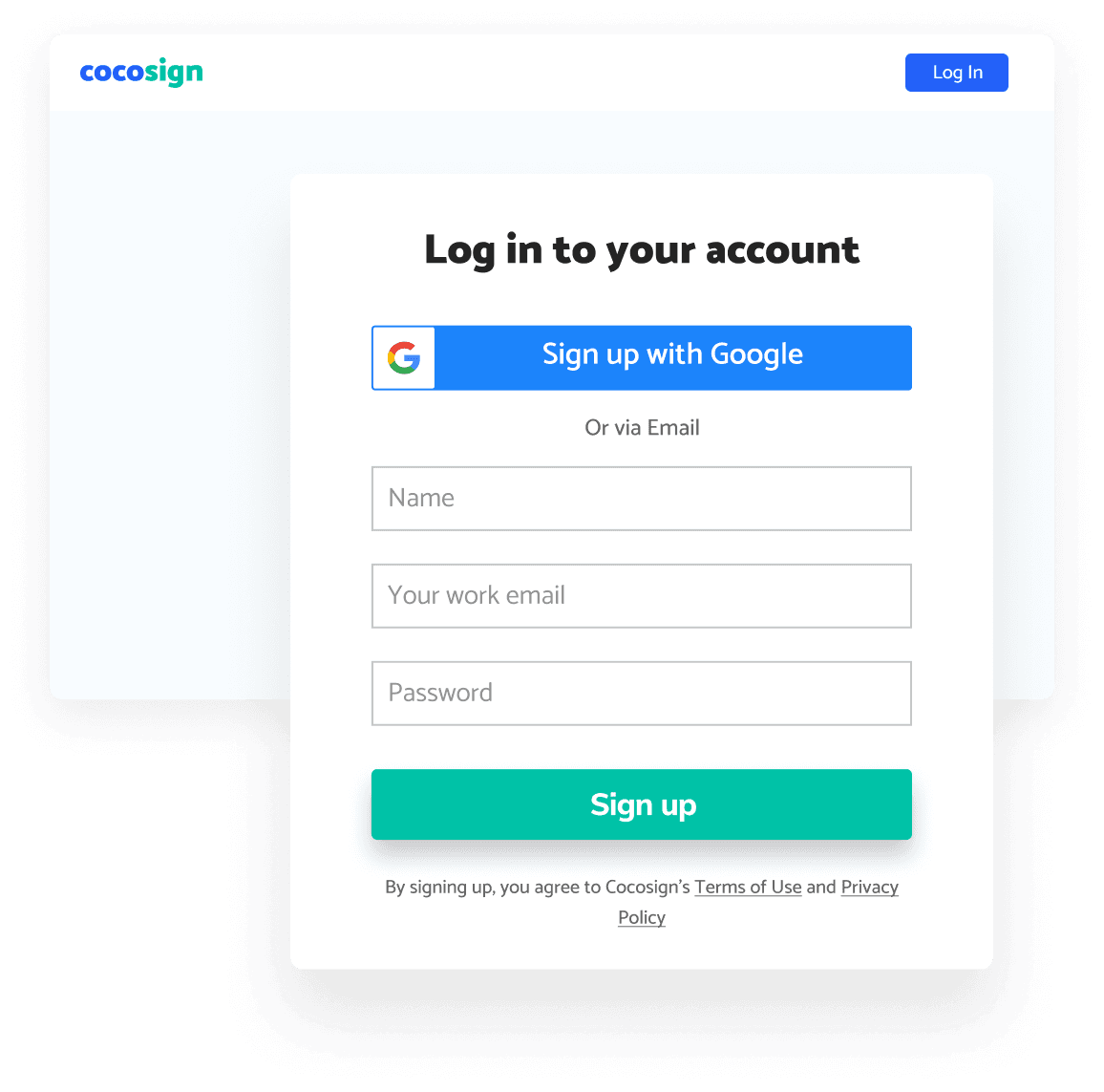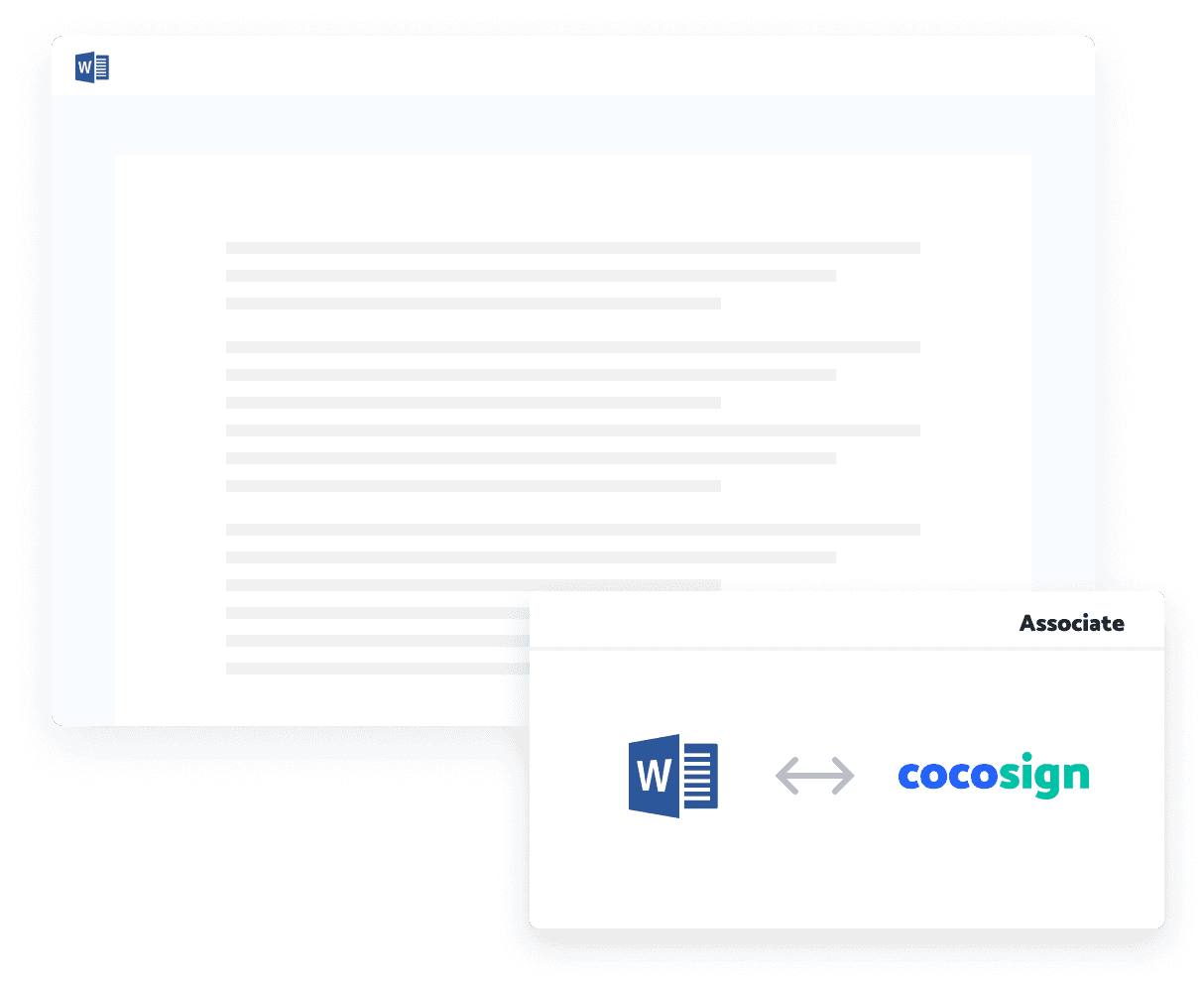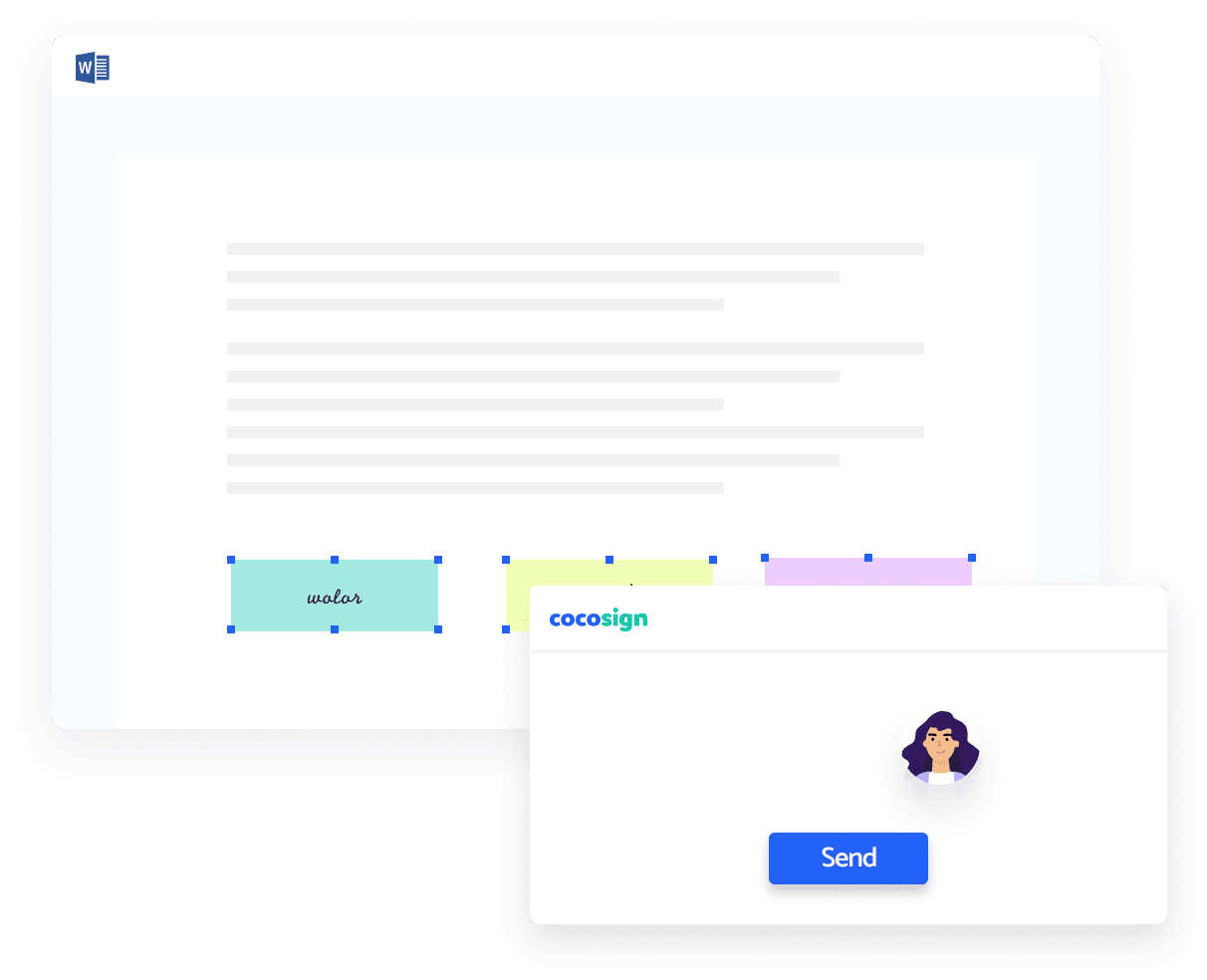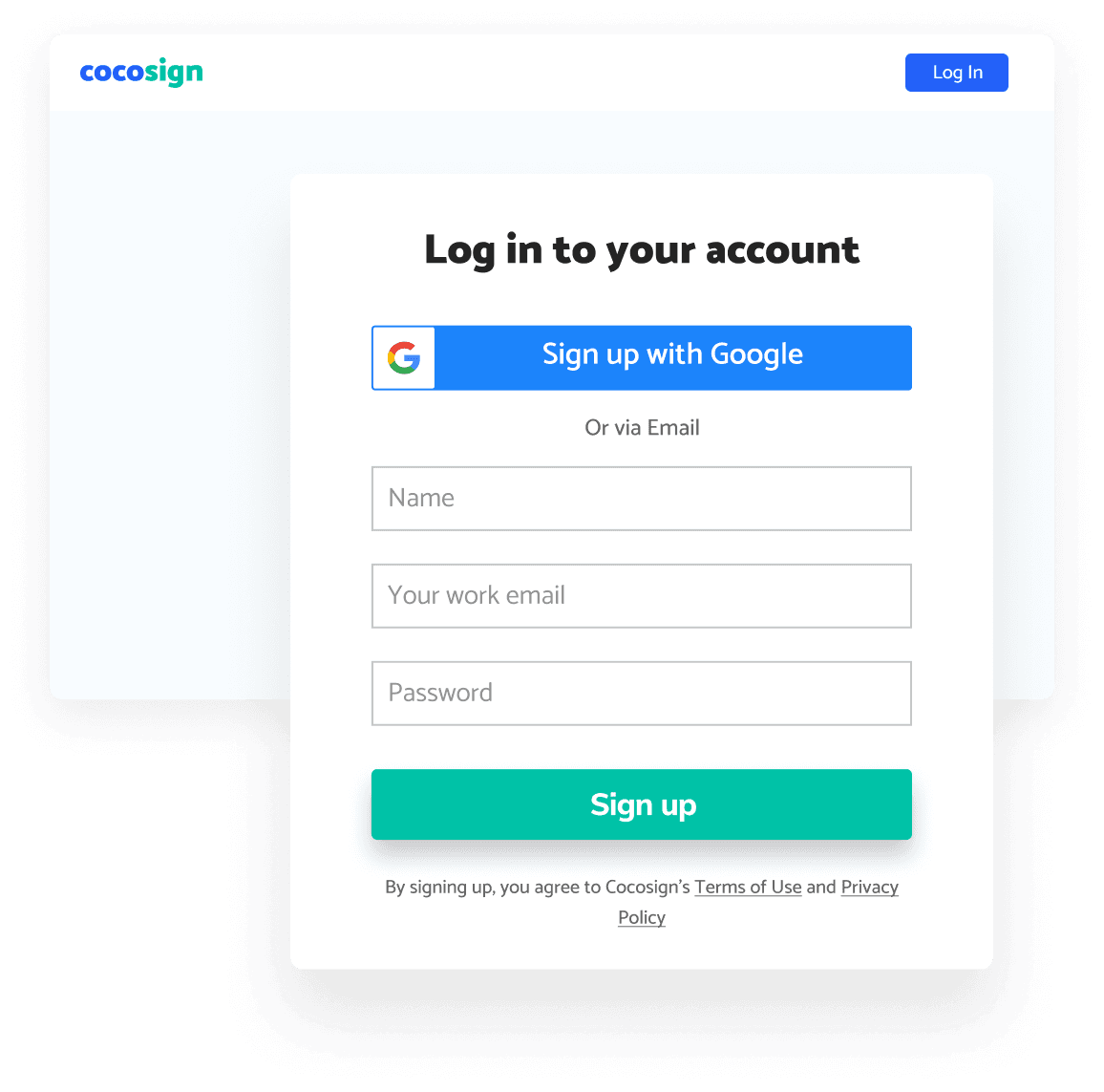 Register a CocoSign account
Simply go to the homepage of CocoSign and register an account with your email or Google account. No credit card is required.
Associate your Word with your CocoSign account
Open a Word document, and install CocoSign add-on into your Word or Excel documents.
Send and Sign
After entering the receivers' emails, click the button Send to get the document signed.
FAQ
How do I add the CocoSign add-on to my Word?
Also known as eSignature, an electronic signature is a digital form of signatures to convey consent or approval on online forms such as contracts and agreements, as opposed to paper signatures. It's usually legally binding, highly encrypted, and strictly audited.
How to Sign a document from Word?
First open or create a Word document. After installing CocoSign add-on, Click the CocoSign icon on the right tool bar and log in your CocoSign account. Then you can start signing your Word documents.
Where to find signed Word documents?
CocoSign stores all your signed documents on the cloud. Simply enter your CocoSign account to check any document that has been dealt with and click Download.
Easier, Quicker, Safer eSignature Solution for SMBs and Professionals
No credit card required
14 days free