Request Signatures with CocoSign's Document Signing Link & Template Link
CocoSign has designed two types of signing links: document signing link and template link, to meet customers' needs in different occasions. Avail yourself of those friendly features right away.
No credit card required
14 days free
Document Signing Link
Template Link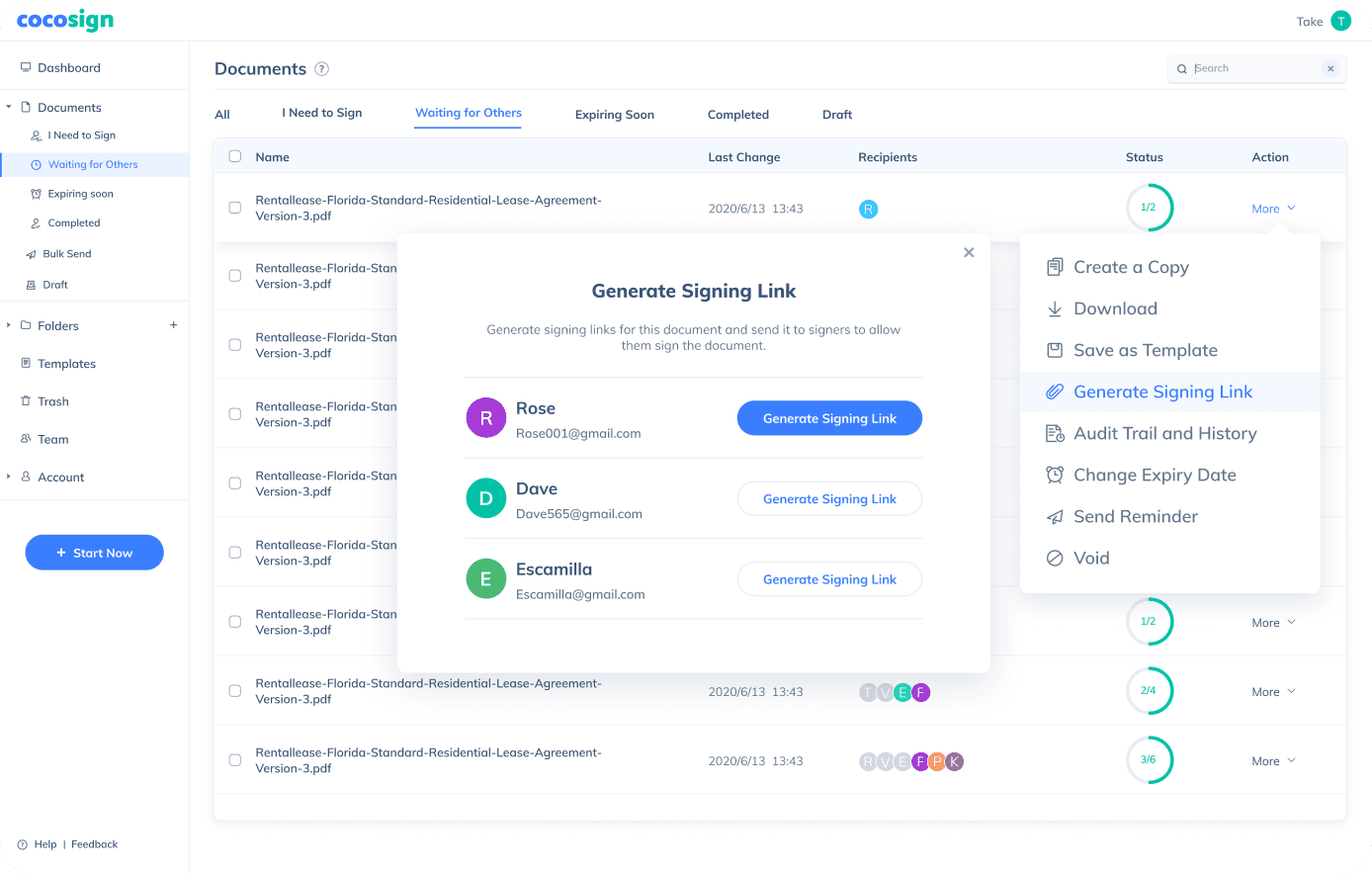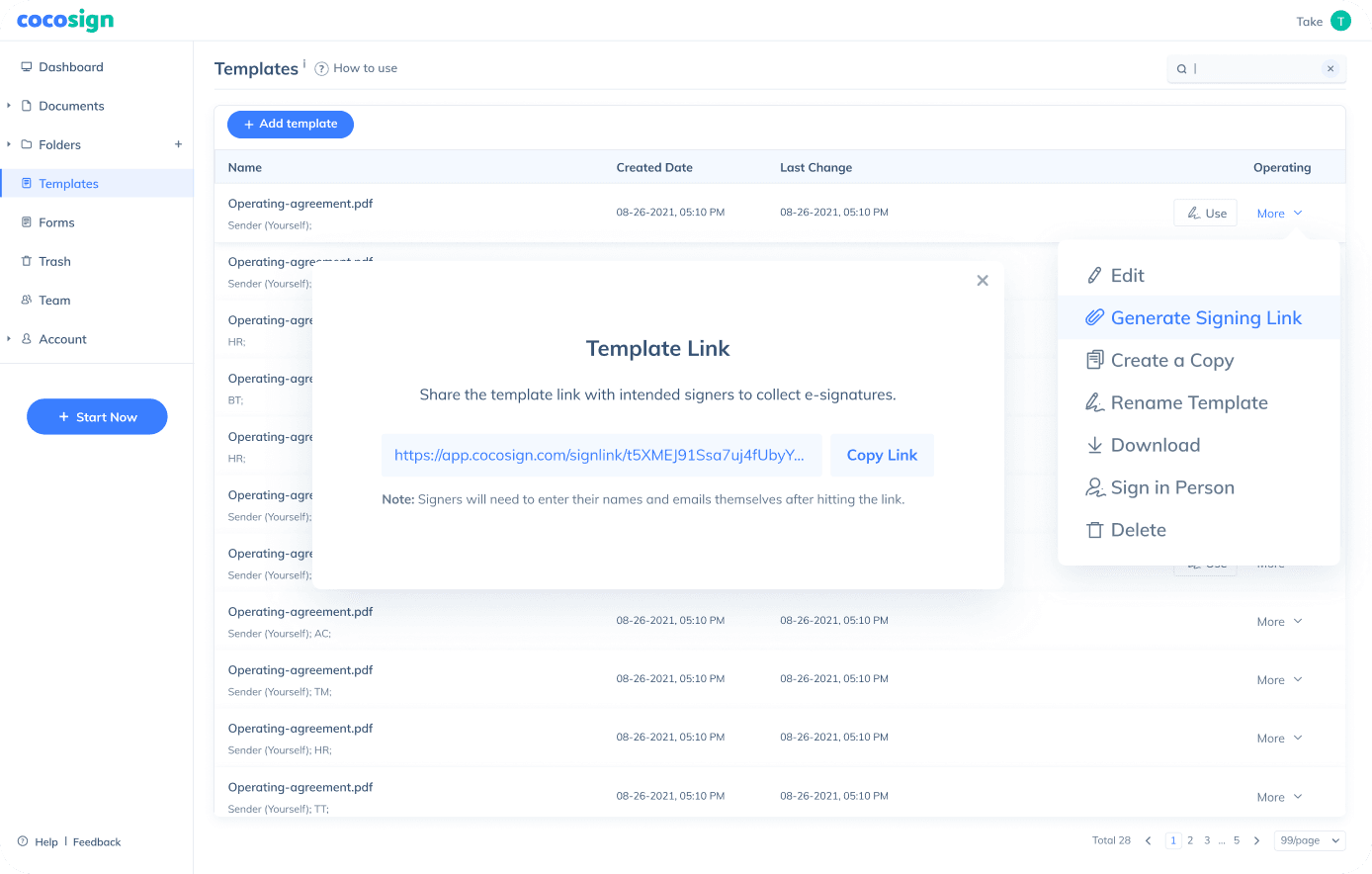 What is a document signing link?
CocoSign's document signing link is a special email-free feature for one-on-one signing. When your email request for signatures fails to reach certain target signers, you can convert the document into a private signing link for each and forward it to them. This way, your signees can start signing right away with a single click, requiring no extra interaction with CocoSign.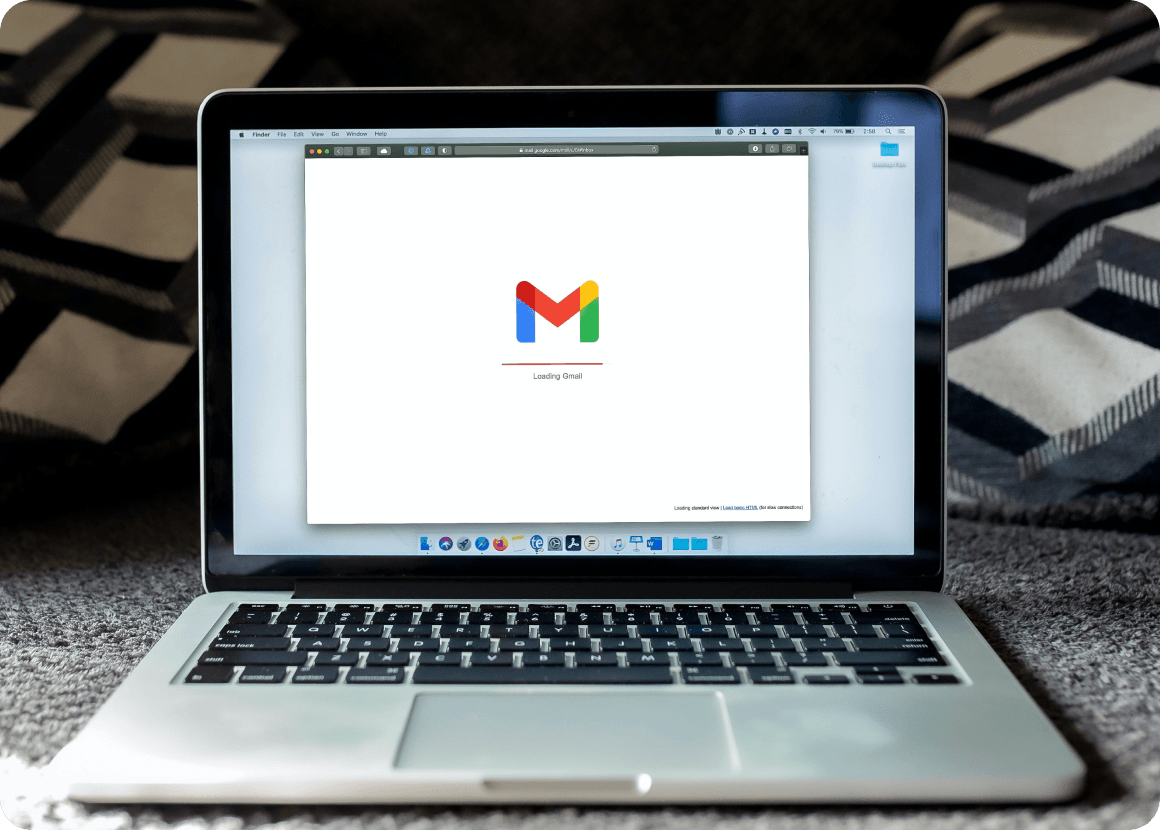 When do you need to create a document signing link?
A document signing link perfectly addresses headaches related to regular online signing. It comes in handy when:
Your recipients' emails have changed.
The sent documents are not delivered to signers' emails successfully.
The recipients' email addresses you have filled in are incorrect.
The messaging system of the signer is different from yours.
The email client from the signer is malfunctional.
How to create a document signing link?
Generating a document signing link for a targeted signee is tremendously easy and quick. The signers click on the signable link, and a document will be presented for him to fill out and sign. Once completed, the final signed PDF copy will be sent to everyone involved in the signing process.
1
Go to Waiting for Others in Documents where you can see the documents waiting to be signed by other signers.
2
Find Generate Signing Link in More.
3
Click Generate Signing Link for the signer and send.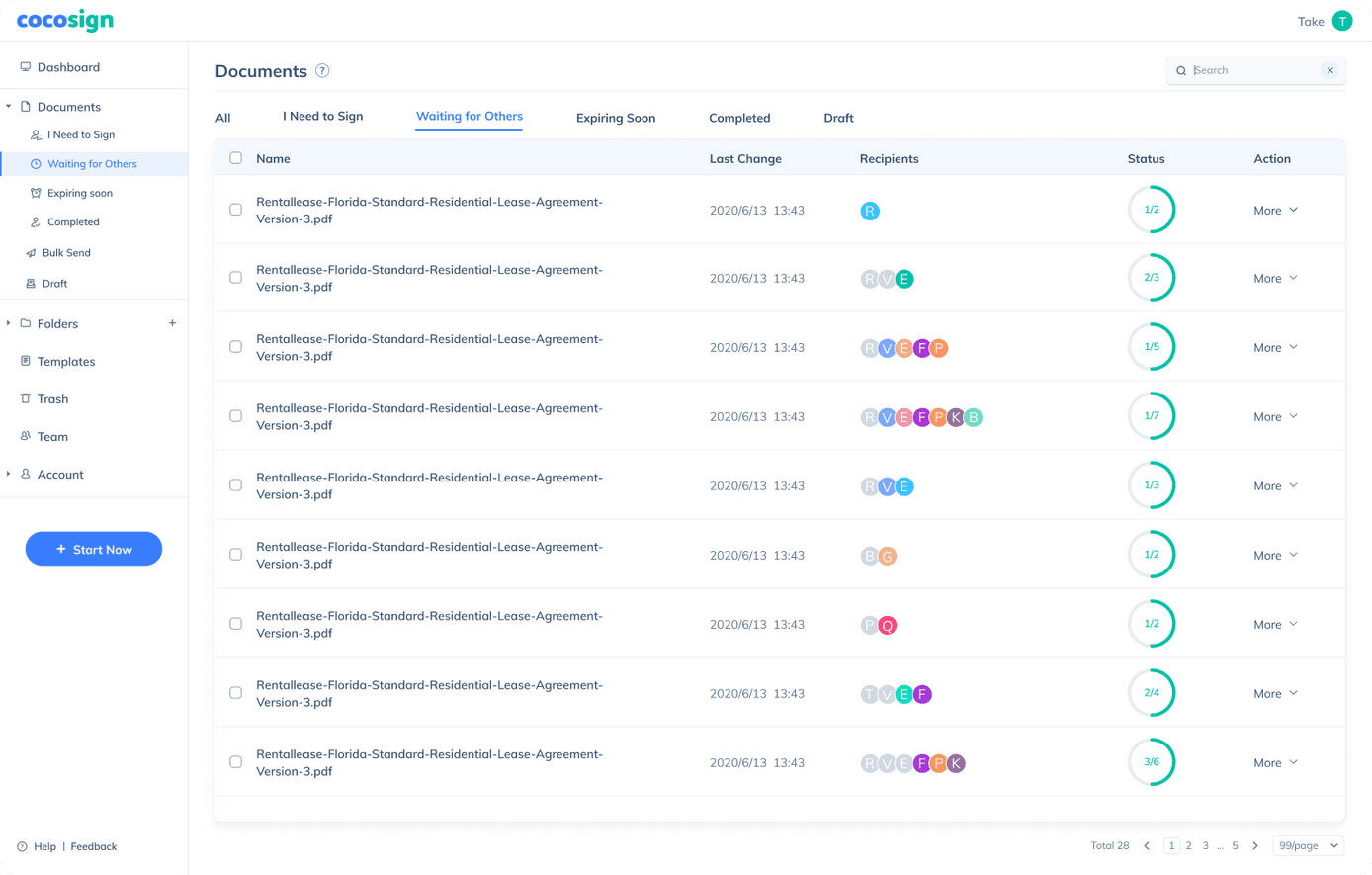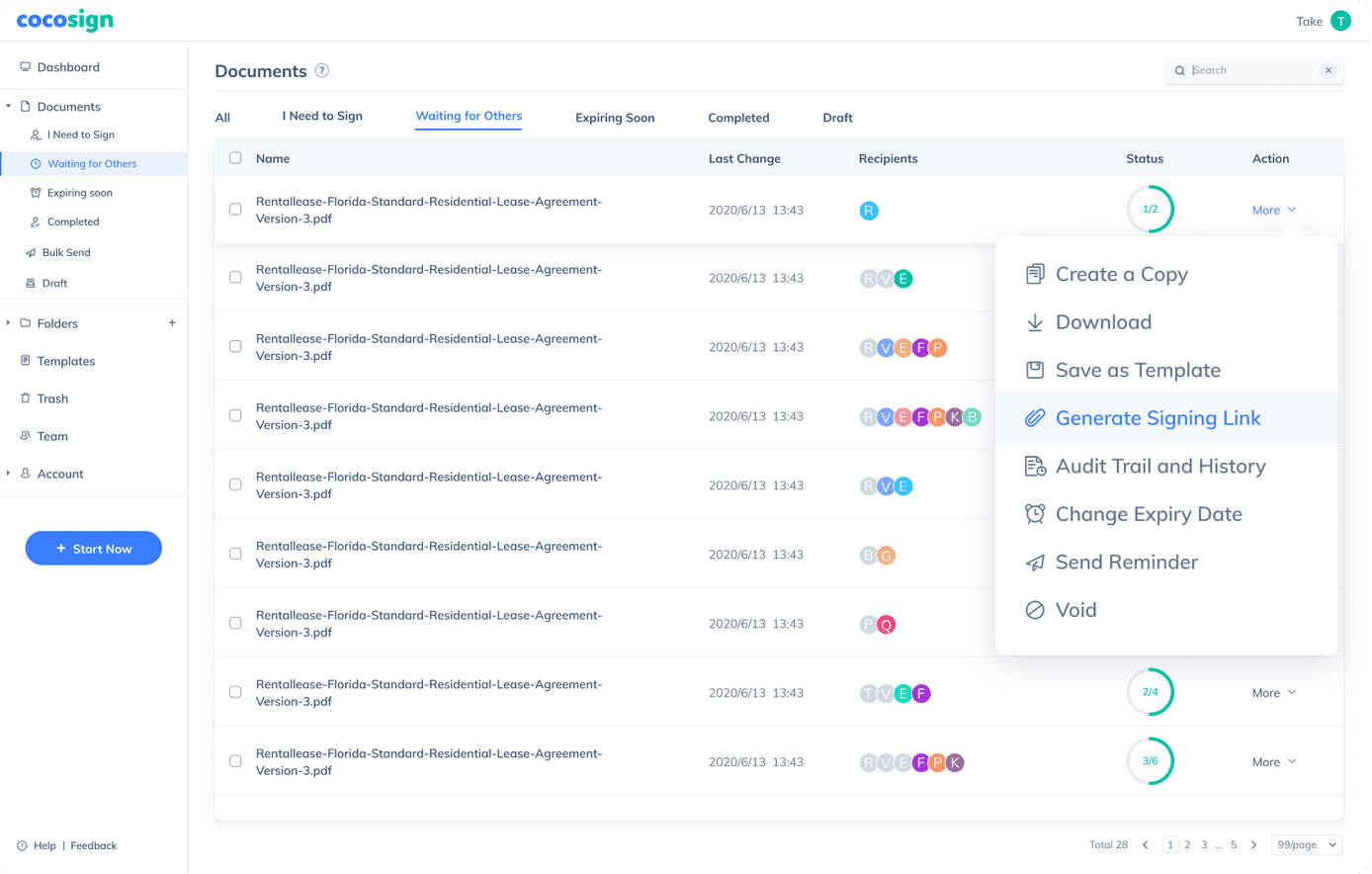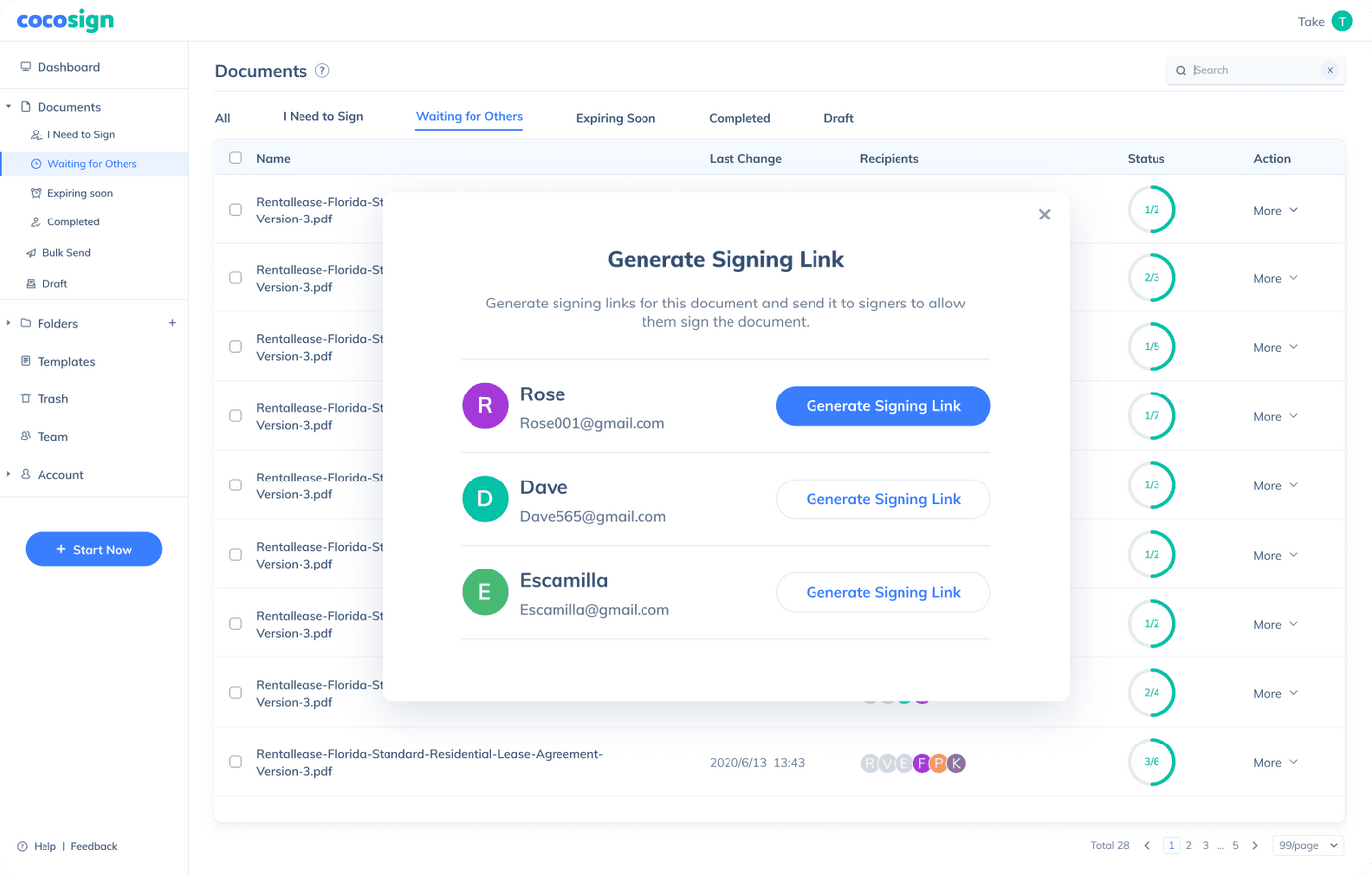 What is a template signing link?
Template link is a signable link generated from a certain document template, able to save your time in inputting recipients' names and emails one by one. Instead, signers are required to enter their names and emails themselves after hitting the link. Then the document will be sent to their emails for signature.
This type of signing link can also be used for bulk sending. Share the link with hundreds of signers and have CocoSign track and manage all signing progress.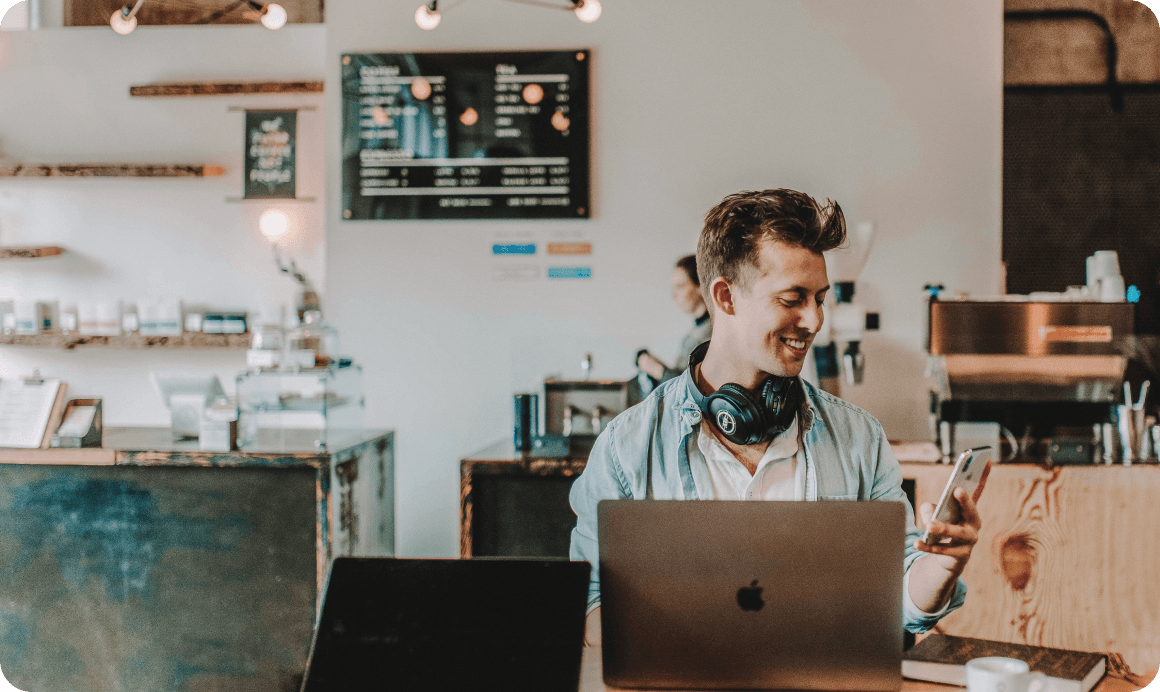 When do you need to create a template signing link?
Template link reduces repetitive work and enhances your professionalism and efficiency. It could be helpful when:
You need to send a signature request to tons of signers.
You don't know the email addresses of signers.
You need to send similar documents for signing repeatedly
How to create a template link?
Setting up one signing link to have your documents signed by many is fully achievable with CocoSign. Simply create and forward the link to a chat group of your designated signers or post it on a website for the limited few to access.
1
Locate yourself in Templates.
2
Click Generate Signing Link in More.
3
Copy the link and forward it to the multiple recipients for signing.
4
Signers will need to enter their email addresses when opening this link. CocoSign will next send the document to their emails for them to access, view and sign.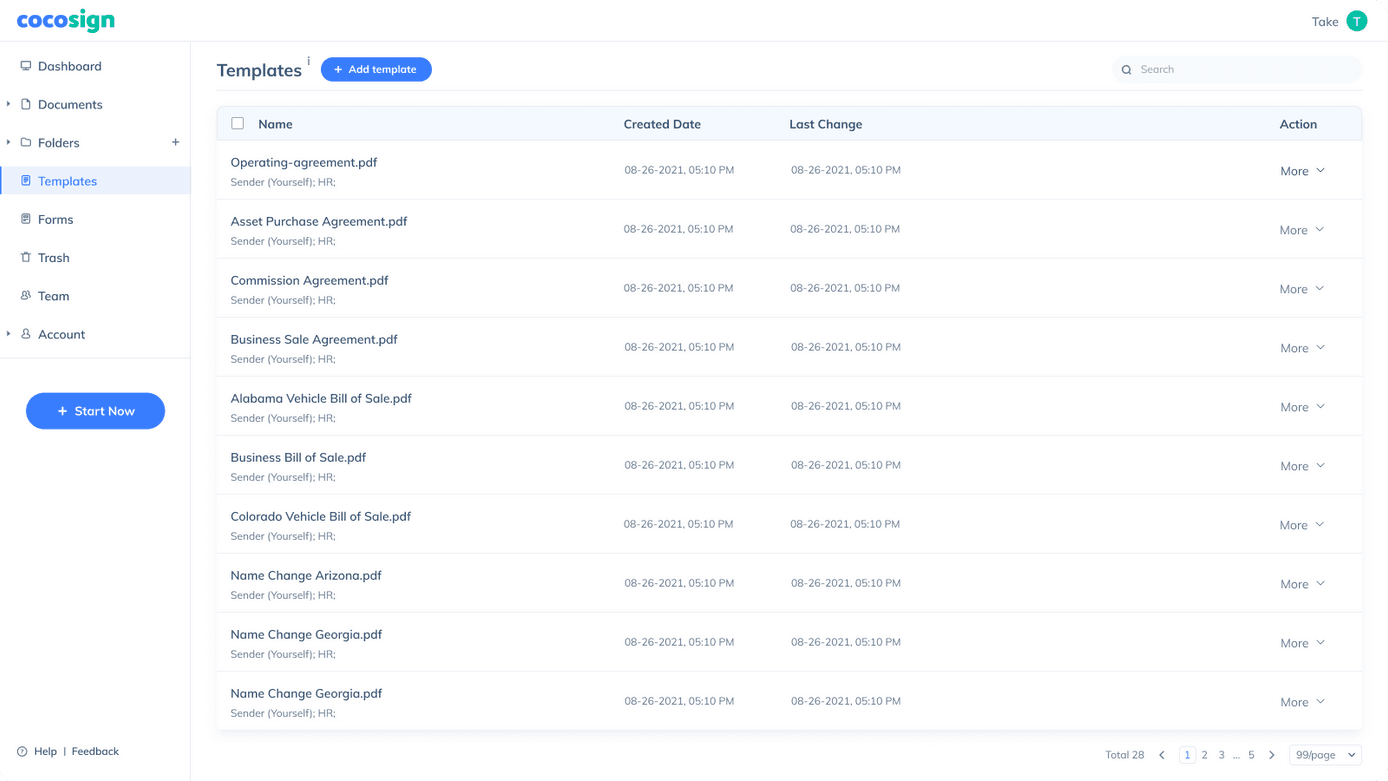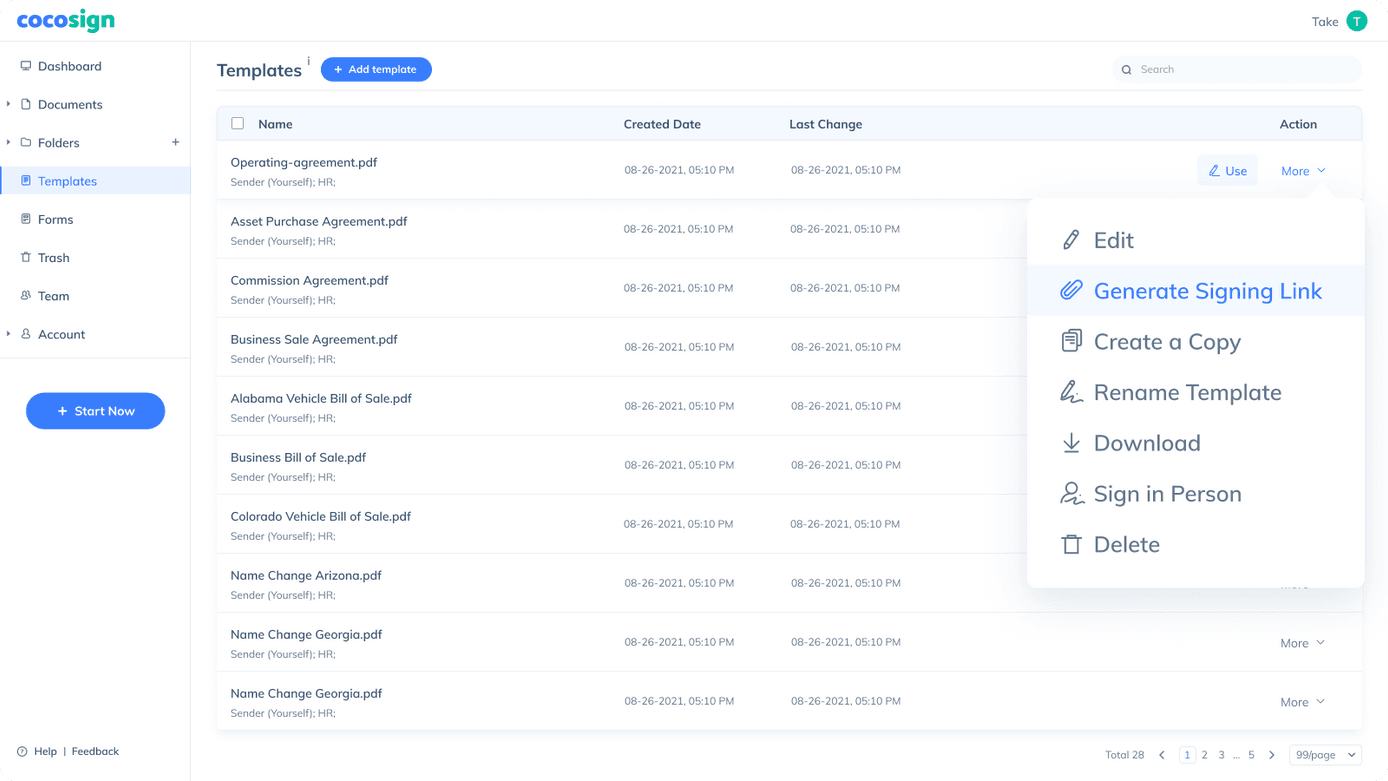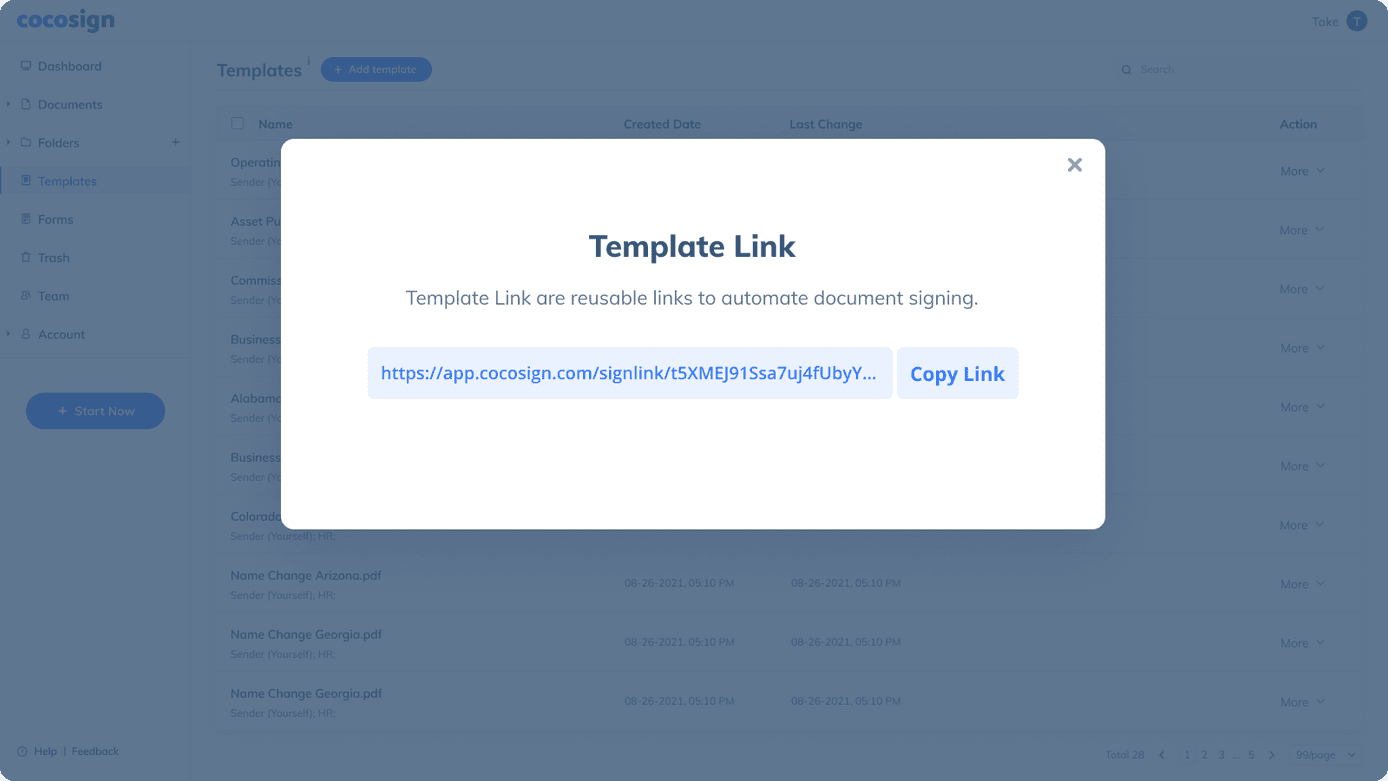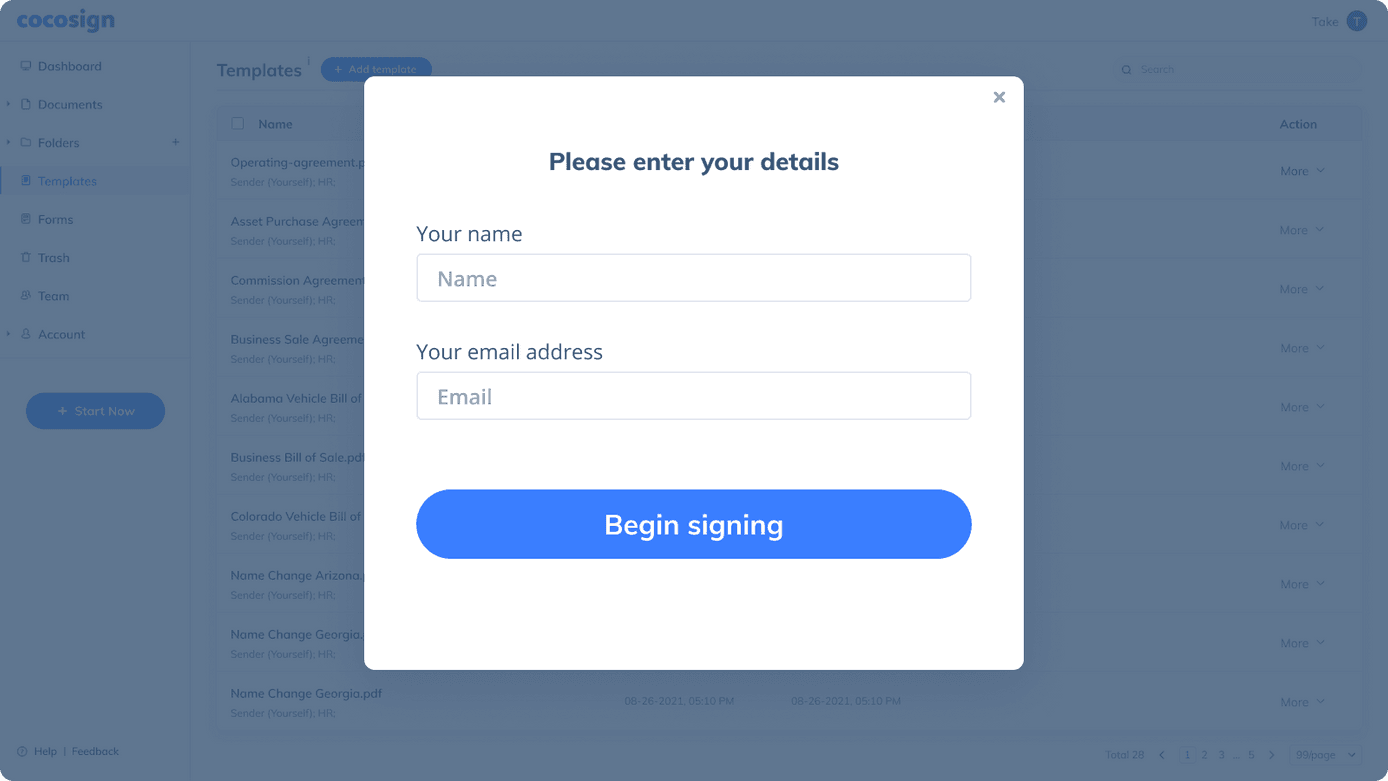 Differences between Document Signing Link and Template Signing Link
Document Signing Link
Super easy to use and understand
One private link for one signer
Signers can sign without entering emails
Expirable and non-reusable after signing
Used for signers who can't receive the email request
Contain certain risks of signature and signatory fraud
Template Signing Link
Not very newbie-friendly
One shared link for multi-signers
Signers need to enter their names and emails before signing
Unexpirable and reusable after it's sent
Used for senders to initiate the signature request to all signees
Risk-proof against signature and signatory fraud
Easier, Quicker, Safer eSignature Solution for SMBs and Professionals
No credit card required
14 days free