Legally valid eSignature features to get your business going
CocoSign's feature-rich esign tool helps you get documents signed quickly with maximum ease and security, thus streamlining your document workflow, innovating your workstyle, and creating more room for your business to grow and thrive.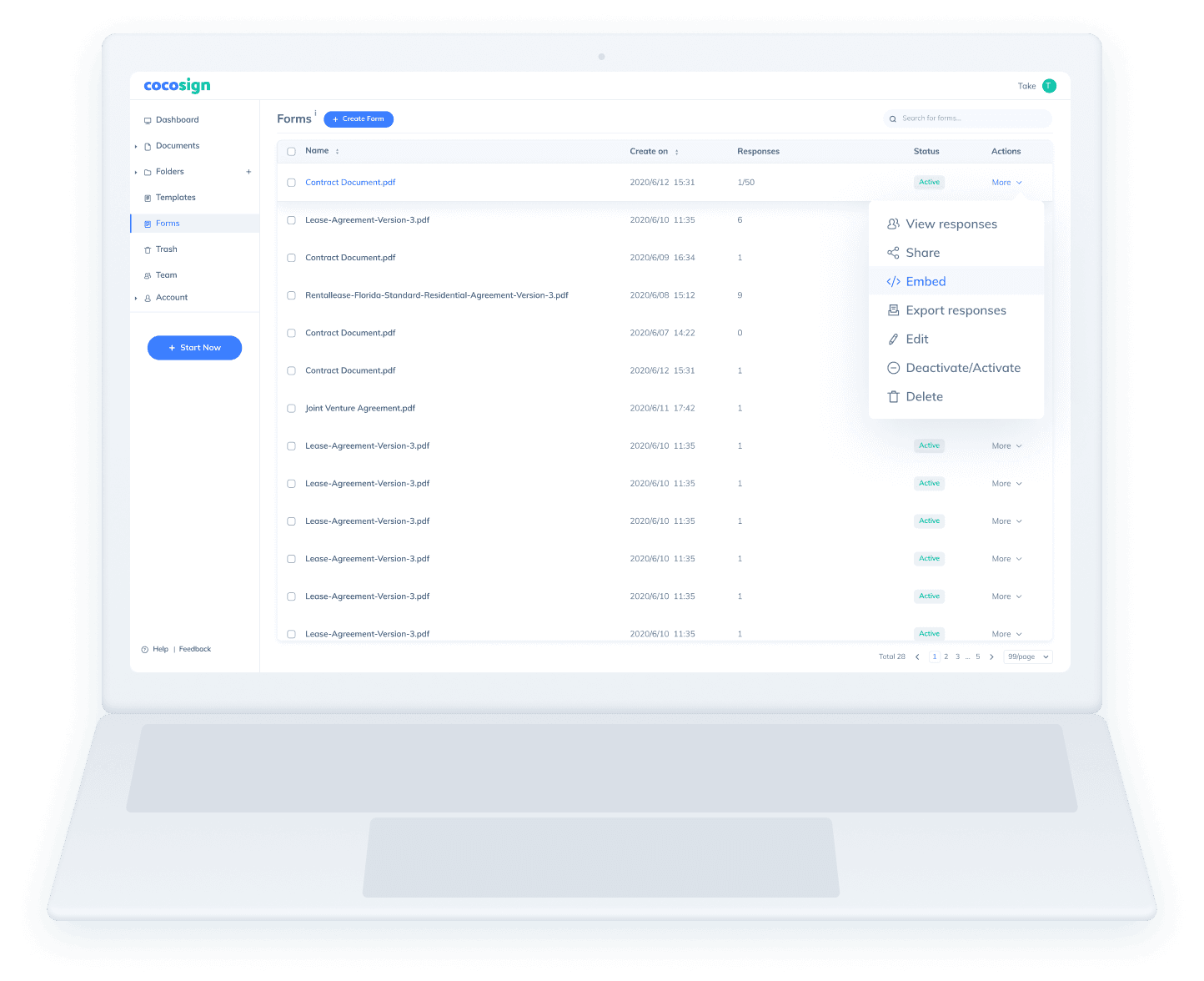 Easy-to-use eSignature tool to modernize your business
Send one or more documents for signature
Signature collection is made easy with CocoSign. Simply import one document or more and enter all signers' email addresses. Next hit the button Send. And you will be updated whenever your document is being signed.
Learn more
Dashboard
The dashboard gives you a quick idea of all your documents' status by showing how many documents are finished, or in need for signing. You get to increase your peace of mind by knowing the overall signing status of all documents.
Facilitate collaboration
You can not only sign your own documents online, but also can send them to multiple signers for signature. All paperwork is finalized with a single click.
Instant notifications
Whenever your document is signed, an email alert will be sent to inform you. For signers who haven't signed your documents yet, CocoSign will automatically send reminders for signing or you can also set up personalized reminders yourself.
Easy document management
You can easily search a special file or manage all documents on CocoSign's platform, from document creation, to template generation, to moving or deleting documents and so on.
Go paperless
Save time and cost on paper, ink and printers. Cut down your carbon footprint and build a green, smart and modern workstyle.
Document Storage
All paperwork is digitally archived in CocoSign's cloud system for you to check upon anytime. Nib all legal, financial, HR or administrative hassles in the bud.
Upload from multiple platforms
Users can import files from multiple cloud storage platforms like Dropbox, Google Drive, OneDrive and Box cloud storage. The whole process is quick and convenient.
Fully controllable eSignature workflow to assist your business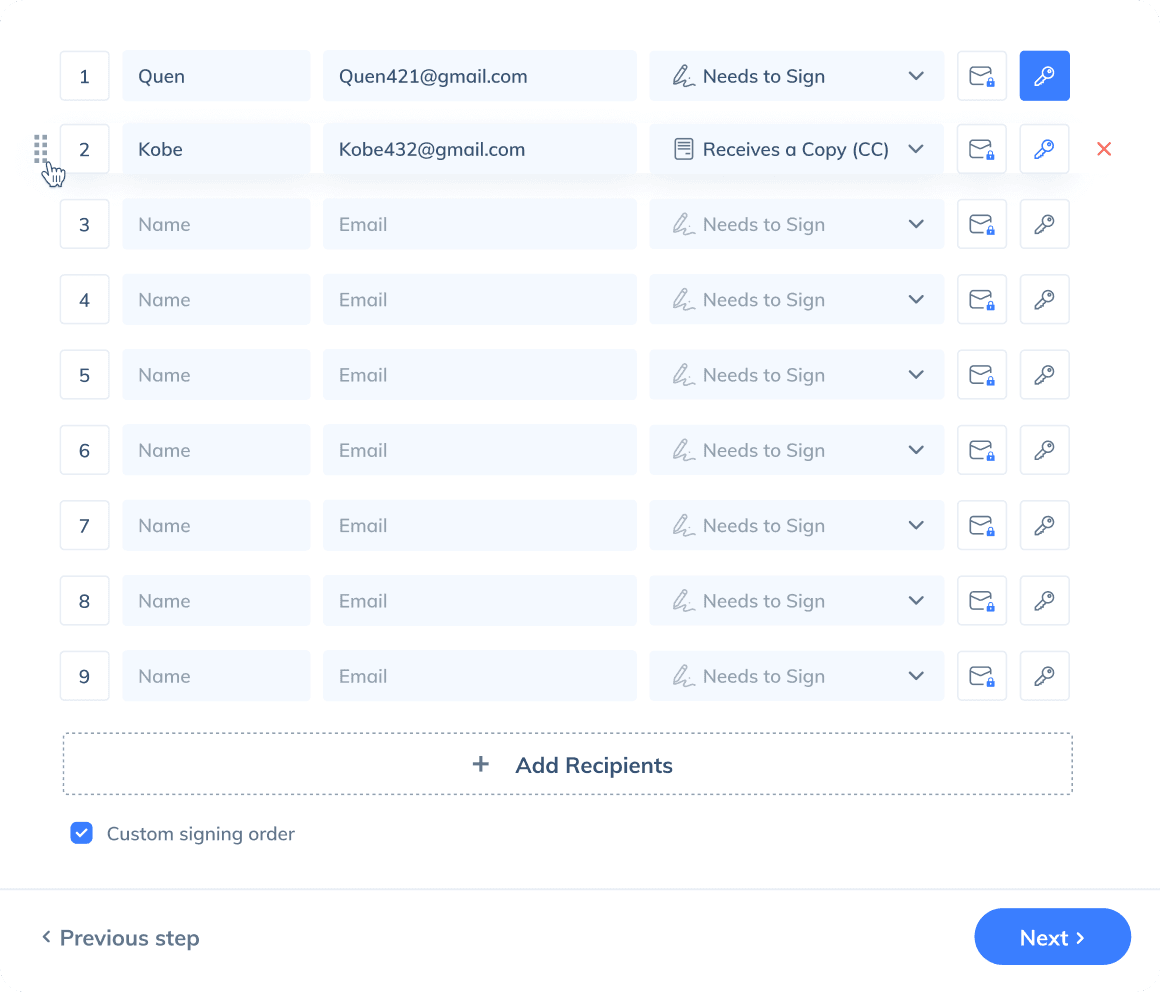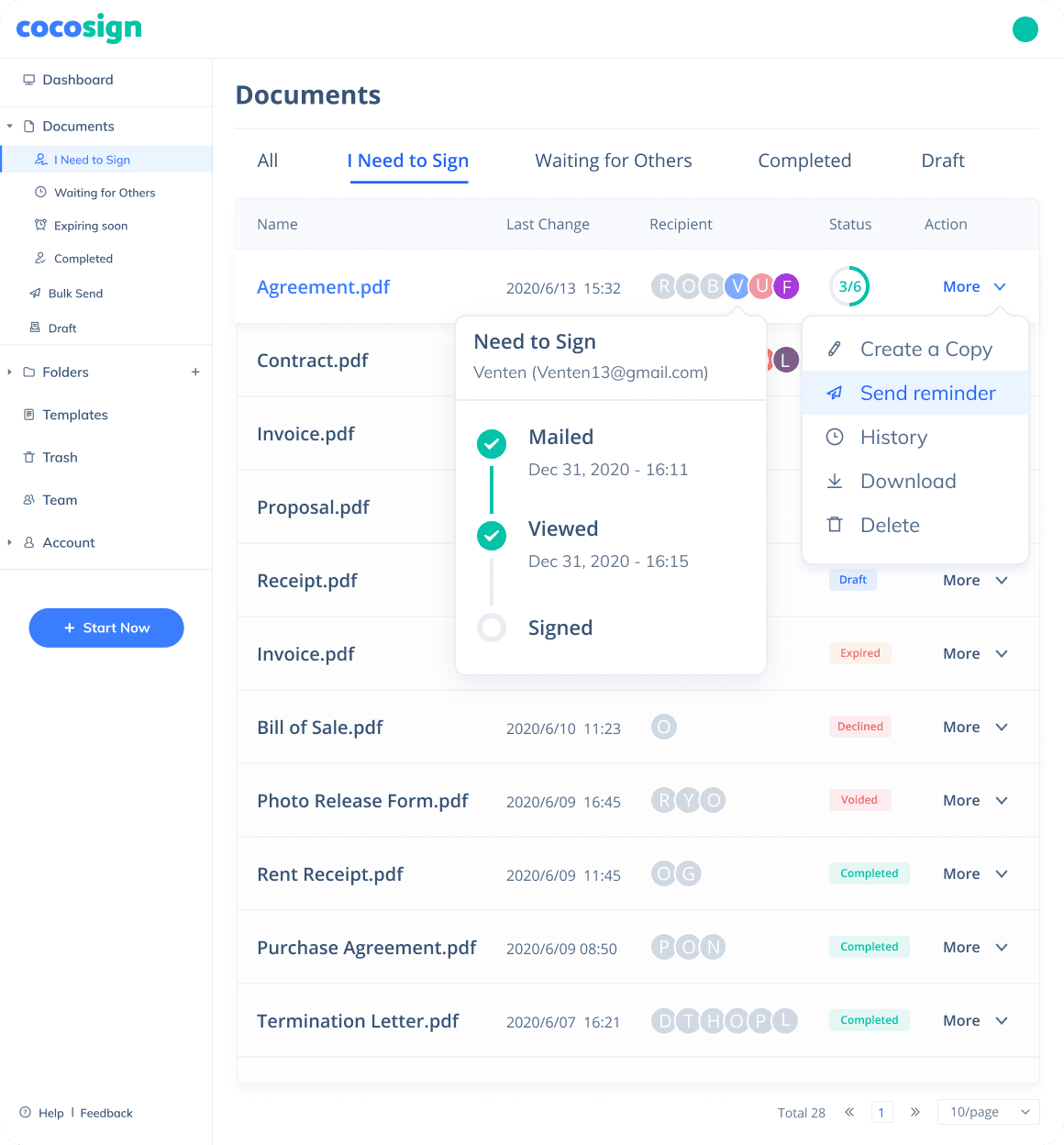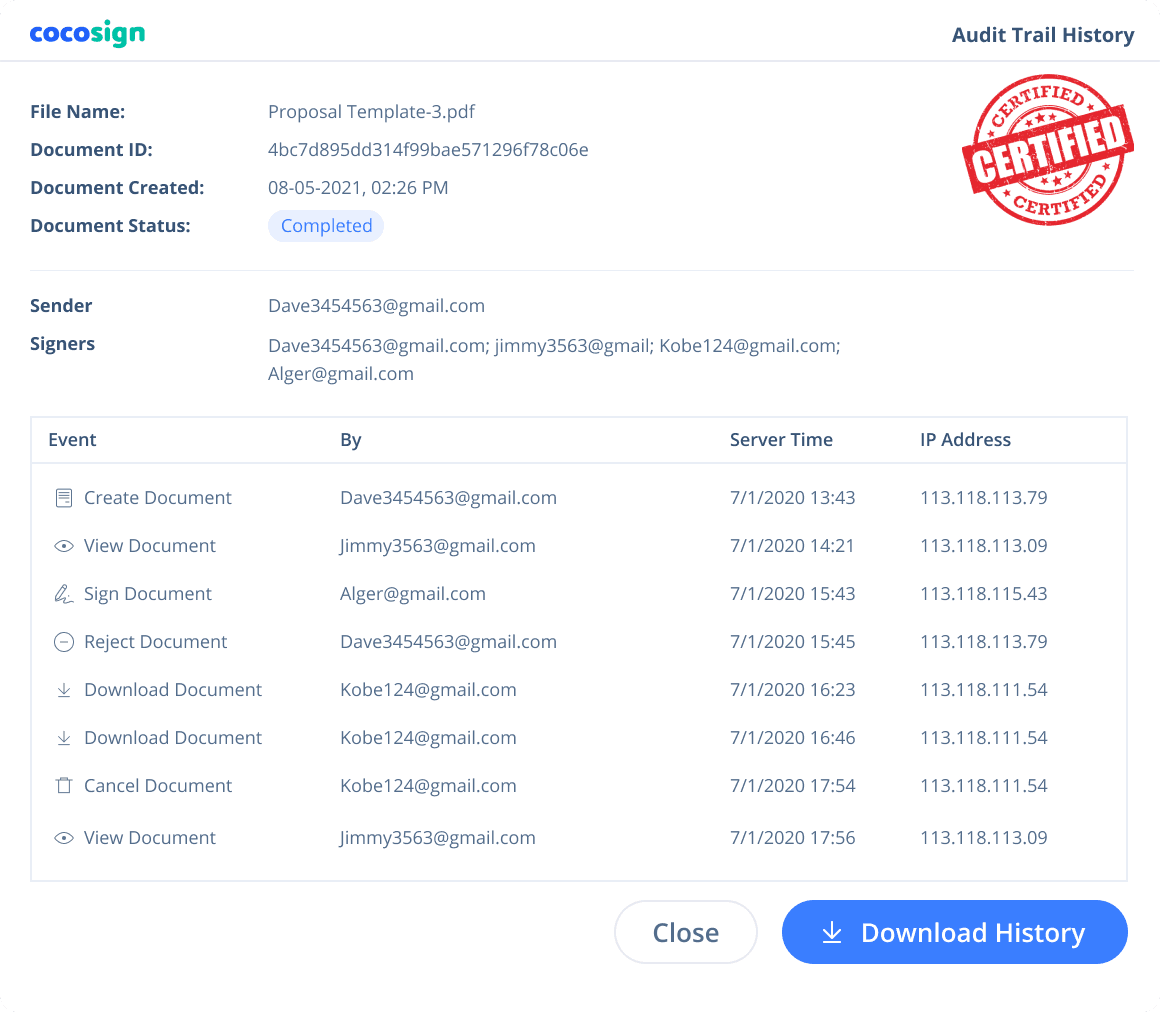 Manage the signing sequence
With CocoSign's digital signature services, you can decide the signing order of all your recipients by sending in a parallel or series sequence. Signers can be required to sign at the same time or one after another.
Document status tracking
Once you initiate a signing activity, CocoSign's document workflow tracker will inform you the live status of the whole signature workflow such as pending, completed, declined, deleted or not started.
Learn more
Audit History
CocoSign tracks data from various activities occurring on its platform to establish a neutral, third-party audit trail, including names, emails, time stamps, fingerprints and so on. All parties involved in the signing process can use the audit history to validate the legal authenticity of the document.
Learn more
Advanced eSignature features to jumpstart your business
Smooth business workflow
With CocoSign, you can customize a smooth document workflow that's easy to follow up and track. Simply import a document and enter the recipients' emails and you are good to go. You can also create templates for further use to reduce manual costs.
Learn more
Bulk sending for signature collection
CocoSign allows users to bulk send documents for digital signatures easily, be it a new company policy implementation, payment confirmation or forms filling. Save time and labour costs in one click.
Learn more
Customized Branding
Insert your logo and other visual designs into the documents you have created for signing, demonstrating your presence among all your clients, partners, vendors and employees to nurture brand loyalty and pride.
Learn more
In-person Signing
Sign in person with any client on your device in seconds and strike a deal quickly, with zero paper and ink needed.
Learn more
Reusable Templates
Create a template from scratch or simply save a used document as a template for frequent use in the future. Recruiting trivialities, financial handling and legal hassles, ect, all can be solved with a faster signing experience thanks to the reusable templates generated.
Learn more
Team Management
Admins are free to add and manage users in their CocoSign accounts.
Legal & Security
Legally valid
By meeting requirements of the ESIGN ACT, UETA, EIDAS, and other international eSign laws, CocoSign ensures that all signed documents are legally binding be it signatures, initials, dates, textboxes or checkboxes.
Learn more
Compliant with leading global security standards
CocoSign secures your eSignatures by satisfying the strictest laws and industrial regulations such as ISO/IEC 27001 and HIPAA. You can have peace of mind when signing documents online. Always know your business transactions are legally supported by our secure esign solutions.
Learn more
Safe and Dependable
CocoSign adopts the globally accepted PKI technology as well as the bank-level encryption (AES-256), so that the confidentiality, authentication & non-repudiation of all signed data can be guaranteed.
Learn more
Integrations that match perfectly with your daily working apps
Microsoft 365 Integration
Sign or send documents for signature on the go directly from your Microsoft 365 applications. The whole signing process is trackable and legally valid.
Learn more
Google Integration
Integrate the CocoSign solutions into your Google apps. You can sign and send documents directly from Google Docs, Google Sheets, and Google Drive.
Learn more
Easier, Quicker, Safer eSignature Solution for SMBs and Professionals
No credit card required
14 days free