Home  > 
GetAccept Alternative
CocoSign: A Faster, Easier GetAccept Alternative with More Advanced Features
Finding it tricky to get started with GetAccept? Having to constantly refresh the page? Lamenting that its features are not advanced enough for what it costs? No wonder you are searching for a GetAccept alternative. CocoSign won't let you down. It provides more robust features, a superior user experience, and more reasonably priced plans. See for yourself.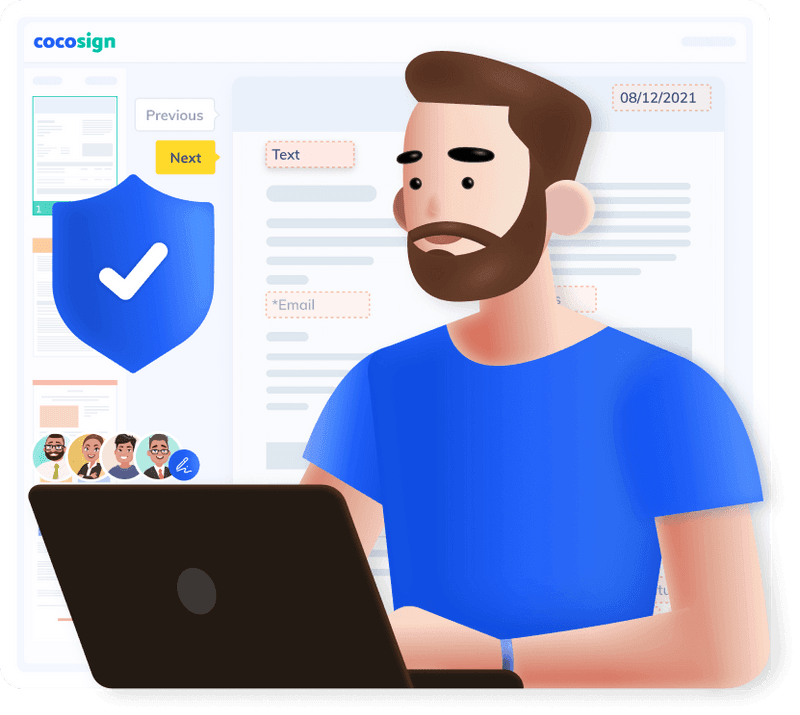 Features
CocoSign Boasts More Advanced Features Than GetAccept
CocoSign users have access to multiple key features GetAccept fails to provide to its customers, which is one reason why CocoSign came to be a better fit for users' needs. Here is a comparison of their features that may shed some light on it.
Bulk Send
With GetAccept, you add the names and email addresses individually to send the same document to a group of recipients. It's tedious and time-consuming, and requires many clicks, especially if you have a rather long list of recipients. CocoSign, however, allows you to import a bulk recipient list and send your documents to a large group at once, in just a few clicks. It's clear and straightforward.
InPerson Signing
GetAccept and CocoSign are all effective e-signature solutions that save you the hassle of organizing and carrying bulky physical documents. But CocoSign also allows signing from your device when you are sitting face-to-face with the other party. All you need to do is create a template or choose a suitable one from your existing templates. Then with one click, you can start the in-person signing process. It saves your client the trouble of pulling their own device while ensuring all is completed without unnecessary delay.
Forms
Another feature that GetAccept is missing is Forms. This feature of CocoSign allows users to create online forms to capture signatures and data at scale and export responses speedily for in-depth analysis. Simply place your forms, be they waiver forms or questionnaires, on your website or app via links or iframes generated on CocoSign in one or two clicks. There is no need to implement APIs.
Customizable Electronic Signature
With GetAccept, you can only create a handwritten signature or settle for its monotonous default font style. By contrast, CocoSign allows you to type, draw, or upload one. You can change the font type, color, size, slope, and slant as you like, or simply upload a unique signature created with a signature generator, adding a personal touch to your signature.
CocoSign Is Much More User-friendly Than GetAccept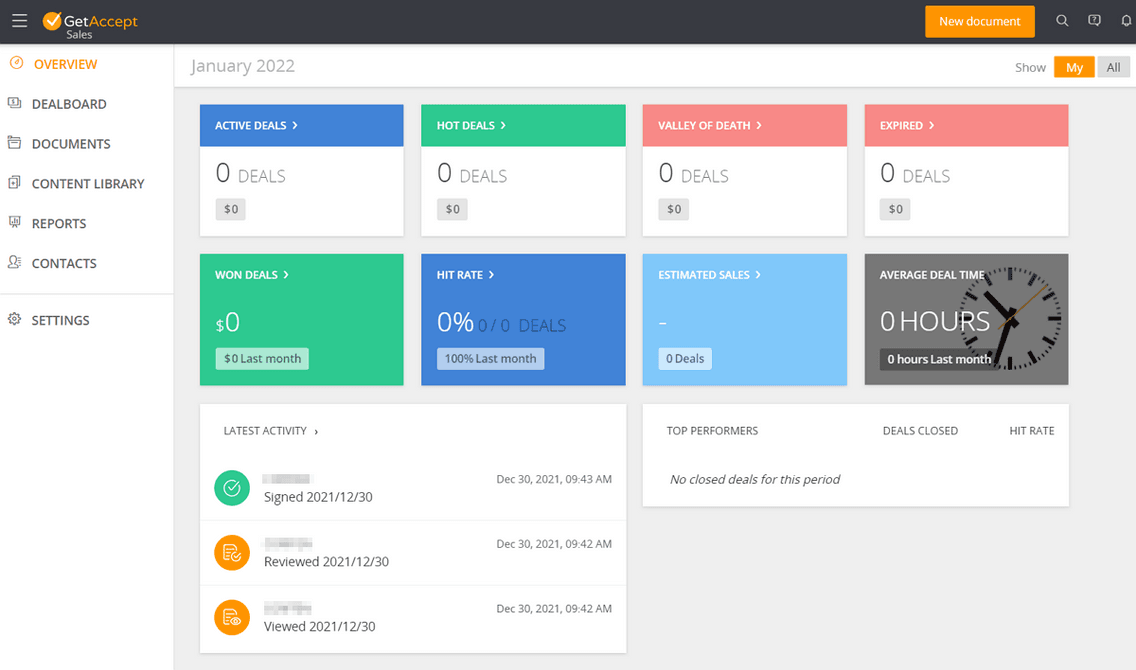 GetAccept: User-unfriendly & Buggy
GetAccept is user-unfriendly for several reasons. First of all, its user interface is overly complicated and confusing, making it a struggle to use and find out where to go next, especially if people visit its website for the first time. Secondly, there is no "undo" button. If you make a mistake, you can't go back and correct it. Making things worse are frequent glitches.
CocoSign: Easy-to-use & Fast
CocoSign is the opposite of GetAccept. Its UI design is intuitive and responsive so that every user, tech-savvy or not, could get their documents created, signed and managed with ease. Besides, CocoSign adds new features only if there is a compelling need for them and they bring significant value to our users, so CocoSign works faster and is unlikely to be plagued by glitches.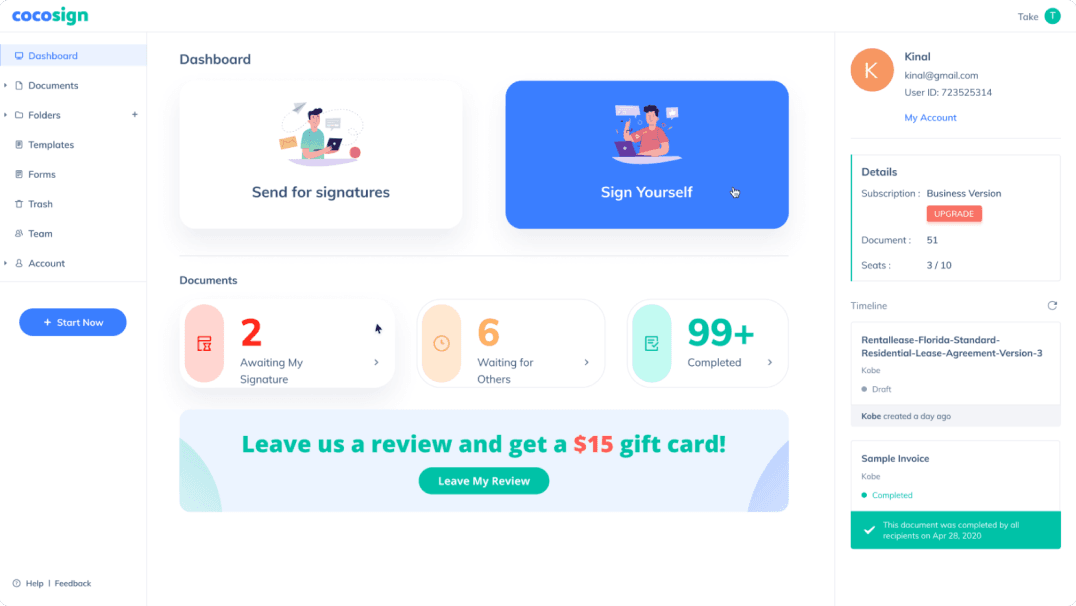 What Do GetAccept's Customers Say?
What Do CocoSign's Customers say?
Pricing
CocoSign Comes with More Affordable Pricing
GetAccept offers two plans for $15 and $49 per user per month respectively, along with a free plan and a custom enterprise option. CocoSign's pricing is broken down into three main plans ranging from $8 – $25 per user per month, a free plan, and a custom enterprise package.
CocoSign's monthly pricing is more affordable across the board, and the difference between the two tools only grows as you scale up. This is beyond the fact that CocoSign affords unlimited eSignatures, robust enterprise-grade features and enterprise-level support.
GetAccept Pricing
| Free | Essential | Professional | Enterprise |
| --- | --- | --- | --- |
| $0 | $15 | $49 | Contact GetAccept |
CocoSign Pricing
| Free | Essential | Professional | Business | Advance Solutions |
| --- | --- | --- | --- | --- |
| $0 | $8 | $15 | $25 | Contact CocoSign |
The CocoSign pricing mentioned above is based on an annual subscription. CocoSign offers the option of paying per month for all its three paid plans. This will bring the highest fee of the normal plans up to $35 per user per month for CocoSign.
In comparison, GetAccept provides the option of paying per month only for its Essential plan, with the same pricing as when it is billed yearly.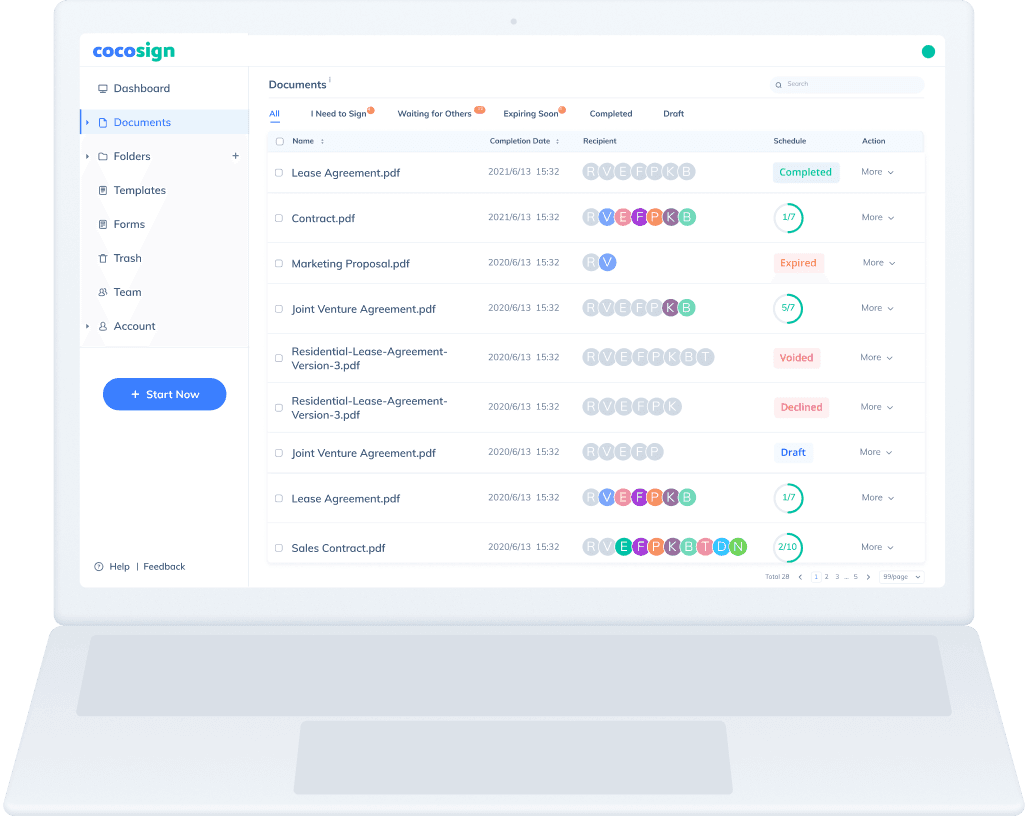 Try our 14-day FREE Trial Today!
No need to put up with GetAccept's inadequate features and annoying bugs. Delight your partners and customers with a premium digital signing experience by switching to CocoSign, a faster, easier e-signature solution with more advanced features.
Easier, Quicker, Safer eSignature Solution for SMBs and Professionals
No credit card required
14 days free