Home  > 
Formstack Sign Alternative
CocoSign: A Faster, User-friendlier, and Cheaper Formstack Sign Alternative
If you've had enough of Formstack Sign (formerly InsureSign) with its confusing user interface, frustrating lag and disappointing features, you've come to the right place. CocoSign will delight your customers, partners and employees with a premium digital signing experience. Read on to find out how CocoSign outperforms Formstack Sign.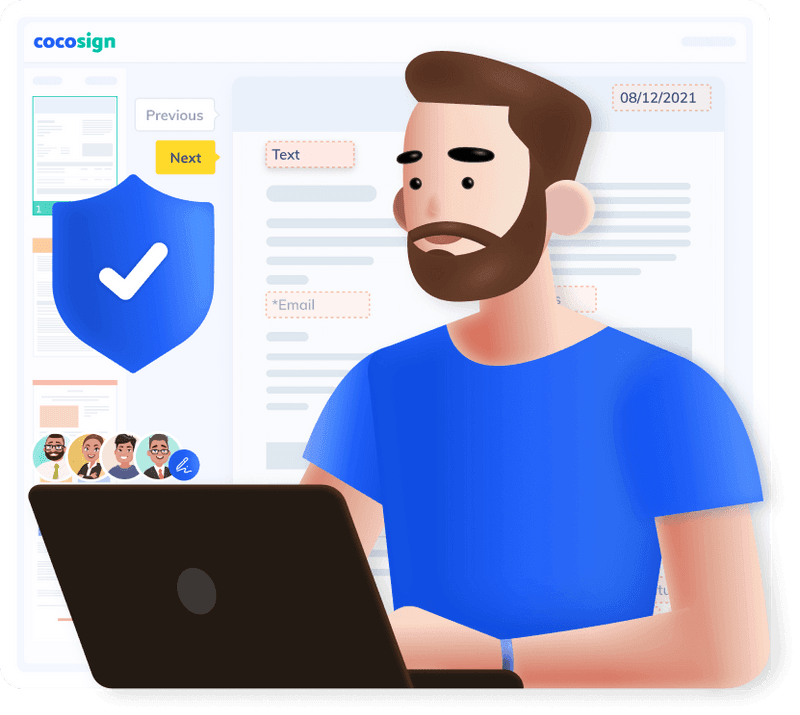 Free Plan
You Can Use CocoSign for Free
One thing CocoSign has that is conspicuously missing in Formstack Sign is a Free plan. CocoSign's free plan lets you send 999+ signature requests and download 5 signed files per month. These renew every 30 days from the day you sign up. That means you can prepare and send one or more documents to be esigned by one or more signers, track signing process, and receive the completed document(s) without spending a dime with CocoSign. Check out CocoSign Plans and Pricing to see everything on our Free plan.
Pricing
CocoSign's Pricing Is More Affordable
Apart from a freebie, CocoSign also offers more reasonably priced plans than Formstack Sign. Formstack Sign offers two plans for $15.95 and $25.95 per user per month respectively and a custom enterprise option. CocoSign provides three main plans ranging from $8 – $25 per user per month, along with a custom enterprise package. CocoSign's plans not only come with more flexibility but are less expensive at every tier, so you will pay less per user as you scale up.
Formstack Sign Pricing
| Starter | Pro | Enterprise |
| --- | --- | --- |
| $15.95 | $25.95 | Contact Formstack Sign |
CocoSign Pricing
| Essential | Professional | Business | Advance Solutions |
| --- | --- | --- | --- |
| $8 | $15 | $25 | Contact CocoSign |
Features
CocoSign Users Enjoy Thoughtful Features
Both solutions offer the standard electronic signature features you need and expect, including basic and advanced field types, reminders and notifications, signing workflow and template library. But CocoSign also offers some thoughtful features that Formstack Sign hasn't thought to include.
Create folders
CocoSign's eSignature tool lets you create folders so that you can manage your completed documents in your CocoSign account, further removing manual processes.
Set expiration date
With CocoSign you get to set an expiry date for signing, creating a sense of urgency for your signer and providing extra security – it's not a good idea to have a contract or form still out for signature and/or completion long after their intended use.
Preview the document
You are not able to preview the document to send out with Formstack Sign. CocoSign, however, allows you to preview the document from each recipient's perspective, which can help you catch any potential errors.
Prefill document fields
There are cases where you need to prefill certain document fields before sending. With CocoSign you can add the pre-fill fields to the document yourself and then complete them before you send the document.
Below is a detailed comparison of the two tools:
What Do Formstack Sign's Customers Say?
What Do CocoSign's Customers Say?
CocoSign Always Puts User Experience First
Interface and workflow
For all the robust features Formstack Sign has, its oversimplified interface and perplexing workflows make it hard for users to actually find and use them, especially for those who visit its website for the first time. Most of the time, trying to utilize Formstack Sign to get work done is like playing hide and seek. It's anything but user-friendly.
CocoSign, on the other hand, offers seamless workflows and a self-explanatory interface. Its dashboard is clean and straightforward. A glimpse of the dashboard plus a few clicks will show our users the whereabouts of almost all the advanced features CocoSign has to offer.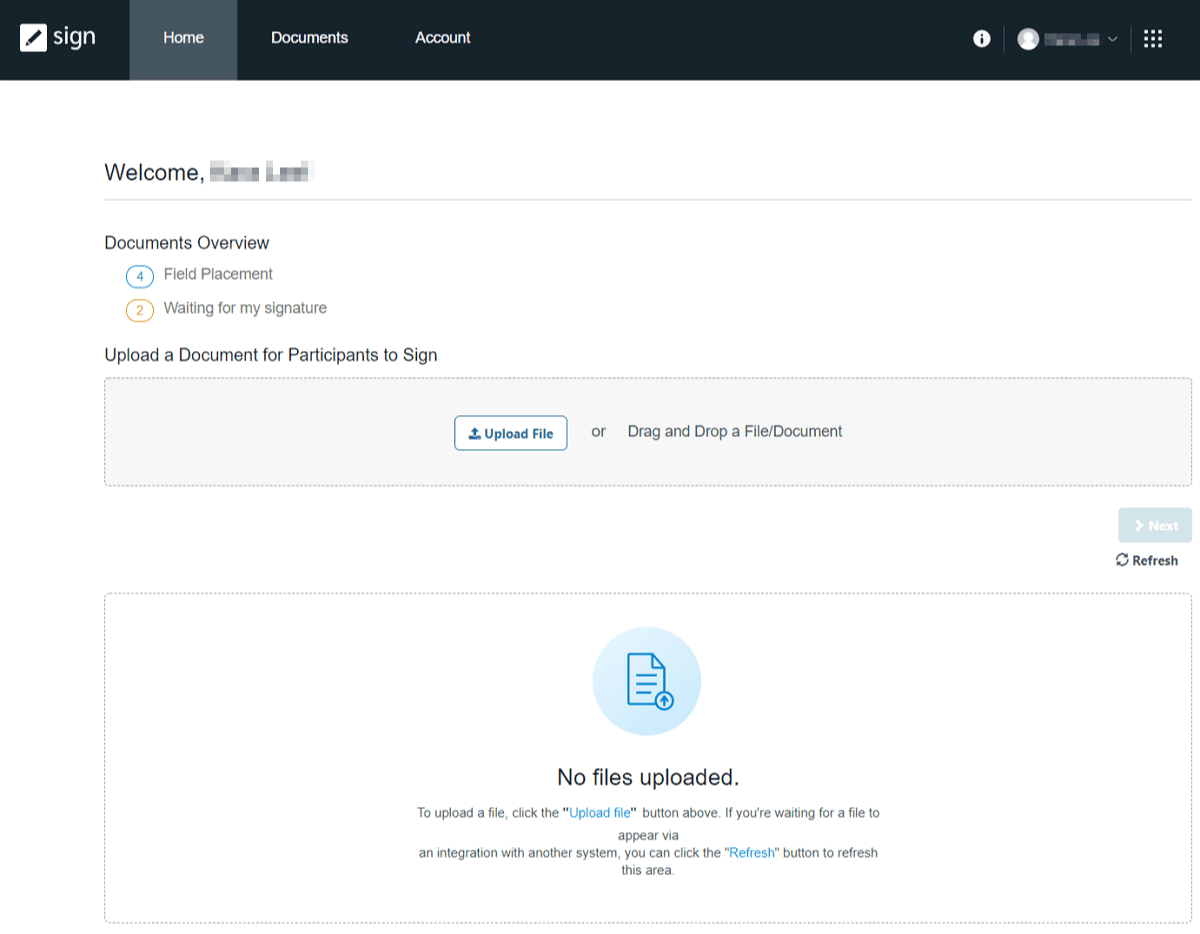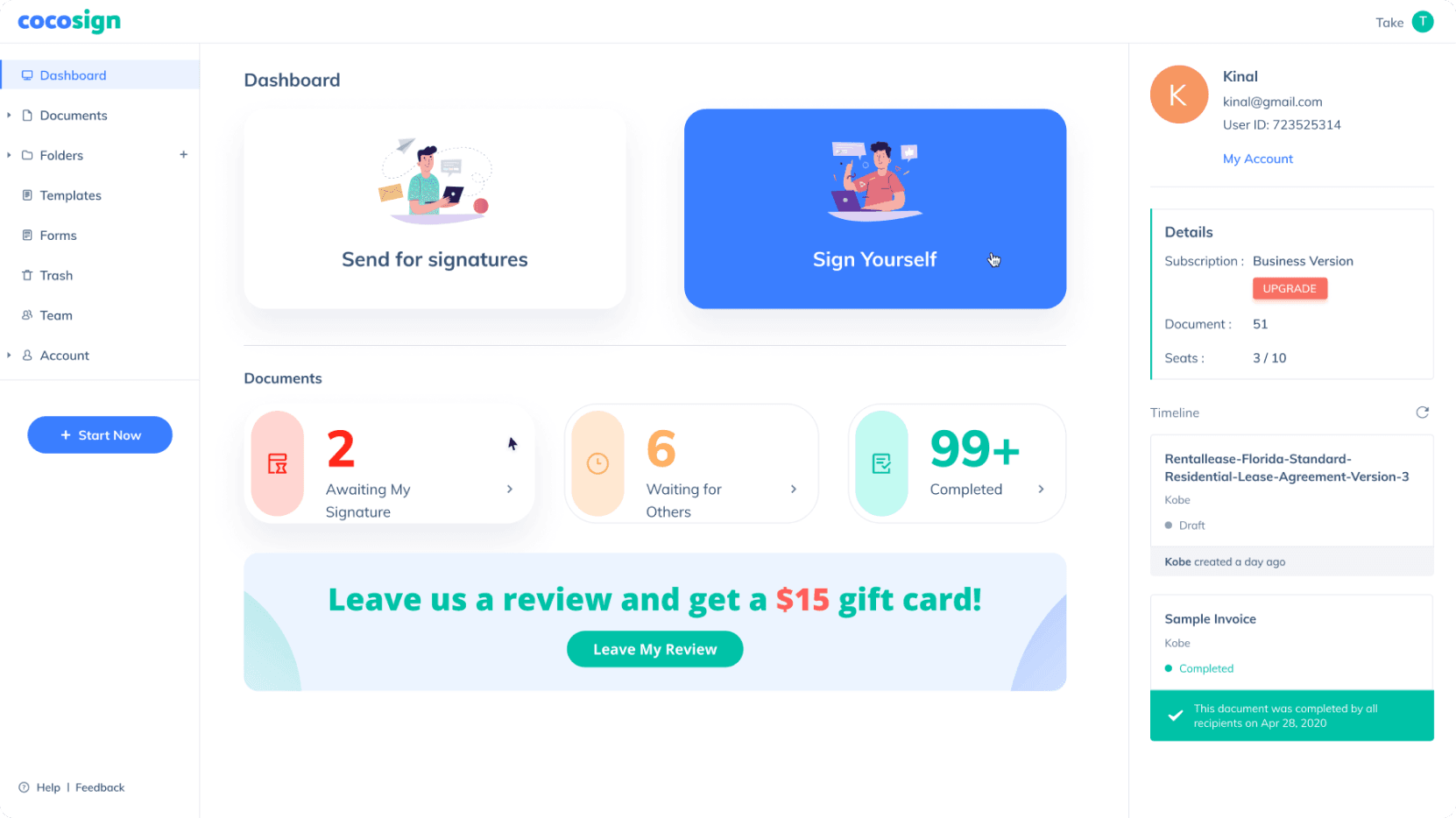 Guidelines
Making things worse is Formstack Sign's woeful lack of easy-to-spot guidelines. When users get stuck in the course of preparing a document for signing, they are not provided with instant access to clear instructions.
CocoSign users have our carefully prepared guides at hand to walk them through the steps.
Speed
Another problem that spoils Formstack Sign's user experience is the lag. It can take ages to upload a file, let alone perform more complicated tasks such as creating reusable templates.
Lagging isn't an issue with CocoSign. Our web service is designed to let you get more documents signed and completed with less time.
What Do Formstack Sign's Customers Say?
What Do CocoSign's Customers Say?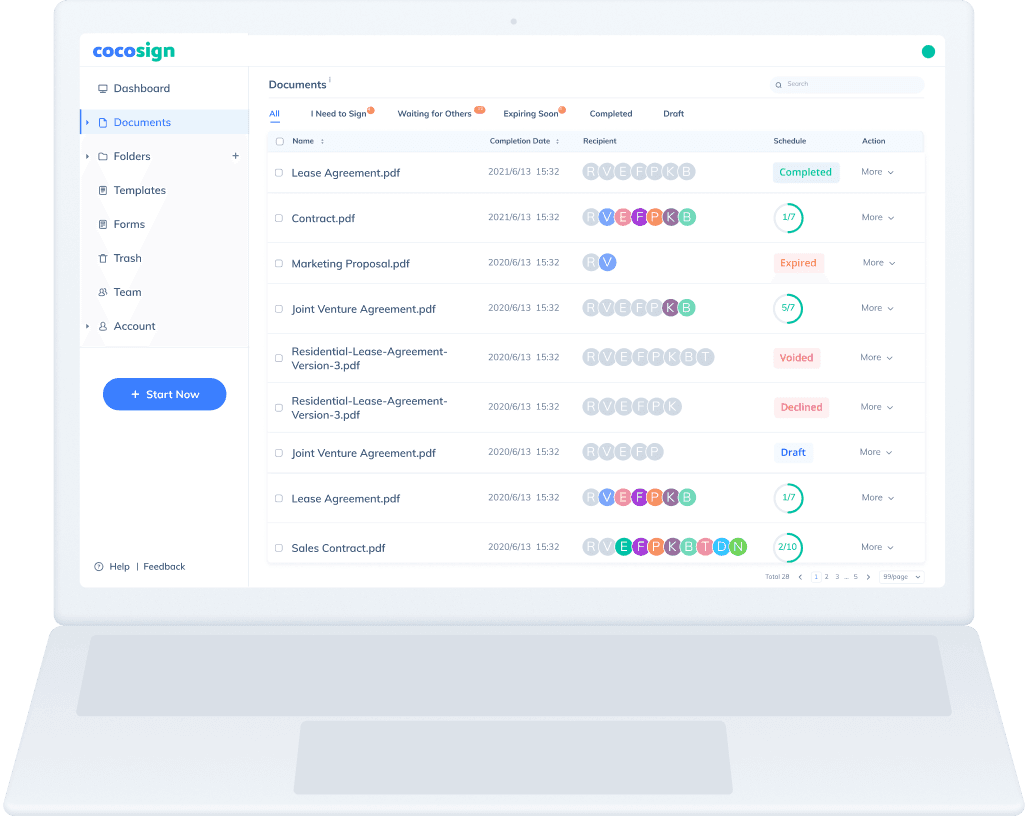 Get started with CocoSign now
Get started with CocoSign, a faster, user-friendlier, and cheaper Formstack Sign alternative. We offer a 14-day free trial (no credit card required) where you have access to all the features CocoSign has to offer. Test it out now!
Easier, Quicker, Safer eSignature Solution for SMBs and Professionals
No credit card required
14 days free