300+ Online Tools for Small Business Success
Did you know 31% of American SMEs have shut down in the last three months? Are you aware that 92% of small businesses have reinvented business models by going digital? More than ever is the time for you to ramp up your digital operations by utilizing the 300+ online tools available for small business growth.
Adapt to Thrive: Small Business Survival Gear Amidst the COVID-19
The coronavirus pandemic has, without a doubt, disrupted numerous businesses to detrimental effects. Most business owners have temporarily or permanently closed down in compliance with directives from the government and health authorities, consequently leading to a downward spiral in revenues, among which small businesses seem to bear the brunt.
Nothing is more urgent now than adapting and evolving, namely incorporating the right methodologies into your business model.
Establish an online presence
One sure-fire way of staying afloat and flourishing during this pandemic-ravaged period is building an online presence. It's been proven that businesses with online profiles have an advantage over others without one.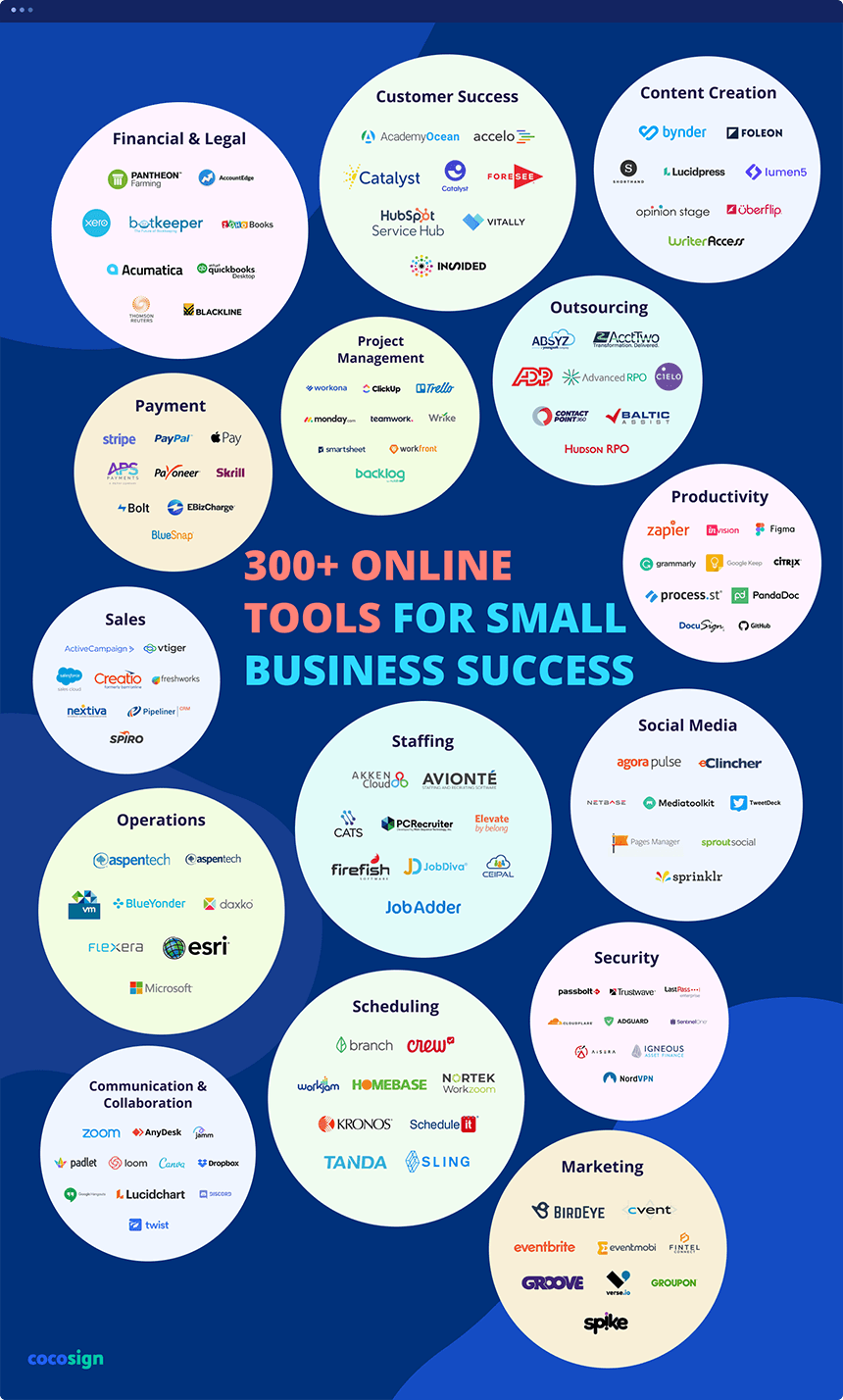 For small brick-and-mortar stores, a good way to start is setting up virtual stores to sell their products. They can do this by choosing an eCommerce platform like Shopify, Alibaba, and BigCommerce to sell wares. In particular, Alibaba has organized programs like the Super Consumer Growth Accelerator Program to help small business in America struggling with the effects of COVID-19. Artisans, designers, and smaller marketplaces can make use of online stores like Etsy and Bonanza.
To get a firmer hold of the market, you may wish you to localize your online presence. This helps you focus on the local market rather than compete with bigger brands on global marketplaces like Amazon and eBay.
A good way of doing this is creating pages on Instagram, Facebook, LinkedIn, and other social media spaces with wide coverage. Using these pages, you can advertise to your local market what you sell or the services you provide. Seeing that 51% of Facebook and 64% Twitter users are most likely to buy products from brands they follow speaks to why you need to create a page and establish an online presence. For 93% of marketers , social media marketing has helped their businesses gain more exposure.
Some of these platforms have also designed new programs to help small businesses. For example, to alleviate small businesses' struggles during the coronavirus outbreak, YouTube made it possible for small businesses to create video content for free while Facebook launched Shops.
Partner with other small businesses
Networking is paramount to growth during this period. Consider collaborating with local businesses to develop marketing bundles and cross-promotional plans that can help increase your ROI.
You can also consult digital marketing companies to assist you in analyzing customer demographic and data to help you channel your marketing efforts properly
Should you be in the hospitality niche and can no longer house people in your small corner because of social distancing principles, why not negotiate with parking lot owners to see how feasible it is to use their properties.
Diversify and modify existing business models
Keep an open mind and be ready to incorporate ideas you never thought you might at one time consider. Take, for example, converting your pub to a makeshift marketplace. This pub can contain groceries, fashion wear, or towels, among others, while customers can place orders from the comfort of their home using a mobile app or an e-commerce site.
If you offer services like barbing, bartending, or any other, you can opt to host live sessions and online classes, teaching these skills to people. All admitted students would pay some money to get the knowledge you are passing on to them.
Benefits of Utilizing Online Tools for Small Businesses?
Improves productivity
Small businesses can better manage their affairs using productivity software and tools. These tools promote time management and help small teams work smarter towards achieving the set goal. Some of these tools include spreadsheets and product management tools. Scheduling apps like Appointy used by more than 65,000 users worldwide is also a very helpful tool for creating appointments with clients and potential customers
Increases reach
Leveraging on social media platforms can help small businesses increase their reach. Using these platforms, you can get leads geographically distant from you. This is especially useful if your target demographic is young people as a report suggests that 90% of this demographic use social media networks.
Cost savings
Branding is a lot cheaper online than physically. Using logos, flyers, and banners will save you a lot while reaching more people than branding shirts, caps, or signposts would. That is why every business owner needs to start utilizing online tools in running their businesses.
Key Considerations in Choosing the Right Online Tools for Your Small Business Success
Brand mission
The mission of your brand may dictate what kind of tools are essential for your business. If your goal is to increase conversions, for example, you may want to focus on online tools and marketing strategies that can help you convert your leads. If your goal is to let people know more about your brand, using social media automation platforms is ideal for you.
Understand what your business lacks
The right online tool for you depends on what your business needs. Regardless of how powerful a tool is, it won't help you achieve success if it does not address a particular problem your business suffers.
For example, if you have problems scheduling clients, you might have to use a booking management software program or an automated scheduling tool. If you have issues with payment cheques, you may consider using a payment platform like PayPal or Stripe.
Conclusion
The uncertainty that came with the coronavirus pandemic is very disturbing and frightening for many small business owners. Many entrepreneurs have now been forced to take drastic steps to stay afloat. Only business owners willing to adopt online tools are touted to get through these trying times. Using the right online tools, entrepreneurs can still make as many profits as they used to and possibly more. Other benefits they stand to gain are a better collaboration between team members, a wider reach, cost savings, and improved productivity.
Project Management
Project management tools can help a team organize tasks into groups, indicating which are dependent or independent of each other for enhanced productivity and efficient achievement of set goals.
Communication & Collaboration
With communication collaboration tools, team members geographically distant from each other can share files, and have
audio
and video discussions on the projects they are handling.
Productivity
By streamlining work processes, productivity tools crumple time-consuming processes into few hours or days as the case may be, easing the job to be done and boosting employee's happiness.
Payment
Payment platforms and transactions are designed to ease financial transactions, issuance of invoices, debts settlement and submission of complaints, all that would have necessitated a visit to a banking hall.
Staffing
Digital hiring tools can simplify the recruitment process and help HR managers maintain better control of their office staffing initiatives.
Customer Success
Keeping track of customer success workflows, including collection of feedback, analyzing them, and customer communication can be a difficult task for top HR teams without access to customer success tools.
Sales
Harnessing these tools can help small businesses automate marketing processes, conduct sales analytics to help determine which prospects are likely to convert, when to reach out to them and what should be discussed with them.
Outsourcing
Small businesses
may utilize this type of tools outsource part of their work to other companies or freelancers to ensure efficiency and quality desired.
Scheduling
With scheduling apps, small business owners and employees can better manage their time, fix appointments and attend to all the tasks and activities listed in their daily to-do lists.
Operations
Operations tools are uniquely designed for small businesses that need access to metrics via which they can analyze how efficiently their production is running or what the deficiencies are.
Marketing
Small businesses and brands can leverage on
marketing tools
to increase their reach, get more leads and convert their leads into sales.
Content Creation
Using content creation tools, small businesses can create eye-catching contents, drive more traffic to their website thanks to
keyword research
and increase ROI by inserting a call-to-action text or button.
Social Media
Small businesses can
increase their reach
, online impressions, engagements and compete with bigger brands by leveraging on social media platforms like Facebook, and LinkedIn.
Financial & Legal
These tools come in handy when small businesses need to deal with financial and legal matters, among many others.
Security
Without security apps, business' financial records, data and system are vulnerable to attacks by malicious individuals and direct competitors who many want to bring them down.