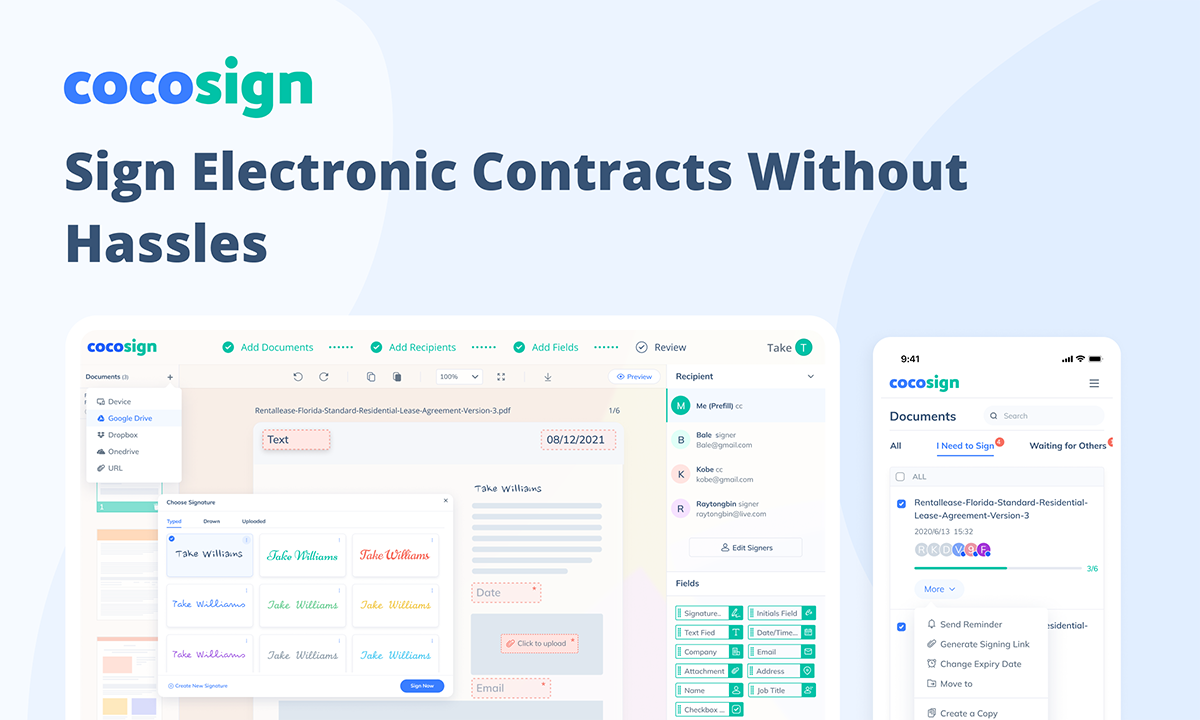 How To Electronically Sign a Contract
Are you wondering how to eSign a contract? CocoSign is a free contract signing tool that allows you to create legally-binding eSignatures on your contract easily and quickly. You can also request others to sign your contract.
Have you received a job invitation that requires quick confirmation? Are you in a hurry to finalize a sales contract? Are you dealing with a digital contract when you have no access to a printing machine, paper, or pen?
Whichever the case, an electronic signature provider like CocoSign could be the best solution. CocoSign is an easy-to-use eSignature platform developed for every individual, professional, and business to electronically sign any document quickly and effortlessly.
Benefits of using CocoSign for online contracts signing include:
Sign an electronic contract from any device (e.g. computer, tablet, cell phone) without installing a software or mobile app.
Easily send a contract and collect e-signatures from other signers, which helps slash turnaround time and close deals faster.
Save money on printing, scanning, and file delivery.
Automate contract signing workflow and improve work efficiency.
Ensure the validity of contracts with compliant and legally binding electronic signatures.
Now, let's look at how to sign a contract digitally with CocoSign!
How To Sign a Contract Online Using CocoSign
Once you sign up for a free trial of CocoSign, you can start signing your contract with 3 easy steps below:
1. Go to your dashboard, select Sign Yourself and upload the contract you wish to sign.
2. Embed a signature field into your document and create an electronic signature, or fill out the text, date, address boxes if necessary.
3. Click Complete and download a copy of your signed contract, or share it with your recipient via email.
CocoSign offers flexible approaches to uploading a contract. You can either drag and drop the file directly from your device, or select a document from a cloud platform like Google Drive, OneDrive, and Dropbox, or just copy and paste the URL of an online document.
It is noteworthy that CocoSign supports any file type, including PDF, DOC, DOCX, JPG, and more!
You can select from the following fields and insert any of them into your contract:
Signature
Initials
Name (auto-filled)
Company
Title
Address
Date (auto-filled)
Email (auto-filled)
Text
Checkbox
When adding a Signature or Initials field, you can just select the already generated eSignature of your name or create a new one using our powerful editor. You can choose to type, draw, or upload an image of your handwritten signature, and customize them as you like.
After filling out all the fields, you can complete the signing process by downloading the signed document for free. Or you can email it to the recipient's email address directly on CocoSign, so that you don't have to upload the contract again on your email client.
For more details, you can read our complete guide here.
If you want to know if there is any shortcut to sign a contract in PDF format, you can access our Sign PDF tool. Just choose a file and sign at one click, a piece of cake!
How To Send a Contract For Electronic Signing
When dealing with a contract that needs both you and your clients to sign, you can just use CocoSign's Send for Signatures feature to request eSignatures from others:
Step 1. After creating a CocoSign account or logging in, click Send for Signatures on your dashboard and upload your contract.
Step 2. Fill out the names and email addresses of your recipients.
Step 3. Drag and drop signature fields and other boxes.
Step 4. Edit email messages or send the contract directly.
If you have any questions related to sending a contract for eSignatures, refer to our detailed instructions in this article.
After you send the contract, the signer will then receive an email sent by CocoSign on your behalf, which links to the digital contract you send and can be signed within the email client. Your recipient just has to click the signature field to create a legally binding eSignature on the contract.
You can check the signing progress anytime you need on CocoSign's dashboard. Once the contract is completed, all parties involved will receive an email notification with a downloadable copy of the signed contract.
More Contract Signing Features For Your Business
As your business grows, contracts waiting for completion pile up in your office. Why not transfer your paperwork online?
Besides the basic functions mentioned above, CocoSign's paid plans provide a number of powerful features that get your contracts signed efficiently and effectively:
Arrange signing order: If you're sending a contract to more than one person, you can adjust the signing steps so that you can collect signatures in a well organized way.
Signer authentication: CocoSign enables you to verify the identity of the signer through authentication code, audit trail and other options.
Create reusable templates: When you need to use a contract for signing repeatedly, saving it as a template can remove hassles of formatting the document again and again.
Cloud file management: CocoSign is a reliable and secure cloud storage platform where you can archive and categorize your contract files in folders. You can search the documents whenever you need them.
Customize branding: To enhance your brand presence and bring a branded signing experience to your customers, you can add your company's logo, edit the signing URL, redirect signers to your website and more with CocoSign.
Secure, Legally Valid eSignatures for Contracts
Contracts are supposed to be legally enforceable and involve terms and conditions that all parties must follow. So it's understandable that you have concerns about the security and legitimacy of online contract signing. However, it is not an issue if you're using CocoSign.
While physical signatures can be forged, stolen, or tampered with, electronic signatures created by CocoSign are secured with stricter identity verification and multi-layer data encryption, such as TLS 1.3, and AES256, which keeps your contract confidential and inaccessible by any irrelevant third party. Besides, the audit trail records can serve as court-admissible evidence in case of unwanted disputes.
CocoSign also guarantees that your contracts are legally binding with full compliance. We abide by international signature laws and regulations and industry standards such as U.S. Electronic Signature in Global and National Commerce Act of 2000 (ESIGN ACT), eIDAS of the European Union, SOC Type 2, Health Insurance Portability and Accountability Act (HIPAA), and more.
Final Words
Electronic signatures are the simplest and fastest way to sign contracts, agreements, and NDAs online. You can cut costs and turnaround time on finalizing contracts and get your deals close quickly.
Online contract signing platforms like CocoSign have many advantages over traditional ways of signing documents, which completely eliminate the complicated process from printing, scanning, and delivering. Anyone with Internet access can use our eSignature service literally anytime and anywhere.
On a single platform, you can sign, send, and store all types of contracts and secure business success with legally valid digital signatures. No more waiting, try CocoSign today!
---