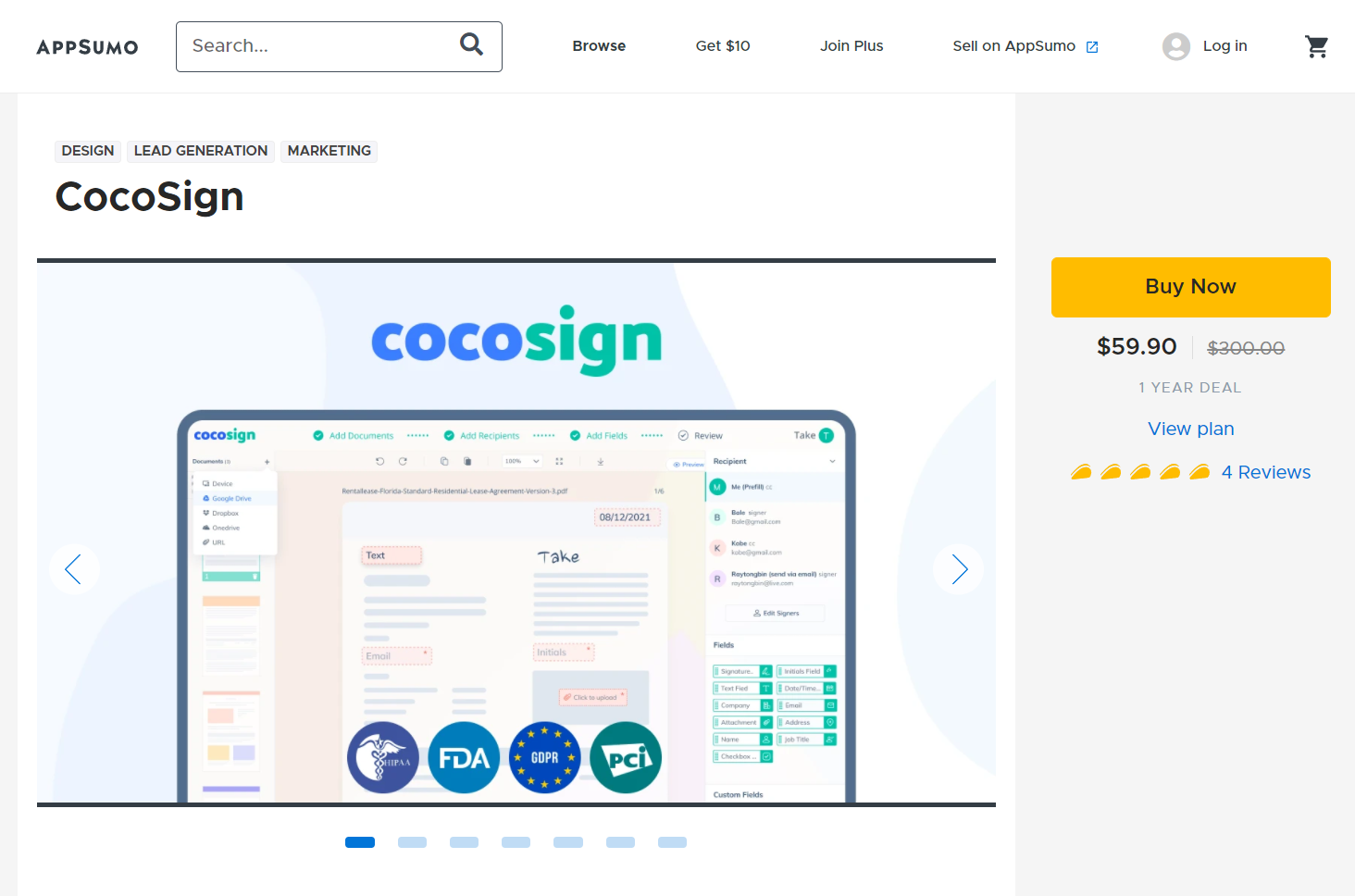 CocoSign Launches the First AppSumo Deal: Up to 80% OFF
Do you know that CocoSign released a deal on AppSumo? We offered a 1-year deal for a Business Plan at just $59.9. Check how to buy it and what you can get.
Recently, we have launched an AppSumo deal for our Business Plan. It is the first time we're featured and we would like to share this good news with you.
Now you can get a whole year Business Plan at just $59.9 if you buy it on AppSumo, which means you can spend 80% less on its versatile features. If you haven't subscribed to CocoSign's Business, grab this chance and make a difference!
Just seize the deal at one click: https://appsumo.com/products/cocosign/
What is AppSumo
AppSumo is a site where you can buy discounted app deals and a wide range of digital services, from email marketing to analytics tools and more. The company has been around since 2010 and as of the end of 2017 had 3 million members.
It's a great place to go if you want to get real deals on the best products in tech, online marketing, and lifestyle.
How to Purchase the Deal
If you're interested in getting the AppSumo deal, simply follow the steps below to complete your purchase:
1. Visit our product page on AppSumo. Click BUY NOW to add it to your shopping cart and pay.
2. You will get a code after finishing payment. Copy the code and head to our redeem code page.
3. Enter your email address and input the AppSumo Code you just bought. Click Confirm and after a few minutes, you can log in with the email you just entered and use any function in the Business Plan.
Feel free to ask our staff if you have any queries. You can just tap the live chat bubble or contact us at support@cocosign.com.
Major Benefits of the Deal
Buying this deal can save you from the hassles of checking the bill every month or connecting your financial account with CocoSign. You only have to pay for one time, and enjoy peace of mind for a complete year.
It just costs you $59.9 to gain CocoSign's whole feature-suite, including:
Sign & download limitless files
Create templates & share template signing links at will
Bulk send multiple documents to multiple signers
Customize your company's brand & redirect to your website after signing
Efficient in-person signing
Involve up to 50 coworkers in your team
…
We offer a complete guide on using these functions. If you're still confused about anything, our professional support team is always there!
CocoSign has always been improving its eSignature service and intends to encourage more customers to enjoy the convenience and efficiency of signing PDF online. Now, the chance is right here. Take it or leave it, it's totally up to you!
---