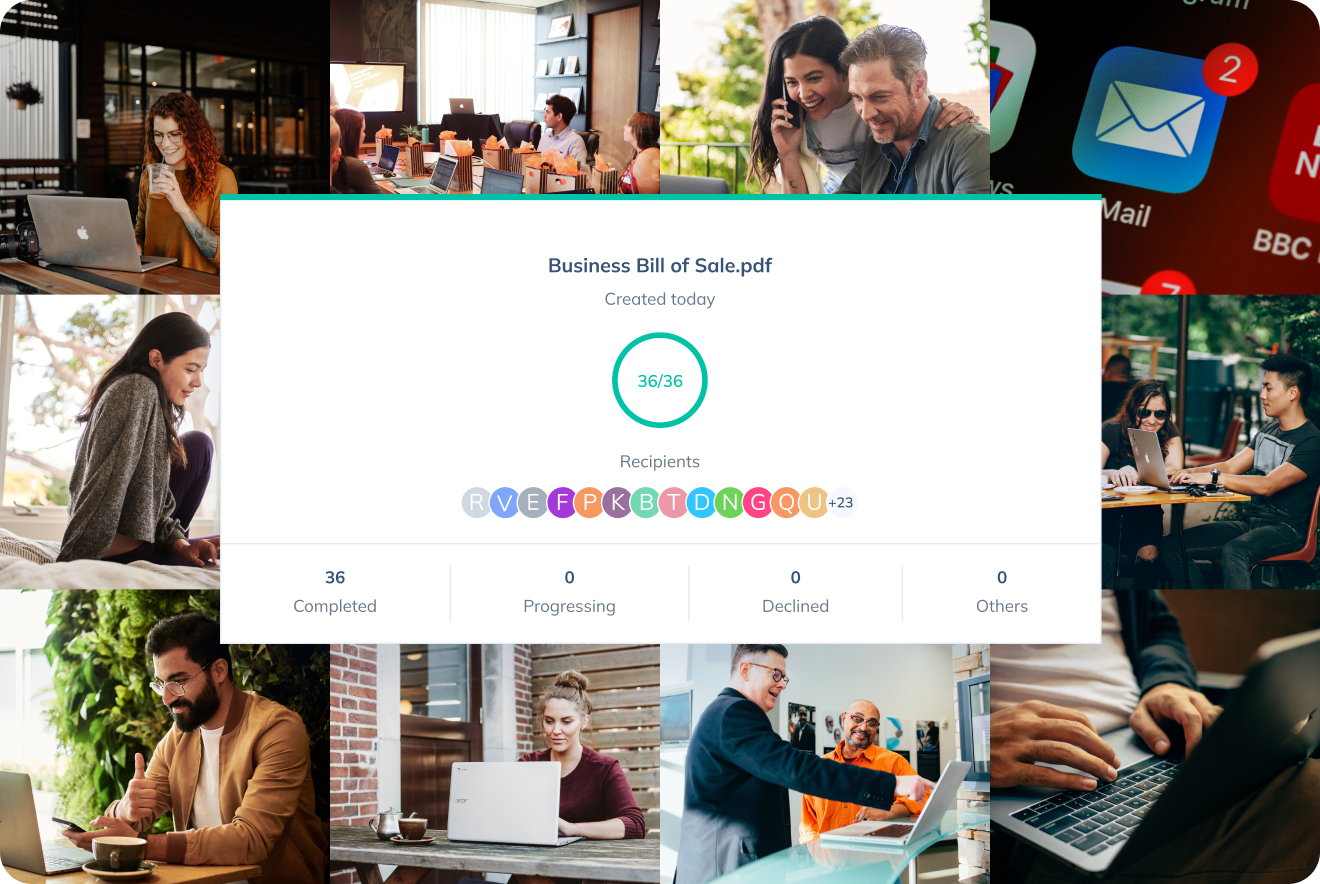 Leveraging Bulk Send
The Bulk Send feature of CocoSign allows you to quickly send documents to multiple recipients. Let's look at how you can utilize it to save time and effort.
In today's business world, quite a few organizations are familiar with electronic signature technology and the benefits it brings to their business. It saves time, cuts costs, and removes manual errors. By swapping wet signatures and paper for e-signature solutions like CocoSign, modern organizations are able to improve the user experience for both employees and customers.
If we zoom in on the various features of an effective e-signature solution, one that can not be neglected in the picture is Bulk Send. This feature allows businesses to reach a large group of people and have them sign and/or fill out the same document in a way that is reliable, secure, and efficient.
In this blog, we'll show you how Bulk Send works. But first, let's look at why it matters.
The Importance of Bulk Send
When the pandemic struck and the business world needed contactless approaches to keep business flowing, e-signature solutions became a business enabler, helping organizations around the world seal deals and sign important documents as commercial lockdowns tightened and mobility became limited, even impossible.
E-signing helped businesses respond and adapt during COVID-19. But the advantage of e-signing was perhaps best evidenced by organizations that were empowered to send documents to dozens or hundreds of recipients at one go.
Under the pandemic, HR departments, for one, faced enormous challenges. One among them was to timely update and distribute employee policies that address issues revolving around working from home. With features like Bulk Send from CocoSign, they were able to keep employees worldwide up-to-date on revised policies and obtain electronic acknowledgment crucial to compliance in one click. In a time when circumstances can change rapidly, the features that allow HR updates to be sent to and signed by remote workers efficiently can be a real lifesaver. Bulk Send presents an easy, reliable, and secure way for HR managers to get work done during the pandemic.
That said, the Bulk Send solution goes well beyond being a temporary expedient made necessary by COVID-19. Rather, the benefits of Bulk Send are beginning to dawn on business leaders worldwide. Many organizations, including retail chains, are adopting e-signature technology to help them streamline labor-intensive back-office processes.
Use Cases for Bulk Send
The Bulk Send feature can be used in various industries and departments. It offers a seamless way to customize, bulk send and track documents. Signed documents are automatically returned to senders for filing. Here are some common use cases where a bulk e-signature solution has proved a boon to businesses:
With Bulk Send, subscription business owners are able to get their updated terms of use signed by all customers effortlessly.
Bulk Send helps schools obtain e-signatures on permission slips from the parents within minutes.
Event organizers utilize Bulk Send to quickly collect consent from all participants to an event.
Homeowner associations leverage it to get e-signatures from homeowners on new mandates efficiently.
How to Bulk Send a Document with CocoSign?
The Bulk Send facility is indeed a blessing for organizations that need to share the same documents with multiple recipients in an efficient way.  Let's see how it works.
Notes: Just as you would for any bulk email campaign, you can pilot a bulk send to a small group of test recipients before sending to help you catch any potential errors.
Step 1: Upload files
To get started, you need to upload the document for bulk e-signatures. It can be a payment verification form, a return to work agreement, or a proposal request.
You can drag and drop your files to the corresponding area, upload from your local system or cloud storage services, or enter the file URLs.
Step 2: Create bulk send list
CocoSign allows you to send a request for signature to up to 100 signers at once. What you need to do is click csv or xlsx to download a file template with pre-populated columns that collect recipient data, delete the sample names and email addresses in rows 2-3, and type or copy and paste the email address(es) and names to the corresponding columns.
Once done, save the file, then click Upload to upload the spreadsheet.
You can then review all the details and correct any errors by clicking on the icons right next to the names and emails. You may also add additional recipients by clicking Add a row. The Clear all and re-import option allows you to discard the current list of signers and re-import recipients.
Step 3: Add fields
Assign fields for your recipients. You can use standard fields to collect signatures, initials, names, and other relevant information or customize fields for specific purposes and save them for future use. Simply drag and drop desired fields onto your document.
Step 4: Customize optional settings
There are optional document settings you can configure, like the document name, message for your recipients, auto reminders, an expiration date for signing, and customized branding.
Step 5: Send
Once you have confirmed that everything is working fine, click Send and your documents will make their way to everyone on the list.
Step 6: Track signing status
The Bulk Send feature also allows you to track the status of the bulk sending job. Simply locate the document you would like to track.
To view more details, click the document and hover over the recipients. You can identify exactly when the document is received, viewed, and signed.
Once a copy is signed and/or completed, you and the signer alone will receive a copy of the signed PDF.
Read the full tutorial here.
Why Not Give Bulk Send a Go?
Is there a way that your business can benefit from the Bulk Send feature of CocoSign? Whatever your reason, CocoSign won't let you down.
Make the change now to save time and effort, lower costs, and improve the user experience both for your employees and customers.
Try our 14-day free trial today! No credit card is required.

---