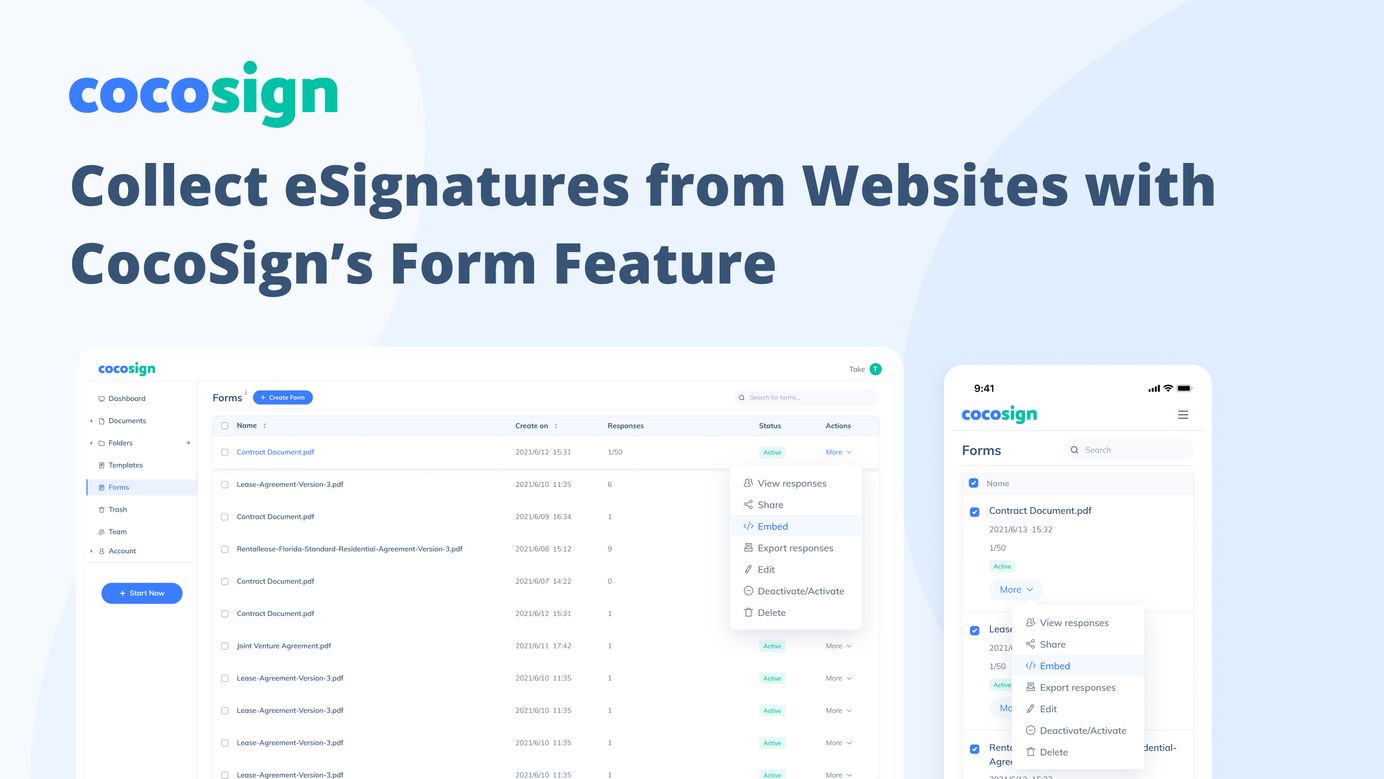 Create Self-Service Forms to Collect Data on Websites
Power your website with CocoSign's Form feature, which allows you to create on-site forms to capture information from customers. Read on to find out more.
People are no strangers to forms. Today, different types of forms can serve various purposes. Businesses distribute a survey to assess employee satisfaction. Company's decision-makers draw inspiration from their customers' feedback through questionnaires. Instructors employ course evaluation forms to gauge student progress.

However, with the Covid-19 in full swing, contactless and paperless technologies show the most promise and are here to stay. Different industries are propelled to adapt to the new normalcy by ruling out many paper-based workflows, including paper forms. More and more businesses are on the lookout for digital solutions to capture data.
Going with an all-in-one e-signature tool like CocoSign would be the best bet.

CocoSign allows you to create a Form to crowdsource data or electronic signatures through its URL or by embedding it on your website. It does not involve any coding or API process so even the least tech-savvy individual can create and use it with ease. Utilizing CocoSign's interactive and self-service Form frees up time that would have been occupied by manually distributing, gathering, and archiving paper forms. A blessing indeed.
Benefits of CocoSign's Form
With CocoSign's Form solution, you can enjoy a plethora of benefits.
Make your respondents happy. Busy people couldn't be bothered to switch tabs, windows, or programs just to complete a form. By publishing your Form on your website, your respondents can fill out and e-sign your form right from it. To ensure your forms will be properly displayed, consider getting a web server in Asia if you're looking for more quality. Whether you're running a subscription-based business, or medical practice, or hair salon, a smooth and easy form submission process delights customers. Happy customers often translate to repeat business and referrals.

Improve efficiency. Paper forms are outdated, inefficient, and difficult to manage. CocoSign's Form is the door to multifold efficiency. It simplifies the website data collecting and organizing process because there is no need to distribute, scan and sort all data manually, freeing your office staff to refocus on tasks that are truly important.

Impress your audience. When you embrace the Form feature that improves user experience, you build a reputation as a modern and professional business. When you give your new hires an excellent form submission process, you project a credible image and set an optimistic tone for their entire journey in your company.
How to create and use Form with CocoSign?
It is no longer necessary to hinge on APIs or plugins to create Forms for your website. Today, with CocoSign, it takes only a few clicks, and your professional-looking web form is at your fingertips instantly.

Step 1: Add files
To get started, you need to upload the file you want to use for Form. It can be a waiver, permission slip, event registration sign-up, or a simple quiz. You can upload the file from your device or cloud storage services, or simply use the drag-and-drop option.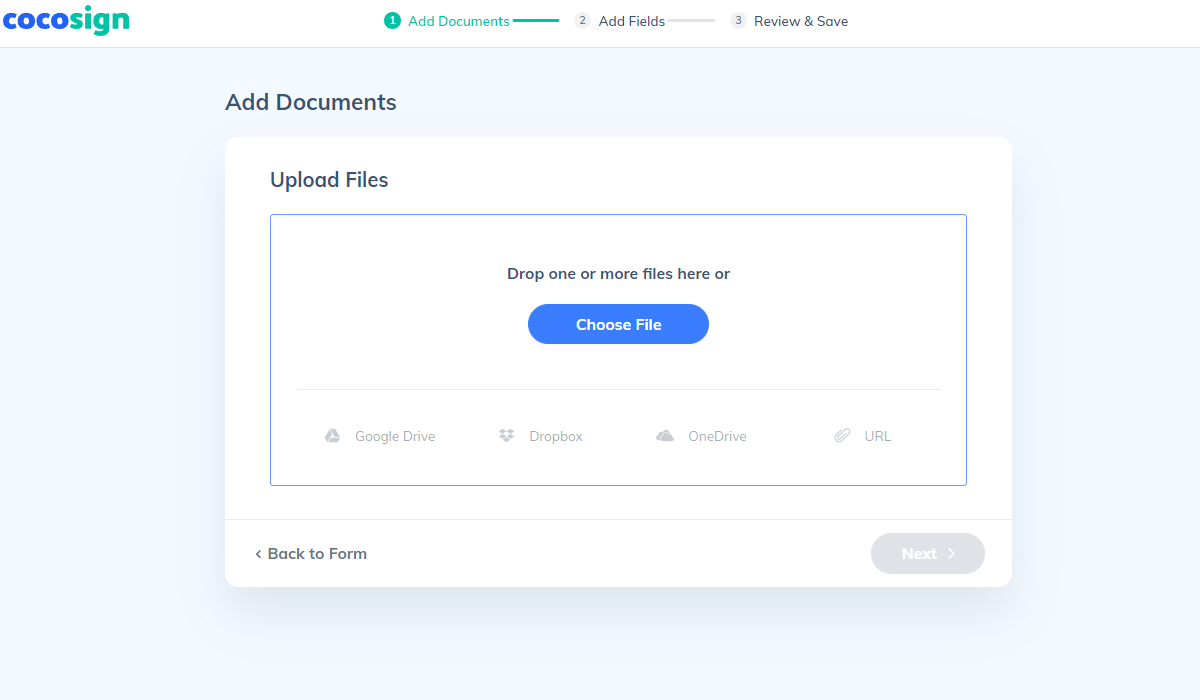 Step 2: Assign Fields
Place fillable fields on your documents, such as Email, Company, Initials, Text, Date, Address, Title, and Signature. Simply drag the required fields and drop them to wherever is needed in the document. Any recipients opening your Form will be guided to complete these fields.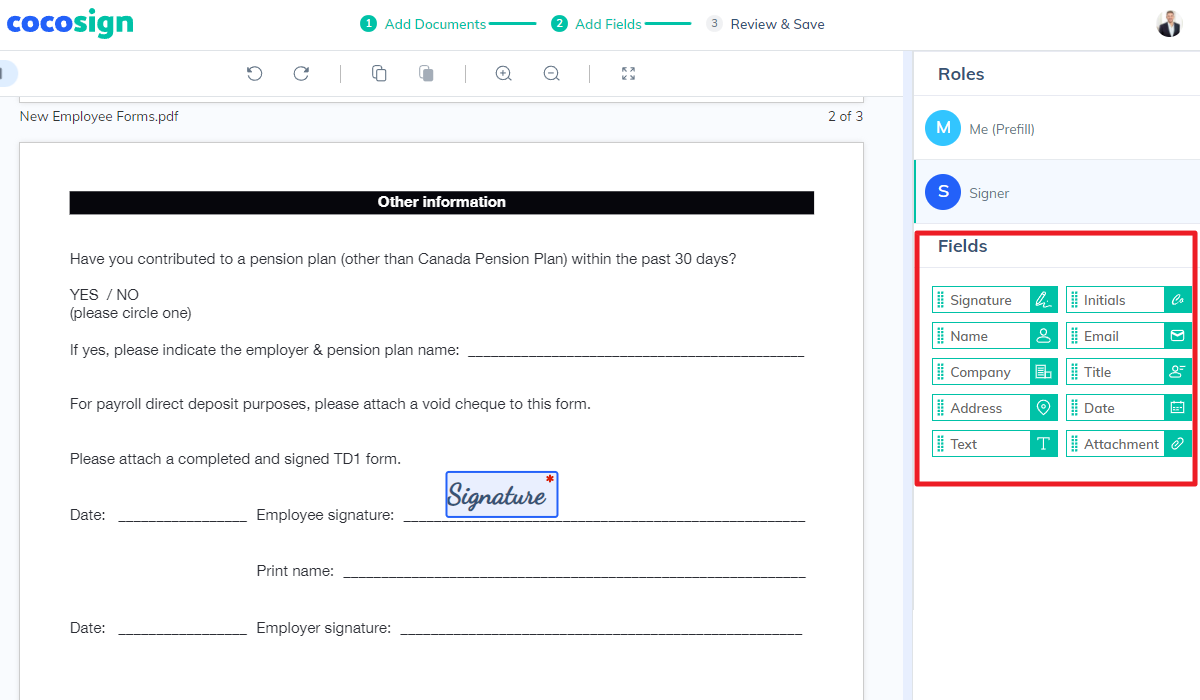 Step 3: Configure optional settings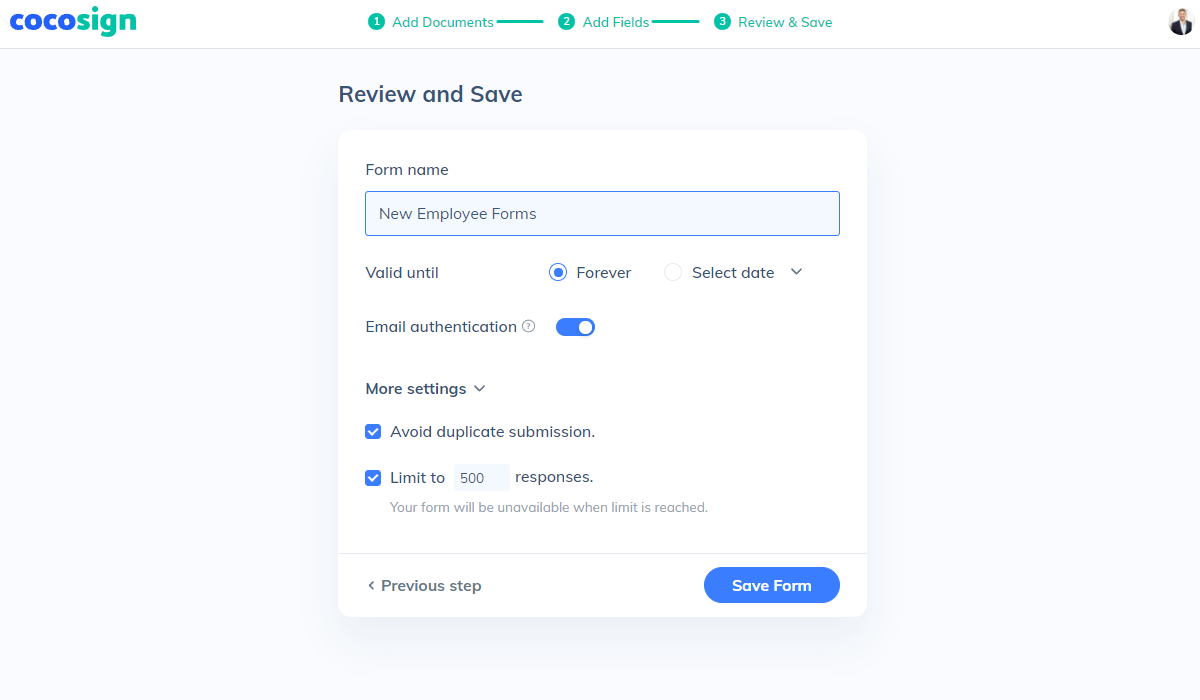 You're allowed to set a deadline for your Form. Simply choose a date when you'd like the Form link to expire. Otherwise, the Form will be valid forever.
Once enabled, CocoSign will automatically verify your resplendent's identity with a verification code. They will be denied access to the Form until they enter the code received in their email inboxes.
Avoid duplicate submissions
This feature prevents your respondents from making multiple submissions in a Form. They won't be allowed to submit responses twice.
CocoSign can redirect your respondents to any page you like, and all it takes is a valid URL. In most cases, completing a Form is just the first step of a particular task. With signer redirection, you can give your respondents a smooth and seamless transition experience. You can redirect your clients to the payment page so that they can proceed with the transaction, or send your new hires to a knowledge base or your subscribers to a thank you page. When it comes to payments and transactions, consider digital coins. If you're interested in using digital coins like ADA, you can check out a crypto heatmap to understand whether a certain transaction is efficient. Wondering how to buy ADA?
You can set a limit to how many people can respond to a Form. When the Form hits the limit, it automatically becomes unavailable to others. For example, if you're organizing an open house event, for security purposes and capacity's sake, you can specify the maximum number of registration forms to be received.
Once done with all the settings, the Form is ready to use.
Step 4: Publish Forms on webpages
CocoSign provides two simple ways to help you share or post your Forms on your website.
One is simply a case of copying and pasting your Form's URL on the website.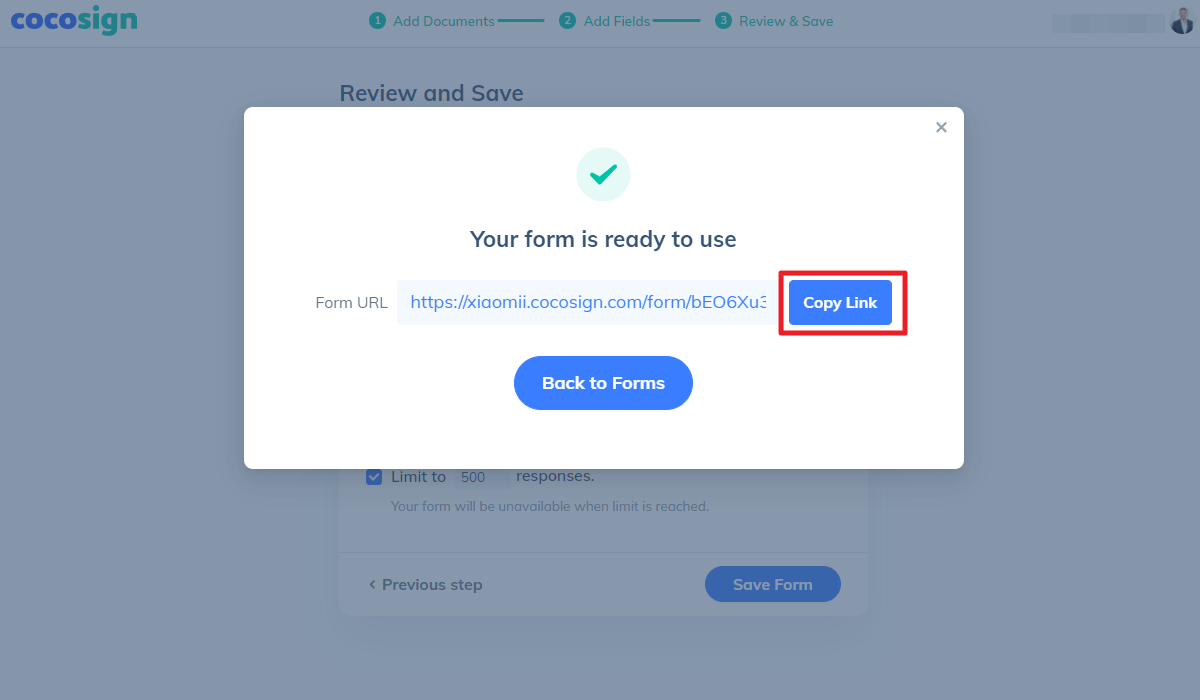 The other solution is to embed the Forms into your website (WordPress site is also allowed) using the iframe codes.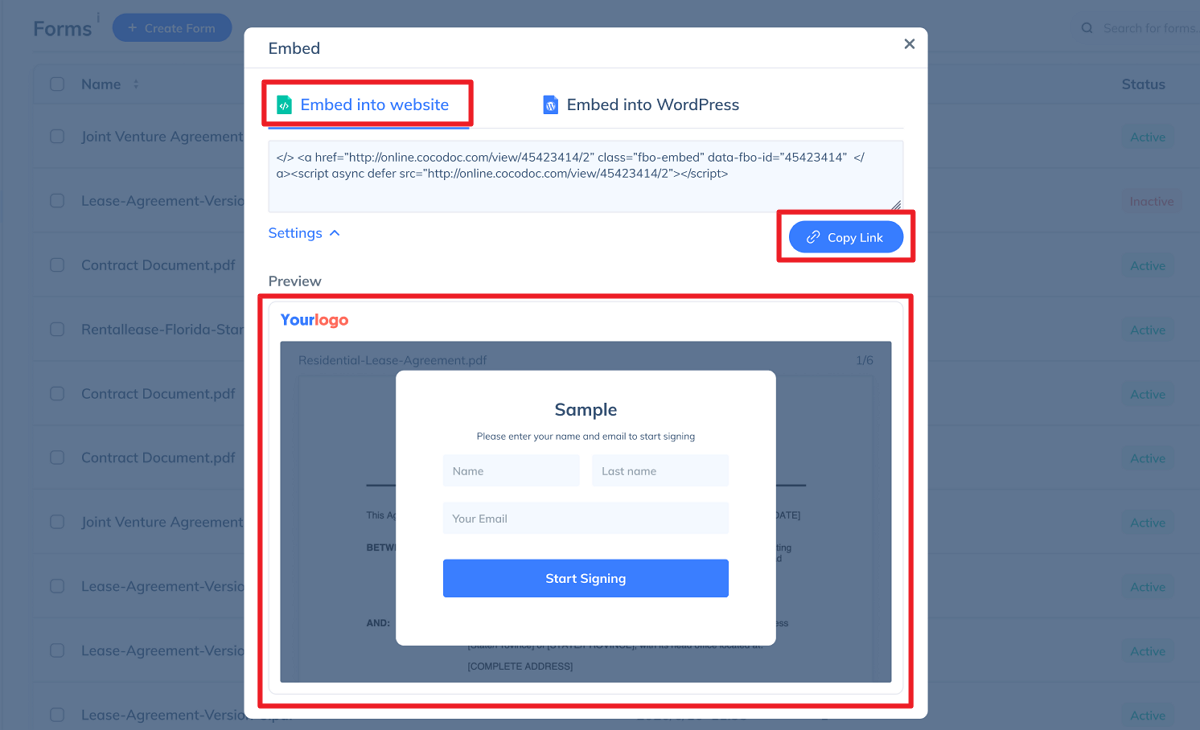 Step 5: Wait for responses
Now you can sit back and let CocoSign do everything for you. We will receive real-time responses from your audiences and archive them altogether. Keep abreast of your work effortlessly.

Step 6: Manage submitted responses
You can easily export the responses you received into an Excel form for customized, in-depth analysis. Besides, you can review a detailed audit log to have a better knowledge of all your respondents.

With CocoSign's Form feature, you are able to explore creative and transformative possibilities to capture a wealth of information with on-site forms, while at the same time, redefining your on-site interaction by providing an easier way for your customers or website visitors to submit data or share their voice.
---