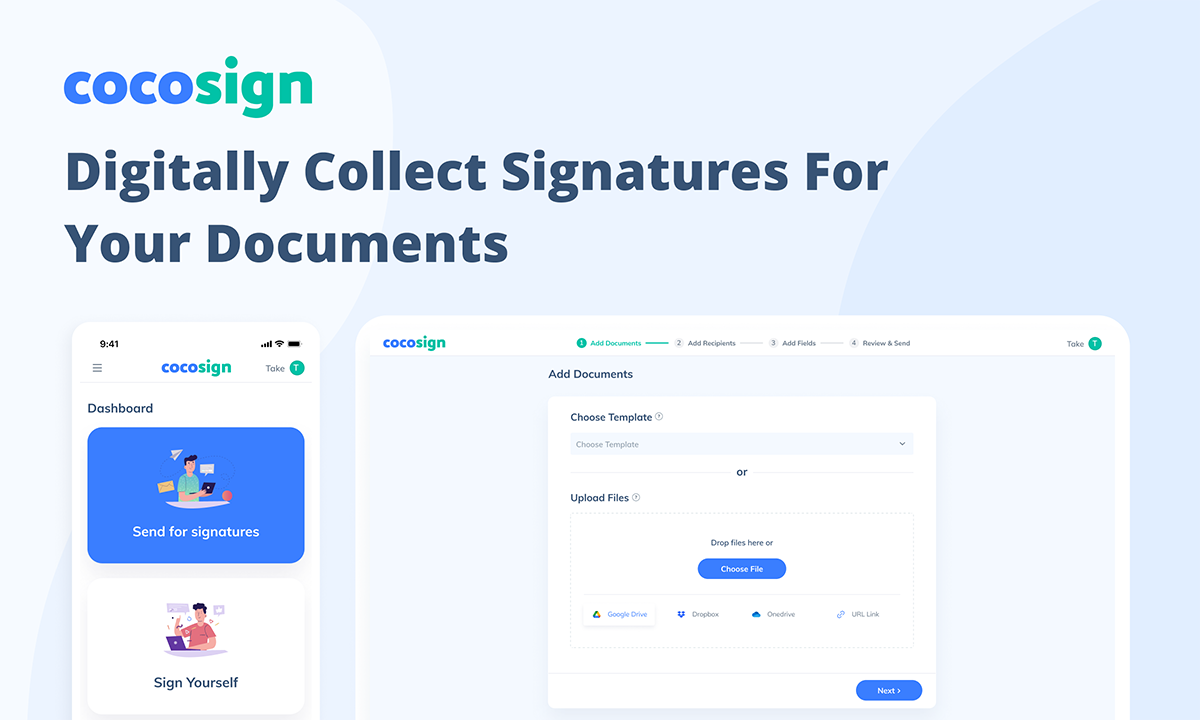 How To Digitally Collect Signatures For Your Documents
Every business might need to send contracts and agreements to clients and collect signatures. CocoSign makes the process easier and faster. Learn how to use the e-signature solution to get your documents signed.
Electronic signatures are now revolutionizing the way businesses collect signatures from clients and customers. Instead of scanning, printing, and delivering a document to the other signers, the digital approach to finalizing paperwork has helped businesses get signatures 10x faster.
Amongst the expanding electronic signature market stuffed with a myriad of software, CocoSign outstrips its competitors with distinct advantages.
From HR, sales, to health, financial departments, all sectors can benefit from the legally-binding eSignatures provided by CocoSign. The process of obtaining consent from all parties involved in a contract, agreement, or NDA is now just a matter of a few clicks.
It's time to forget the pains of manually sending documents for signatures. Let CocoSign automatically deliver your digital files and collect your clients' e-signatures without hassles and delays. Learn how you can make use of this feature below.
How To Send a Document for Signatures with CocoSign
First of all, you need a CocoSign account. You can sign up for a two-week free trial of CocoSign's business plan without filling out any credit card information. After the trial period, you won't be forced to pay for a subscription, but can still enjoy the free version of CocoSign.
After registering or logging in, you will be directed to CocoSign's Dashboard. Just click on the Send for Signature icon or hit the START NOW button to enter the document sending process.
Then, you can follow the 4 steps to send a signature request with clear instructions given by CocoSign:
1. Add Documents: upload a file or files you would like to send to the other signers.
2. Add Recipients: fill out the name and email address of the signers and other details.
3. Add Fields: prepare the fields you want your recipients to fill.
4. Review & Send: double check the document to be signed and complete email details for sending.
CocoSign offers a variety of upload options. You can select a preset template you've created, choose a file from your device or from the cloud platforms, or just paste the URL address of an online document.
When adding a recipient, you can choose whether a person needs to sign or just receives a copy (CC) of the document.
If you need to collect signatures from more than one person in sequential order, you can tick the Custom Signing Order box and drag the recipient info up and down. This can help businesses save time on organizing signature workflow and keep every recipient informed of the signing procedure.
CocoSign has a simple yet useful editor with various customizable fields. Besides signature, you can have your client fill out information like company, address, checkbox, etc, electronically without printing. You can also request the other party to provide an attachment, if any supplementary documents are needed.
At the Review & Send step, you can double check the document and complete the email settings before sending it to the signers' email. CocoSign will act as an email client, and send an email with the document for you.
Within a minute, your clients will receive the signature request email and sign the document directly with the link in their email. After all signatures are collected, CocoSign will automatically send a copy of the signed document to each recipient.
So you see, all you need to do is prepare the document and let CocoSign do the job of collecting signatures for you.
Tips for Sending a Signature Request
While CocoSign is easy to work with, it offers a bunch of features to facilitate the signature collection process. Follow our tips below to make the most of our eSignature service:
Keep Your Document Confidential
Without proper identity verification, an irrelevant third party could access your document and steal your data. To avoid the risk of signature forgery and data leak, CocoSign allows users to enable the authentication code function.
Once you click the key icon at the Add Recipients step, CocoSign will send a six-digit code to the recipient's email, then the signer will have to enter the authentication code before accessing the file. You can also click the mail button to send a private message to one of your recipients.
Customize Field Formatting
As mentioned above, you can embed as many fields as you need into a document. It is to be noted that you can edit the field name, and change the font, color, size of texts in each box. You can even save a Text field as custom for future use.
To figure out the usage of each field, read our detailed guide.
Set Reminders
In order to collect signatures faster and avoid delays, you might need to remind the signers from time to time, either by phone, email, or text. Now, this annoying work can be done by CocoSign at several clicks.
If you want CocoSign to automatically remind your signees at intervals, you can tick the setting box and set the reminding times. You can also manually send reminder messages from the document action. Learn more.
Customize Your Signature Request Email
Without customizing branding, your signature request email will look the same as anyone else's with the logo and brand name of CocoSign. Therefore, to make the signees aware of your own brand, you can customize the email branding when sending a document for signature.
With this feature, you can design the following elements in your signature request email:
Logo
Background and header colors
Email "From" field
URL
Redirect after signing
Footers
For more details in sending documents for e-signing, read our complete guide article at this link.
Why CocoSign
Many customers, SMBs in particular, switched from industry leaders such as DocuSign and HelloSign as per authentic customer testimonials on G2. If you're still confused about why you should collect signatures using CocoSign instead of its alternatives, take a look at our customers' evaluations below:
Ease of Use
CocoSign has a simple and easy to understand user interface. Even people with little knowledge about digital technology can follow the buttons and instructions to sign or send a document. It takes only a few minutes to prepare your document for sending, with no dragging and lagging.
CocoSign is very responsive and very functional on both mobile and desktop devices. All of my contracts are signed in a short period of time. With the aid of this program, I am able to have my client contracts, papers, and docs electronically signed with ease and precision.
—Verified CocoSign Review on G2
Affordable Pricing
Although electronic signature tools cost much less than traditional signatures with less material demand, it means a huge burden for some to pay for expensive eSignature services monthly or annually. CocoSign, on the other hand, has a reasonable pricing plan for SMBs and professionals. It starts from $8 a month and offers a free plan that allows people to sign unlimited documents.
It is effective in business and It is affordable so that almost everybody can use it.
—Verified CocoSign Review on G2
Practical Functions
CocoSign has developed a bunch of useful features to automate the signature workflow for businesses. Users can sign multiple documents at one time using the templates and bulk send features. It also enables businesses to close deals faster with in-person signing, document status tracking, Google apps integration, and more.
The features and benefits that Cocosign has have made my doing of work more manageable. I don't have to go to another platform to sign my document. My workmates and I have successfully sent our e-signature to each other effortlessly.
—Verified CocoSign Review on G2
Timely Customer Support
The importance of technical support has always been overlooked by some eSignature companies. As customers can come across technical issues at any time, CocoSign makes its customer service available 24/7 through live chat. It also guarantees that customers' queries would be responded to within 1 minute - hardly any service dare to give that word.
The software is easy to use, the interface is super intuitive with tons of features for both novice and experienced designers, and the customer service team was great helping me figure out how to do some of the more difficult things.
—Verified CocoSign Review on G2
In a Nutshell
Businesses can save much time and money on collecting signatures from their clients and partners only if they choose an effective eSignature service like CocoSign. The platform offers abundant features and easy-to-follow instructions to help you effortlessly send a document for signing and finalize it quickly.
CocoSign works perfectly on any device. No matter if you're using a cellphone, tablet, or computer, get a CocoSign account for free and try it out now!
---