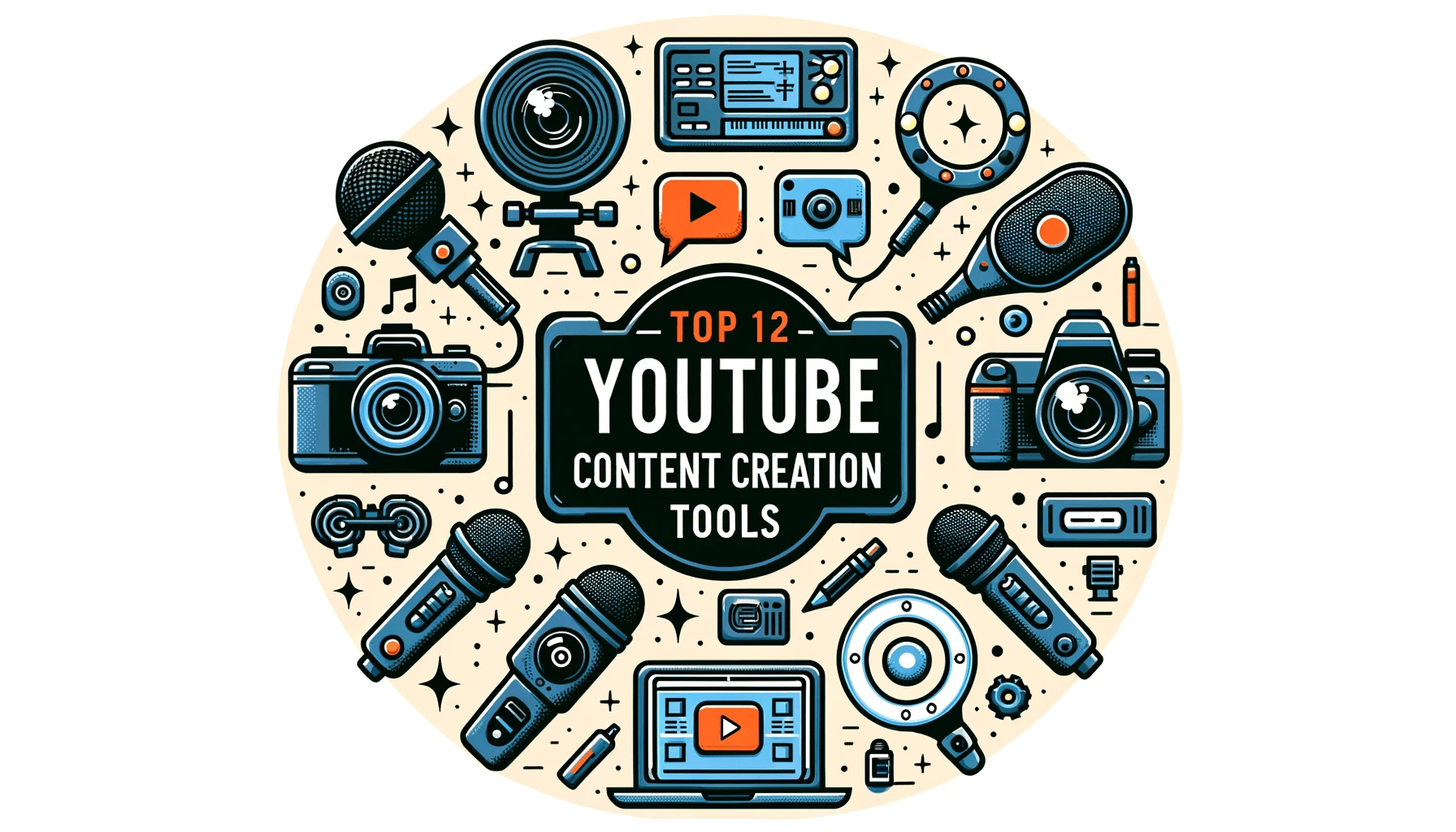 Top 12 YouTube Content Creation Tools Every Creator Needs
With more than 2.7 billion active users and 720,000 hours of content uploaded every day in 2023, YouTube has transformed into a platform with unparalleled popularity and influence. The video-sharing platform, once a humble space for amateur clips, has undergone a remarkable evolution, now reigning as a global content powerhouse that has changed the way we consume media.
One of the most remarkable aspects of YouTube's journey is its role in the democratization of content creation. It has enabled ordinary individuals from around the world to become digital celebrities, breaking through traditional barriers to fame. The platform has created a level playing field where anyone with a camera and an idea can find an audience, and perhaps even a career in content creation.
However, it's important to acknowledge the cutthroat competition on the platform. With millions of creators vying for viewers' attention, standing out from the crowd is no small feat. High-quality content is the cornerstone of success on YouTube. Creating content that captivates and retains an audience is both an art and a science.
Yet, quality content creation comes with its own set of challenges. From scripting and shooting to editing and promoting, the process can be daunting. That's where the focus of this article comes into play—the 10 essential tools that empower content creators to up their game. These tools streamline the content creation process, enhance video quality, and ultimately, boost a creator's channel.

1. Movavi Video Editor
Movavi Video Editor is a versatile video editing software designed for you to create and edit videos with ease. It offers a user-friendly interface and a wide range of features, making it suitable for both beginners and more experienced video creators. This software enables users to cut, trim, merge, add effects, transitions, text, and more to their video projects, allowing for the creation of professional-looking content.
Movavi's intuitive interface makes it easy for creators of all skill levels to edit and produce videos.
The software provides access to a wide range of music, stickers, and transitions, saving time in content creation.
You can upload videos directly to YouTube from within the software,streamlining the publishing process.
It has a chroma key (green screen) feature that allows for creative video effects and backgrounds.
It includes tools to reduce shaky footage, improving video quality.

Movavi Video Editor offers a free trial version with limited functionality, while the full version is available for a one-time payment of $79.85 or as an annual subscription of $54.95.

2. DaVinci Resolve
DaVinci Resolve is a professional video editing software developed by Blackmagic Design. It's a comprehensive post-production solution that combines video editing, color correction, visual effects, audio post-production, and more into a single, integrated platform. Originally known for its high-end color grading capabilities, it has since evolved to offer a full suite of video editing tools, making it a popular choice for filmmakers, video editors, and, importantly, YouTube content creators.
DaVinci Resolve's industry-standard color correction tools allow creators to give their videos a cinematic and polished look, making their content visually appealing to viewers.
It offers a wide array of editing features, including multicam editing, advanced transitions, and a powerful timeline, which is essential for crafting engaging videos.
The audio editing and mixing tools within the software enable creators to fine-tune audio quality, ensuring that the sound matches the visual quality of their videos.
It can handle high-resolution footage, which is becoming increasingly important as YouTube content creators aim for higher video quality to stand out on the platform.
There is a free version with many of the essential features, making it accessible for content creators on a budget.

DaVinci Resolve offers multiple pricing options. The most notable is the free version, which provides access to a significant portion of its features. For more advanced capabilities, there is DaVinci Resolve Studio, which is available for a one-time purchase price of $295. This Studio version includes additional features and support for higher resolutions and frame rates.
3. Wavel AI
Wavel AI is an AI-powered video translator that enables content creators to automatically add captions and subtitles to videos in multiple languages. With Wavel AI, creators can reach a global audience and expand their reach on YouTube.
Creators can translate their videos to multiple languages with just one click, saving them considerable time compared to manual translation.
The AI translator is continuously learning, so translation quality improves over time. This ensures videos remain accurately captioned even after re-uploading.
Translated videos are optimized for search engines, helping foreign-language viewers easily find the content. This expands the potential discoverability and viewership of videos.
Wavel AI offers bulk video translation, making it suitable for creators who regularly produce a high volume of content.
The tool integrates directly with YouTube, simplifying the uploading and management of multilingual video files.

Wavel AI offers various pricing plans starting from a free demo that provides 15 credits in a year. It provides creators with an affordable way to reach international audiences and maximize the impact of their YouTube channels.
4. Filmora
Filmora is a popular video editing software developed by Wondershare. It's designed to cater to a wide range of video editing needs, including those of YouTube content creators. Filmora offers a user-friendly interface and a robust set of tools and features that make video editing accessible and efficient for creators of all skill levels.
Filmora's intuitive interface makes it accessible to both beginners and experienced editors, allowing creators to start editing quickly.
It offers a diverse collection of transitions, filters, and effects, allowing creators to enhance the visual appeal of their videos.
The extensive library of royalty-free music and sound effects simplifies the process of adding audio to videos without worrying about copyright issues.
The built-in screen recording feature is handy for gamers and tutorial creators, eliminating the need for third-party recording tools.
Filmora's export presets for YouTube ensure that videos are ready for uploading to the platform with the appropriate settings.

Filmora provides a range of pricing options tailored to individual users. The monthly plan is available at $19.99 per month, offering flexibility for short-term projects. The annual plan, priced at $61.99 per year, includes a complimentary one-month subscription to Filmstock Standard Assets and AI Portrait, enhancing your creative resources. For those seeking a long-term solution, the perpetual plan is available for $89.99, providing the same valuable bonuses as the annual plan.
5. Adobe Audition
Adobe Audition is a professional audio editing and digital audio workstation (DAW) software developed by Adobe Inc. It's widely used by audio professionals, including YouTube content creators, for tasks like recording, editing, mixing, and mastering audio content.
Adobe Audition offers a wide range of audio editing tools, allowing creators to achieve high-quality sound in their videos.
The software's noise reduction features help eliminate unwanted background noise, resulting in cleaner and more professional audio.
You can work with multiple audio tracks simultaneously, making it easier to mix dialogue, music, and sound effects.
It seamlessly integrates with other Adobe Creative Cloud applications, such as Premiere Pro and After Effects, streamlining the video and audio editing process.
The software provides access to a vast library of audio effects and plugins, enabling content creators to experiment with various sound enhancements and creative audio effects.

Adobe Audition extends a welcoming 7-day trial period for newcomers to explore its capabilities. Following this trial, users can access Adobe Audition through various pricing tiers designed to cater to different preferences. There is a convenient monthly plan priced at $31.49 per month. For those seeking a more economical option, there's the annual plan, which can be paid at $20.99 per month or a single one-time payment of $239.88, offering flexibility to suit the budgetary preferences of YouTube content creators.
6. Pixlr
Pixlr is a photo and video editing platform that offers easy-to-use templates and overlays, helping creators design eye-catching thumbnails and channel art. It comes with a user-friendly interface and cloud-based storage, enabling collaboration and access to your work from anywhere with an internet connection.

Pixlr is web-based, meaning you don't need to download or install any software, making it accessible from any device with an internet connection.
It has a robust free version with a wide range of editing tools and features, which is beneficial for creators on a budget.
It provides customizable templates and overlays that simplify the process of creating visually appealing thumbnails and channel banners.
The platform's cloud-based nature allows for easy collaboration among team members, making it suitable for creators working in groups.
Its intuitive interface and helpful tutorials make it accessible even for those new to video and image editing.

Pixlr offers an "Always Free" version that includes essential editing tools along with a limited selection of overlays and stickers. For those seeking more extensive features, Pixlr Premium is available at just $4.90 per month and comes with a generous 30-day free trial period. With Pixlr Premium, you gain unrestricted access to the platform's comprehensive suite of photo and video editing tools, along with a remarkable collection of 3,000 additional overlays and an impressive assortment of 7,000 extra stickers to enhance your creative projects.
7. OBS Studio
OBS Studio, or Open Broadcaster Software Studio, is a popular open-source software for live streaming and video recording. It is widely used by YouTube content creators, gamers, and other online broadcasters to create and share high-quality video content. It offers robust scene and source management, making it easy to create dynamic layouts with various video and audio sources. It also supports real-time audio and video mixing, allowing content creators to create professional-quality live streams and recordings.

OBS Studio is completely free to use and open-source, making it accessible to creators with varying budgets.
It allows for extensive customization of your live streams and recordings, enabling a unique and professional look for your content.
OBS Studio works on multiple operating systems, making it versatile and accessible to a broad audience of creators.
Its plugin support means you can enhance its functionality to suit your specific needs.
There is a large and active community of users and developers, which means ample resources and tutorials are available online to help creators get the most out of OBS Studio.

OBS Studio is completely free to download and use, making it an affordable choice for YouTube content creators of all levels, from beginners to professionals. Its open-source nature ensures that it remains freely accessible to all users without any subscription fees or licensing costs.
8. TubeBuddy
TubeBuddy is a browser extension and a suite of tools designed to assist YouTube content creators in managing, optimizing, and growing their YouTube channels. It serves as a comprehensive companion for creators, offering a wide range of features and analytics to enhance their YouTube experience such as keyword research tools, video optimization suggestions, and bulk video management.

TubeBuddy's keyword research tools and optimization suggestions can significantly improve a video's search engine ranking, leading to more views.
The bulk processing features streamline repetitive tasks, saving creators valuable time.
You can access detailed analytics and insights to track their channel's performance and audience engagement.
It includes a thumbnail generator with templates and customization options to create eye-catching thumbnails.
The ability to analyze competitors' strategies and keywords helps you stay ahead in your niche.

The TubeBuddy Pro plan is priced at just $3.60 per month, making it an ideal choice for creators who are embarking on their YouTube journey and are eager to gain access to essential tools that facilitate growth. On the other hand, the Legend plan, available at $23.19 per month, is tailored for ambitious creators who seek to gain a substantial competitive advantage. This plan equips them with a wide array of comprehensive tools, empowering them to make data-driven decisions and significantly expand their reach in the YouTube ecosystem.
9. Buffer
Buffer is a social media management platform that provides tools and features to help content creators schedule and publish your content across various social media platforms. It allows you to manage multiple social media accounts, plan and schedule posts in advance, analyze engagement metrics, and collaborate with team members, all from a centralized dashboard.

Buffer simplifies the process of scheduling and automating social media posts, ensuring consistent promotion of your YouTube videos.
The platform's analytics and reporting tools offer valuable insights into the performance of their content, helping creators make data-driven decisions to improve engagement.
Its content calendar streamlines content planning and organization, making it easier to manage a content calendar effectively.
It allows multiple team members to collaborate, enhancing content management and workflow efficiency.
It offers integrations with various social media platforms, making it a versatile tool for content creators.

Their free plan is an excellent choice for those just starting, allowing users to connect up to three social media channels at no cost. For those seeking more advanced features, the Essentials Plan, priced at a budget-friendly $6 per month, offers a comprehensive toolkit for one channel, encompassing publishing, analytics, and engagement tools. For businesses with broader requirements, the Teams Plan, priced at just $12 per month, boasts unlimited users, making it a cost-effective solution for collaborative social media management.
10. Restream
Restream is an online platform that caters to YouTube content creators and streamers by providing a comprehensive solution for multicasting live video content across multiple streaming platforms simultaneously. This means that YouTube creators can broadcast their videos not only on YouTube but also on platforms like Facebook Live, Twitch, Periscope, and many others simultaneously, expanding their reach and engaging a wider audience.

Restream allows creators to stream their content on multiple platforms at once, reaching a larger and more diverse audience.
It provides a centralized chat feature that combines comments and interactions from all streaming platforms, making it easier to engage with viewers.
It offers analytics and insights to help you track viewer data, understand audience engagement, and improve your content strategy.
You can customize your stream with overlays, watermarks, and branding elements to maintain a consistent look and feel across platforms.
You can schedule your streams in advance, helping you plan and promote your content effectively.


Restream's free forever plan provides support for streaming to two channels simultaneously. For those seeking enhanced capabilities, the standard plan, priced at just $16 per month, offers a robust package featuring support for streaming to up to five channels simultaneously, cross-platform chat integration, the ability to record streams for up to six hours, accommodate up to ten on-screen guests, and a host of additional features. If your streaming requirements surpass these offerings, Restream's professional plan, available at $41 per month, offers even more advanced features to meet the demands of ambitious content creators.
11. Trello
Trello is a project management and collaboration tool that helps individuals and teams organize tasks, projects, and workflows using a visual and intuitive interface. It is based on the Kanban method, which involves creating boards, lists, and cards to represent tasks and their progress.

Trello allows creators to create boards for different aspects of their YouTube content, such as video ideas, filming, editing, and publishing. Lists can represent stages in their production process.
Each card can represent a specific video or task. Creators can add descriptions, due dates, checklists, and attachments to cards, making it easy to track progress.
You can use labels to categorize videos by topic, priority, or status, helping them quickly identify what needs attention.
It supports collaboration by allowing multiple team members or collaborators to work on the same boards and cards. Comments and @mentions facilitate communication.
It offers various Power-Ups and integrations, such as Google Drive, Slack, and calendar apps, to enhance functionality and streamline workflows.

For starters,Trello offers a free plan, albeit with certain limitations. Small teams looking to enhance their workflow can opt for the standard plan, priced at just $5 per month. For those seeking more robust project management capabilities, the premium plan, available at $10 per month, offers advanced features to track and visualize multiple projects using versatile tools like boards, timelines, calendars, and more.
12. Rev.com
Rev.com offers a range of transcription and captioning services. It's widely used by individuals and businesses to transcribe audio and video content, making it more accessible and searchable. For YouTube content creators, Rev.com serves as a valuable tool for transcribing your videos, generating closed captions, and enhancing the overall accessibility and reach of your content.

Rev.com helps you make your content more accessible to a wider audience, including those with hearing impairments or non-English speakers.
Quick turnaround times save you valuable time compared to manually transcribing your videos.
You can expand their audience by translating and captioning their content in multiple languages.
Rev.com's transcription services are known for their accuracy, ensuring that content creators maintain a high standard of quality.
Transcriptions and captions can improve a video's search engine optimization, increasing discoverability on YouTube.

Their AI transcription service is competitively priced at just $0.25 per minute, offering a speedy 5-minute turnaround time and an impressive accuracy rate of over 90%. If you prefer human transcription and English captions, these services are available at $1.50 per minute, offering an average 24-hour turnaround time and an exceptional accuracy rate of 99%. For creators looking to reach a global audience, Rev.com offers global subtitles at varying rates, ranging from $5 to $12 per minute. These subtitles come with a 48-hour turnaround time and maintain a remarkable accuracy rate of 99%.
Conclusion
In the vast and competitive universe of YouTube, where over 2.7 billion active users vie for their moment in the spotlight, the importance of high-quality content standing out cannot be overstated. It's a realm where creativity reigns supreme, but it's also a battleground where millions of creators strive to capture the attention of viewers.
The main goal of this article has been to empower content creators, like you, to not only survive but thrive on YouTube. In this pursuit, creativity alone is not enough. Success requires the right tools—tools that streamline content creation, enhance video quality, and contribute to channel growth.
Success on YouTube is a fusion of talent, dedication, and the right tools. As you navigate this dynamic landscape, we encourage you to invest in these tools, refine your craft, and build a loyal audience. The road to YouTube stardom is not without its challenges, but armed with the right tools and unwavering determination, you too can make your mark in this ever-expanding universe of YouTube content creation.
---