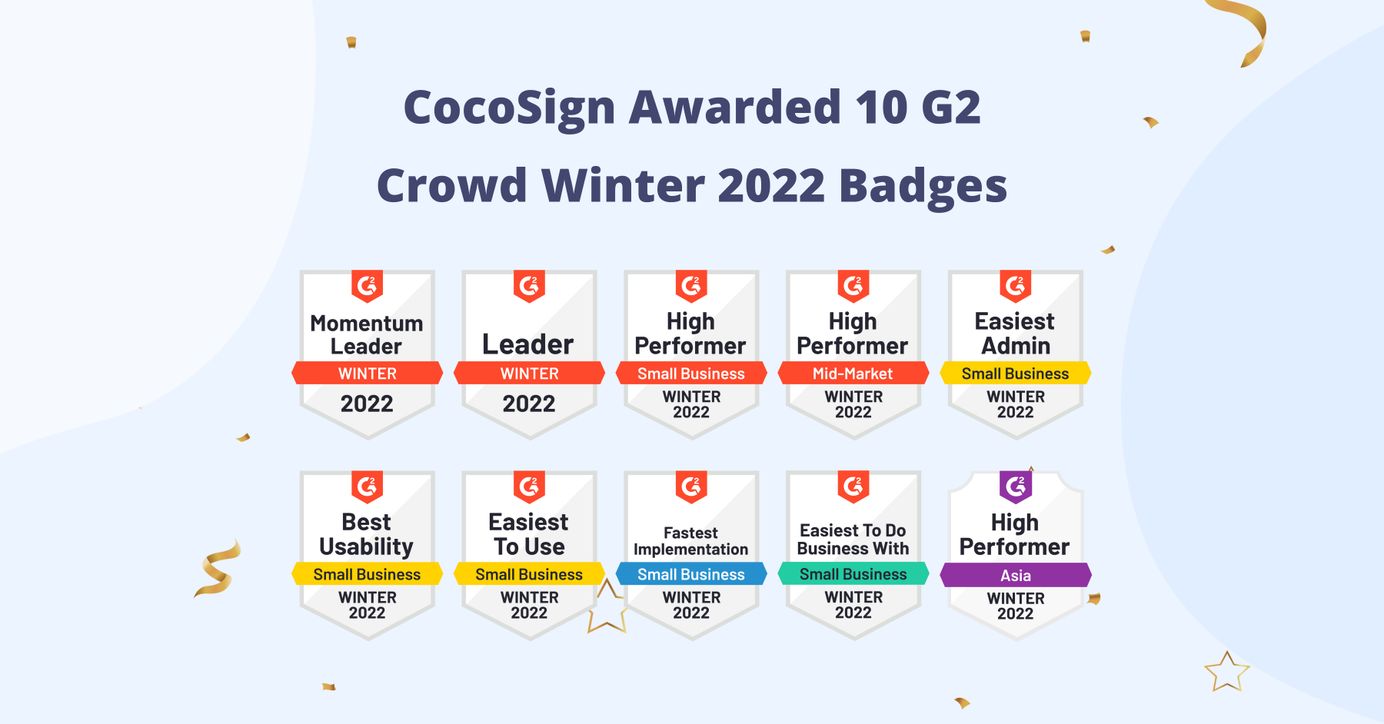 CocoSign Named Winter Leader 2022 by G2
We are excited to be named a leader in the G2's latest user ratings for E-Signature Software. It meant a lot to us as we always try our best to make CocoSign genuinely user-friendly. Many thanks to G2 and our lovely users!
As the year comes to a close, we are excited to share that we have been recognized as a leader in the eSignature category by G2! In its Winter 2022 research, CocoSign set a new record for winning ten badges in total. The badges awarded to CocoSign are:
Winter Leader
Momentum Leader
High Performer (Mid-Market)
High Performer (Small Business)
Best Usability (Small Business)
Easiest Admin (Small Business)
Easiest to Do Business with (Small Business)
Easiest to Use (Small Business)
Fastest Implementation (Small Business)
High Performance (Asia)
About G2
G2, also called G2 Crowd, is one of the world's most trusted business solutions review websites. It leverages feedback from real, verified users to rank the best business software and services so that individuals and companies can make better, more informed software purchase decisions for their business.
Thanks to the unbiased and insightful reviews for thousands of software products, G2 has gone a long way towards bringing authenticity and transparency to the business marketplace since its inception in 2012.
How Our Customers Rated CocoSign
We can't hide our excitement at receiving so much acclaim from our customers for the features we are dedicated to improving with each coming day:
98% of users rated it 4 or 5 stars
96% of users said they would recommend the brand to others
97% of users enjoy the ease of doing business with CocoSign
98% of users benefit from the ease of use of CocoSign
97% of users appreciate the top quality customer service.
What CocoSign Customers Said on G2
G2's report resulted from nearly 150 reviews submitted by CocoSign customers. Our customers' reviews include:
"It works fast both on mobile and laptop. All my contracts are signed within no time. All my appointments are confirmed with the candidates for the interviews with the help of this software. It is affordable, fast, and reliable." - Ahmad R, Enrollment & Credentialing Specialist
"CocoSign helped us keep everything organized and safe. When it comes to security, the risk of missing data is minimized. You can send off the offers, contracts, and NDAs to your remote team workers in a second. Plus the authenticity of the documents received can be easily verified when needed!" - Gabriel P, Founding Engineer
"Interface is impressive particularly for Laptop. It does not take much time to go live. For better decision free trial is available. Different plans are available so according to work load every business can go for it." - Ibraheem K, Human Resource Officer
All of the CocoSign reviews on G2 can be viewed here.
Why Customers Love CocoSign
CocoSign has always prided itself on making it ever so easy to streamline your document workflows. As a global eSignature service provider, we understand our customers' varying needs and have designed our solution with the ease of setup and use, clean and simple interface, exceptional performance, scalability, and reliability that all businesses crave. Our rich-packed features have proved a boon to our users. Here are some most popular features:
To cap it all, CocoSign comes with competitive pricing and 24/7 high-quality customer support.
Many Thanks to Our Customers and G2
We are truly honored to have earned a top spot in the G2 Winter 2022 Report along with the other nine awards. Many thanks to all our devoted customers. Your feedback is vital to making certain that we are delivering on our promises and adjusting where necessary. We also thank G2 for this recognition.
If you are a CocoSign customer, you can let your voice be heard. Simply share your CocoSign experience on G2 so we can better serve you.
If you are still not a CocoSign user, sign up for free right now and start your journey through all that CocoSign can offer to your business. (We offer a 14-day free trial so you can try CocoSign and get to know all the features of the Business plan. No credit card is required. If you choose not to renew your subscription when the trial ends, your account will be downgraded to the Free plan where some features are still available.)
---