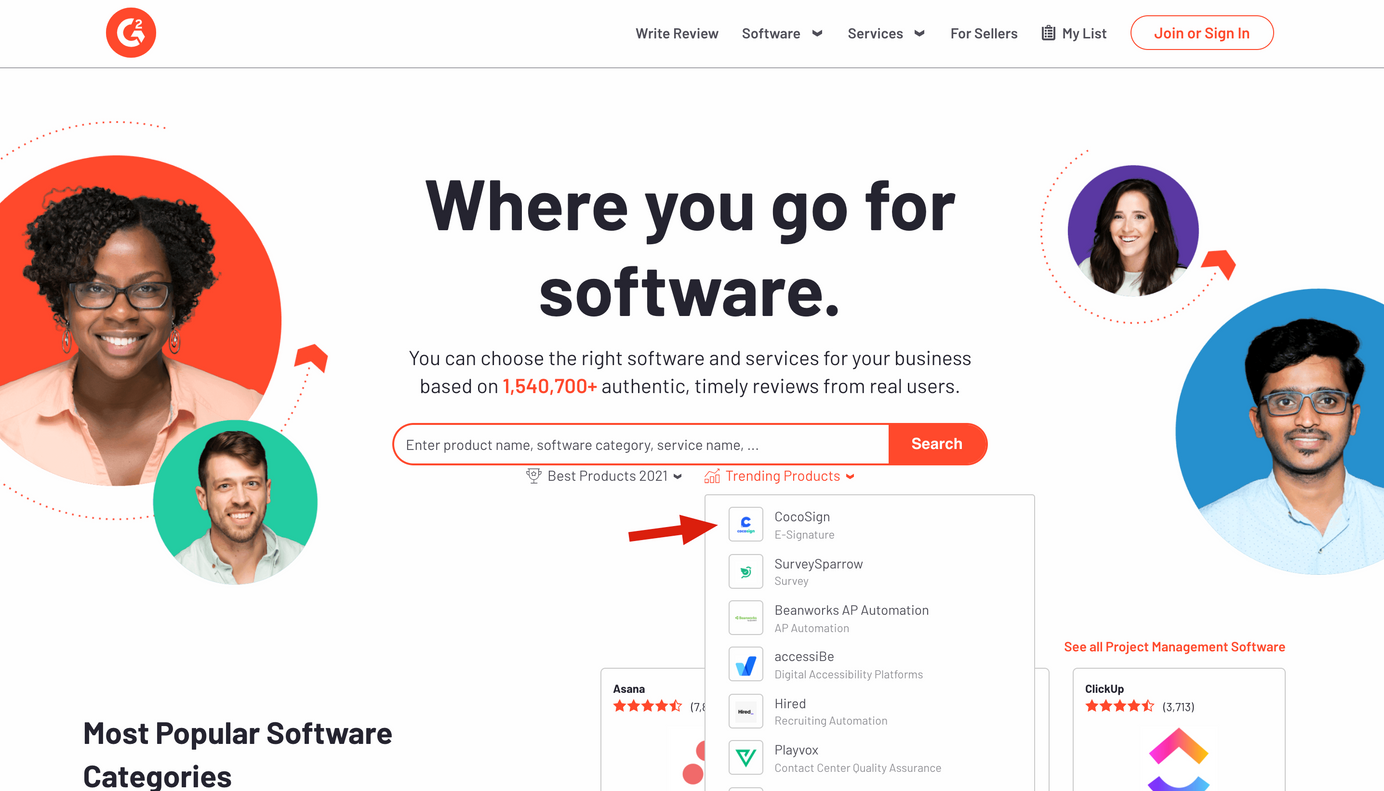 CocoSign Becomes #1 Trending Product on G2
We're happy that CocoSign ranks No.1 among thousands of SAAS softwares on G2. This is an exciting milestone for us and we thank all our customers for their support.
We are pleased to announce that we've been ranked as the #1 trending software on G2 recently. It's more than an honor for us, and we'd like to share this moment with all of you. Without your reviews, we couldn't have made it!
Thank you, CocoSigners! We won't let you down and will continue to improve our electronic signature service as per your advice.
What It Means to be Trending on G2
G2, also known as G2 Crowd, is the largest review website that was built to help businesses of all sizes to find the best software and services with unbiased and authentic information.
G2 encourages software users to publish their experience and opinions of the products and identifies fraudulent reviews with a special algorithm. By comparing the pros and cons of different companies' solutions, businesses can make sensible buying decisions.
Being a trending product on G2 means that many users are actively writing their reviews about it. This usually suggests that the software is an effective one and liked by its customers.
It is surprising that we stand out among thousands of SaaS software and become the most popular product. It is a great victory that we want to celebrate with all customers.
As a fast-growing eSignature software, CocoSign is also named Winter Leader 2022 by G2, along with 9 other G2 Winter 2022 badges:
Momentum Leader
High Performer - Mid-Market
High Performer - Small Business
Best Usability - Small Business
Easiest Admin - Small Business
Easiest to Do Business with - Small Business
Easiest to Use - Small Business
Fastest Implementation - Small Business
High Performance - Asia
CocoSign Always Puts Customers First
CocoSign was founded by a group of aspired young people who used to be eSignature users themselves but were not satisfied with services provided by leading companies in the industry such as DocuSign and HelloSign. So CocoSign strives to provide an easier, faster, and more affordable electronic signature solution for SMBs and professionals by tackling any inconvenience and problem in signing documents.
In addition to the various features that cater to the needs of customers, CocoSign makes itself a good listener by offering 24/7 around-the-clock customer support. We guarantee that any query proposed by customers will be responded to within 1 minute.
Ready to join 40,000+ businesses using the most trending software? Go digital and sign your documents on the fly. Try our 14-day free trial and enjoy full suite of CocoSign Business features. If you need to cancel your subscription after free trial, you can still sign unlimited agreements with our free plan. Start your free trial now, no credit card required!
---